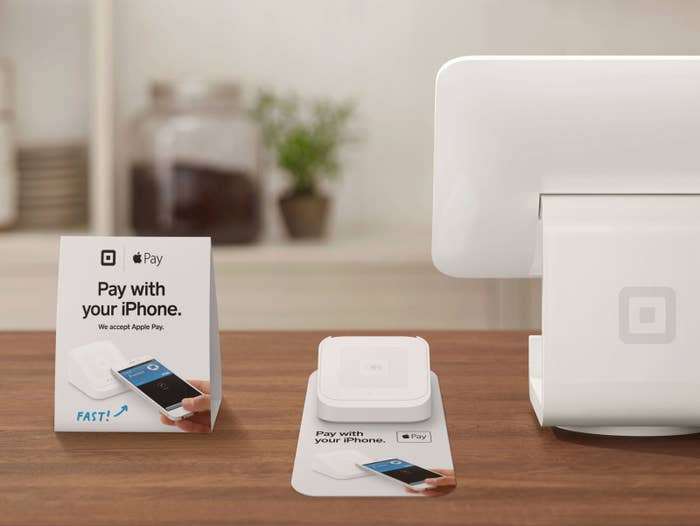 Square, the mobile payments company run by Twitter CEO Jack Dorsey, is offering US businesses a special promo this year: It won't charge them any fees to process about $12,000 worth of Apple Pay transactions if they're using Square's chip and contactless payments reader. Square's normal processing fee is 2.75%, so companies can save up to $350.

Though Square is most commonly associated with small retailers, this promotion extends to companies of any size, according to the company. Companies already using Square's reader or new customers who sign up in 2017 can take part. If the company is new to Square, it can purchase a reader at a discount, and the deal will apply for a year after it signs up.
The promotion is contingent on the retailer setting up marketing materials at their point of sale — Square asks them to verify this with a picture — encouraging customers to use Apple Pay. The company piloted the program in Portland, OR in 2016 and said that the number of contactless transactions at retailers tripled.
The company said it hopes to "educate buyers and sellers" about the benefits of contactless payments, namely increased security and speedier transactions. For that reason, the promotion is aimed at sellers with a visible point of sale — like a countertop.
Jesse Dorogusker, head of hardware at Square, told BuzzFeed News, "We're promoting contactless and bringing it to our customer base because it's typically the small businesses who lag behind in technological innovation, who don't reap the benefits of technological advances."
The promotion is part of a larger effort to integrate Square with Apple Pay and for each to promote the other. Square CEO Jack Dorsey announced in December 2016 that Square Cash, the company's virtual bank account that can link to a Visa debit card, would integrate with Apple Pay.
When asked why the company focused so much on the partnership with Apple, Dorogusker said, "Contactless is new in the States. The only way to break through is with pristine implementation, and the two of us are really the only ones who have that right now."
Chip credit cards proliferated throughout the US during 2016, but they've encountered issues with their processing speeds. Many people hate them.
Square claims their chip card reader is much faster than others, and the company hopes that encouraging use of contactless payments will give it a further edge over other payments processors.
Dorogusker said, "We've been focusing on the performance of our chip card reader, and that's going well, but the ritual of a tap makes way more sense."