Soylent Will Stop Shipping 1.6 Powder After Reports It Made People Sick
The powder shares ingredients with Soylent's Food Bars, which the food replacement startup recalled after reports that the bars were making consumers violently ill.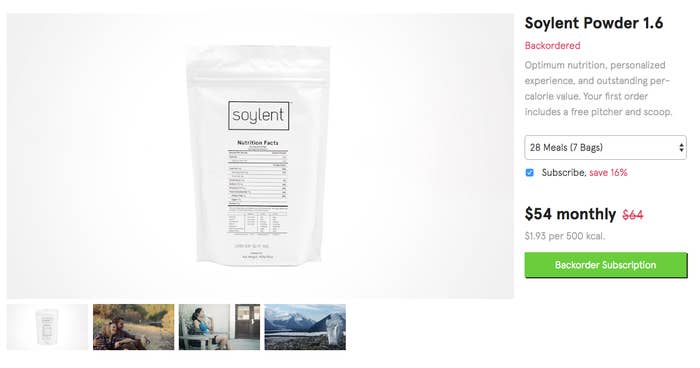 Soylent will stop shipping its powdered product, Soylent 1.6, following an investigation into its Soylent Food Bars, which the company recalled after some consumers complained that eating the bars made them violently ill.
Some users had complained on Reddit and on Soylent's own forums that the 1.6 powder had made them get sick, though not with the same frequency or intensity that the bars induced. In a blog post published Friday, Soylent said that less than 0.1% of the powder's consumers complained.
The complaints about Soylent 1.6 from the past several months resemble those of Soylent bar consumers, the company said, and it has decided to "err on the side of caution" and investigate the unique ingredients that the two products have in common. The company declined to specify what those ingredients were, but said it will reformulate both products to remove them.
As Soylent investigates, the company said it will share its findings with the FDA so that the agency can conduct its own evaluation of the bars and the powder.
Soylent said that it had tested the bars and found no evidence of "food pathogens, toxins, and outside contamination." The absence of those things led the company to believe that an ingredient may have been nauseating consumers.

But "if you have used Powder 1.6 without incident, we see no reason to stop enjoying it," the company advised.
Soylent said there have been no similar complaints of illness related to the bottled versions of its products, Soylent Drink and Coffiest, or its previous powder formulation, Soylent 1.5.

Reddit users have complained about Coffiest:


As it investigates what could be causing its customers to get sick, Soylent will cease shipping 1.6, but it said it hopes to make it available again in early 2017.