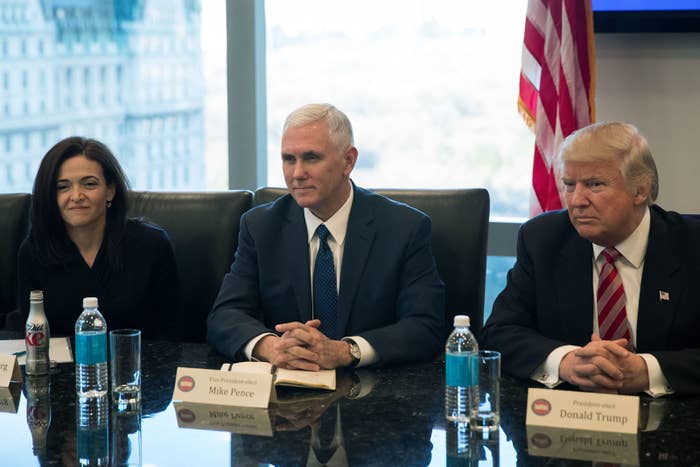 Sheryl Sandberg, Facebook COO, self-described feminist, and the author of Lean In, wrote a Facebook post on January 26 decrying Donald Trump's reinstatement of the "global gag rule."
The mandate, which Trump reinstated on Monday via an executive action, prevents foreign healthcare providers who receive US aid from providing abortions to women or even talking about them. Public health experts believe it will lead to more unsafe abortions around the world.

She posted her thoughts alongside a New York Times article about how women's healthcare providers around the world were preparing to deal with the gag order.
Before publishing the statement, Sandberg had come under fire because she did not attend or comment on any of the global Women's Marches. In the days after the protest, the only post on her Facebook page was an interview with long-distance swimmer Diana Nyad. A Facebook spokesperson told BuzzFeed News that Sandberg could not attend for personal reasons but that "she wishes she could have been there."
Some people were quite pleased that Sandberg spoke out against Trump.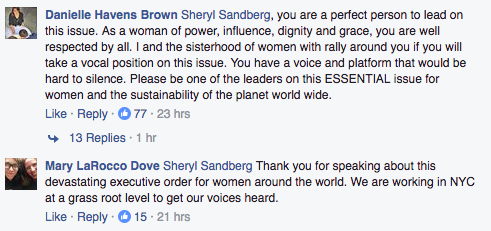 Sandberg's words weren't met with unanimous cheers, however.

Some pointed out that Sandberg's statement was framed in support of policies that would reduce the number of abortions, rather than fully supporting a women's right to choose.
Others argued that as the founder of Lean In, Sandberg should have been a more vocal opponent of the Trump administration.
Pando Daily founder Sarah Lacy rebuked the Facebook COO's silence on issues affecting women and the Women's Marches, which drew massive crowds not only in the US, but around the world. "Sandberg can not or will not even acknowledge the most feminist thing that's happened, which was largely organized on her company's site and aligns with her stated personal political views," wrote Lacy. "I'm not sure we could have clearer evidence at this point that Facebook is bending over backwards to embrace a Donald Trump world."
Lacy pointed to LeanIn.org's mission statement, which reads, "We are committed to offering women the ongoing inspiration and support to help them achieve their goals. If we talk openly about the challenges women face and work together, we can change the trajectory of women and create a better world for everyone."

Trump's campaign and presidency have been peppered with concerns over women's rights, including the explosive moments when tapes of him saying he would grab women "by the pussy" on Access Hollywood surfaced and when he called Hillary Clinton "a nasty woman." Beauty pageant contestants accused him of walking into their dressing rooms while they were naked, to which Trump responded "I sort of get away with things like that." On the same day as Sandberg made her post, Vice President Mike Pence spoke at the annual March For Life. Pro-abortion rights groups are not enthused about the prospect of the Trump/Pence administration.
Sandberg previously met with Trump and Pence during a closed door meeting with tech executives at Trump Tower. The Silicon Valley bigwigs who attended were widely criticized for not vocalizing their previously stated opposition to some of Trump's policies.
Nitasha Tiku contributed to this report.