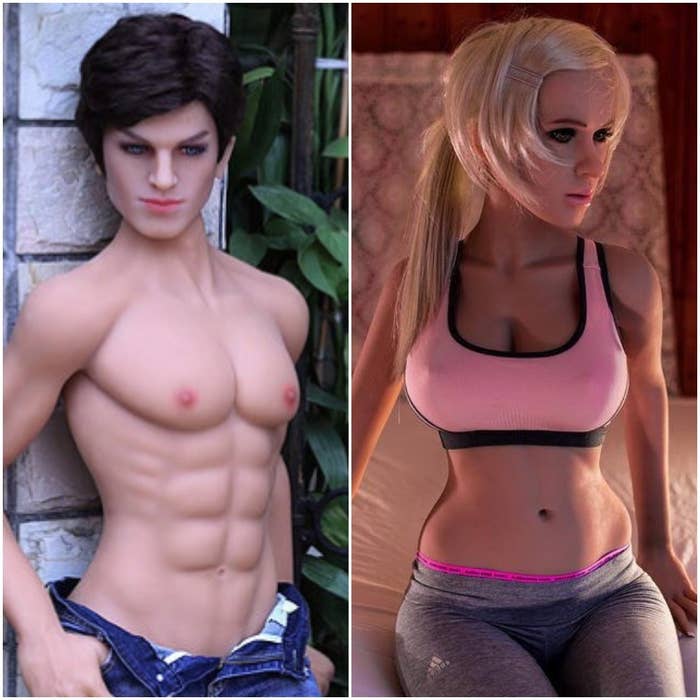 Sex robots may have burst into mainstream consciousness with HBO's hit show Westworld, but now they're proliferating in this world, raising questions about the potential effects they will have on their human "clients."
Unlike the very humanesque bots of Westworld, the sexbots on the real-life market so far only moan and feel warm to the touch. But the push of one Canadian company to bring them more into the mainstream is forcing some very uncomfortable conversations.
The city of Houston, Texas, recently became embroiled in the issue when one company, KinkysDolls, announced plans to open a "love dolls brothel," where clients could make one-on-one appointments with the robots. A similar KinkysDolls operation opened in Toronto in 2017, charging clients by the hour or half hour.
KinkysDolls did not respond to multiple requests for comment. But in an interview with the Toronto Sun, the company's owner, Yuval Gavriel, described it as a try-before-you-buy shop for pricey sex dolls, which range from $2,000 to $3,500.
"We are not a brothel," Gavriel told the Sun. "We are actually against something that's a brothel or discriminating against men or women in any way."
But the Houston community protested and mounted a campaign. The city council responded this week by banning people from having sex with a device that resembles a human being at a sexually oriented business. The company, however, can still sell the robots for customers to use elsewhere.
But as the technology inevitably improves (a more advanced doll-robot made by another company, Harmony, can already hold a conversation and move its head), questions about their effect on humans and our relationships are becoming louder.
How should we treat these things? As people, or as large, talking vibrators and Fleshlights? Is fucking a robot cheating on your spouse? Will these devices make us more lonely? More confident during sex? Less?
There isn't much research to go on, so we're just left with our own anxieties, imaginations, and comparisons to Westworld. Reactions on social media ranged from incredulity to disgust to curiosity.
A 2016 randomized survey of 100 people by Tufts University researchers asked participants, "Would it be appropriate to use sex robots instead of prostitutes?"
Respondents said that it would, rating the possibility an average of six on an acceptability scale of one to seven. It was the highest-rated level of appropriateness, with "Would it be appropriate to use sex robots for disabled people?" and "To reduce the risk of sexually transmitted diseases?" coming in second and third, respectively.
Subjects in the survey were also more likely to rate using a sex robot as more akin to masturbation than sex with a human.
But that's not to say there aren't ardent opponents among them, said Kathleen Richardson, a professor of ethics at De Montfort University and the creator of the Campaign Against Sex Robots, and the religious anti–sex trafficking and anti-pornography organization Elijah Rising. Both organizations believe that sex robots will encourage men to rehearse and act out violent fantasies on women.
"When guys are purchasing sex, they're going after power and domination," said David Gamboa, communications director for Elijah Rising. "They're not going to stop searching for that and say, 'Well, now we've got this great alternative.' I don't see it as an impermeable wall between having sex with a robot and a human."
Allissa, a sex worker at the legal Nevada brothel Sheri's Ranch who declined to give her last name, also believes that readily available sex robots will encourage sexual violence. But she doesn't think what she does can be replaced by an android.
"I've heard many things in sessions with clients, but I've never heard them ask me to act more like a robot or a sex doll," she said. "They want my personality and a connection. They want a girlfriend experience."
Heather Berg, a lecturer at the University of Southern California whose research focuses on sex labor, believes the arguments about increasing violence are idealizing history and misunderstanding the present.
"I don't know what past they're harkening back to," she said. "Straight men enacted violent fantasies against women before sex robots, before the internet, and even before video porn."
Berg believes the discussion of sex robots also doesn't reflect their reality.
"It's a novelty, not the new crisis in sexual relations," she said. "New technology isn't necessarily dangerous. The free-floating anxiety is bigger than the thing itself."
Qiao Wu, a spokesperson for Exdoll, a Chinese sex doll company that's investing in making sex robots, echoed those sentiments.
"The problem is not because of the sex doll or sex robot. Some man can view women as objects even if they don't know there is such a thing called a sex doll or robot," he said. "It's a social ethics and education problem. It's not about sex toys."
Even a columnist for the Houston Chronicle, Chris Tomlinson, argued that, at the end of the day, it's just a machine.
"A full-size sex toy with computer chips should be no different than a vibrator in the eyes of the law," he wrote.
The current sexbots aren't even imbued with sort of intelligence that Alexa, Google Assistant, or Siri have — they moan when touched.
And last year, researchers for the Foundation for Responsible Robotics, a nonprofit that advocates for a greater understanding of tech ethics, wrote that the reality of current and planned sex robots "is considerably different from their science fiction counterparts."
"They are essentially mechanized sex dolls with limited expressiveness and minimal conversation capabilities," they added.
Even the owner of KinkysDolls acknowledged in his interview with the Sun that "the technology is not there."
"The planet is far from having robots that [are] moving," he said. "It's going to take a lot of time and a lot of money."
For Allissa, the sex worker in Nevada, the more time the better.
The owner of the Bunny Ranch and six other legal brothels in Nevada has already proposed opening a robo-bordello in Las Vegas by 2020, where sexbots would be working alongside human sex workers, a prospect Allissa from Sheri's Ranch finds threatening and unfair.
"They're able to put lifeless dolls in Vegas, which encroaches on my business," she said. "We work in restrictive environments, and it doesn't seem like their doll brothels would have any regulations."