Some Twitter users have noticed that searching for "worst," "asshole," and "douchebag" on Twitter right now brings up President Donald Trump's account as a top result.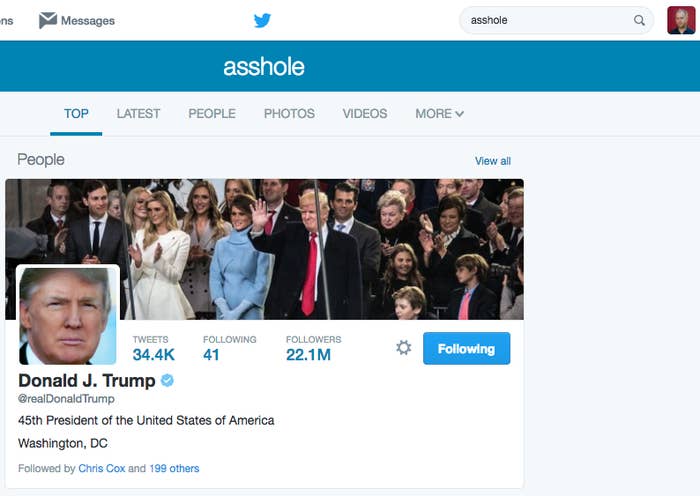 Other terms that return @realDonaldTrump as one of the primary results include "racist," "bigot," and "fascist."
Twitter declined to comment. But this is likely happening because large numbers of people have been using these words when they mention the president, so Twitter's search algorithm identifies them as commonly associated with him.
"Sexist" and "misogynist," terms frequently applied to the president by his detractors, did not produce the same results. Searching for "president" also returns @realDonaldTrump, but entering "powerful" produces Barack Obama's account as a top result. "Leader" brings up the accounts of Obama and Bill Gates. And "corrupt" turns up Hillary Clinton's account:
Trump is currently driving a tremendous amount of conversation on Twitter. Between Dec. 5, 2016 and Jan. 5 2017, he was mentioned 42.7 million times on Twitter — more than 10 times as often as the Kardashians — and his presence there has led to a wave of exposure for the platform. On January 23, Trump even created a Twitter Moment. So far, @realdonaldTrump hasn't tweeted about the search results he's featured in.
Alex Kantrowitz contributed reporting to this story.