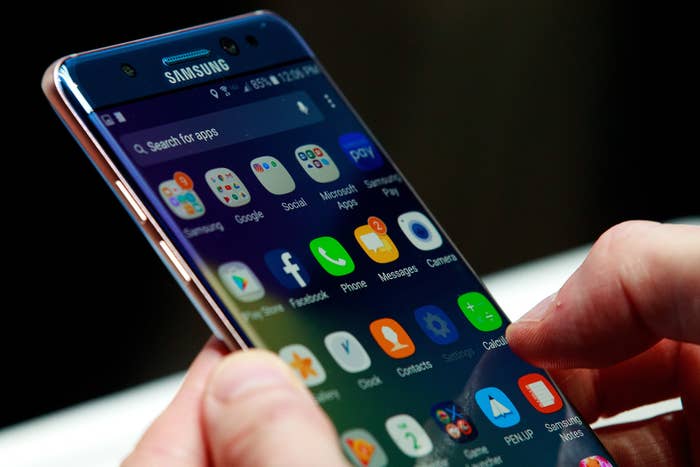 Samsung will start releasing a global software update on December 19 for its recalled Galaxy Note7 smartphone that will prevent the phone from charging, making phone calls, and sending text messages.
Samsung said in a statement that customers have returned 93% of the recalled phones. It aims to bring that to 100% with this software update, which will effectively render the phones useless.
But in a twist, Verizon will block the software update for its customers with Note7s. Jeffrey Nelson, Verizon's VP of global corporate communications, said in a statement that the cell service carrier wants to protect customers who may not have another device to immediately switch to, who may find themselves in emergency situations, or who may be traveling for the winter holidays. The company encourages Note7 owners to exchange their phones as soon as possible.
Verizon has so far complied with Samsung's recall efforts, Nelson's statement said. The majority of Verizon customers have already replaced their Note7s with other Samsung models, according to the statement, though it did not give exact numbers.

When asked whether the update will affect the relationship between Verizon and Samsung, a Verizon spokesperson said, "Samsung is a great partner, and we love working with them. This is just a situation where we don't agree on this one thing."
Samsung released the Galaxy Note7 in August 2016, but soon after the release, dozens of customers reported their phones were overheating and exploding. The US Consumer Product Safety Commission recalled the phone in September 2016, and Samsung began issuing its customers replacements.
Those replacements, however, were also prone to the same problems as the original Note7 phones. Notably, one grounded a Southwest Airlines flight in the US, which prompted all airlines in the country to ban the phone from any flight, going so far as to say they would confiscate the phone from passengers. Samsung responded by setting up return kiosks in major American airports.
Note7 owners can exchange their phones for another Samsung phone or a refund by visiting Samsung's recall site.

Samsung did not immediately respond to a request for comment. Sprint said in a press release that it will push the update to customers' Note7 phones on January 8, 2017, T-Mobile said in a statement that it will push the update on December 27, and AT&T will do so on January 5, 2017.