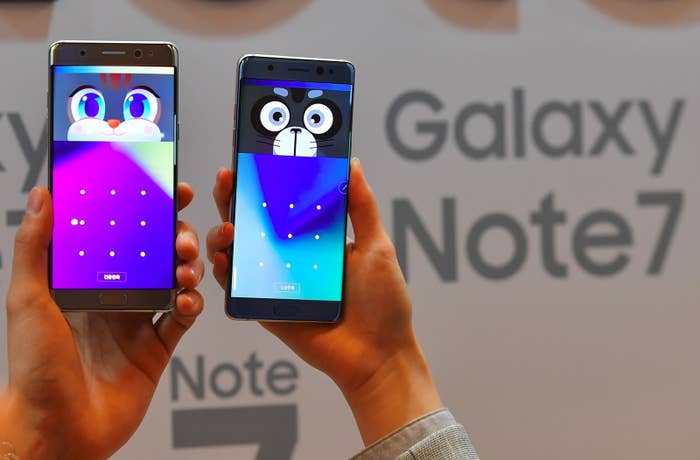 Samsung, working with consumer safety agencies in South Korea, the US, and China, has temporarily halted sales and production of the Galaxy Note 7 smartphone after reports that replacement devices have caught fire, Yonhap News reported. The company has also asked all owners of both original and replacement Galaxy Note7s to power the phones down and return them.

A Samsung spokesperson told BuzzFeed News, "We are temporarily adjusting the Galaxy Note7 production schedule in order to take further steps to ensure quality and safety matters."

US phone carriers AT&T and T-Mobile stopped selling the phone and declined to issue replacement Note7s for previously sold phones, the Wall Street Journal reported. Both carriers are instead offering refunds or different devices in exchange for returned Note7s. On October 10, Samsung asked "all carriers and retail partners globally to stop sales and exchanges of the Galaxy Note7 while the investigation is taking place."
Responding to AT&T and T-Mobile's decisions, a Samsung spokesperson said, "We are working diligently with authorities and third party experts and will share findings when we have completed the investigation."

The spokesperson continued, "Even though there are a limited number of reports, we want to reassure customers that we are taking every report seriously. If we determine a product safety issue exists, Samsung will take immediate steps approved by the CPSC to resolve the situation."
Air carriers have been advising passengers to power down their Note7s during flights for weeks now, but in response to Samsung's October 10 decision, the Federal Aviation Administration made official recommendations for aircraft passengers "to power down, and not use, charge, or stow in checked baggage, any Samsung Galaxy Note7 devices."
Last month, Samsung issued a global recall of 2.5 million Note7s, including 1 million in the US, after a number of reports that the phones' batteries were overheating and causing them to explode. The electronics manufacturer offered replacement phones to buyers with defective ones, but some users reported that even these burst into flames as well.
The Note7 hit the market on Aug. 19, but faced a recall in the US less than a month later on Sept. 15 after nearly 100 reports of the devices catching fire or exploding, some with dramatic results. Replacement phones arrived in the US on Sept. 21 but were met with resistance after a Southwest Airlines flight was grounded because of a smoking Note7.
Samsung lost $25 billion in market value due to the multiple failures of the Note7, but shares have recently rebounded to an all-time high. The Wall Street Journal reported that Samsung's operating profit will rise to roughly $7 billion in Q3 2016, which includes recall costs of $1 billion.
Note7 owners looking to return their phone can start the process here.
UPDATE: This story has been updated to reflect Samsung's request that carriers and sellers cease sales of the Note7 and to include the FAA's recommendations.