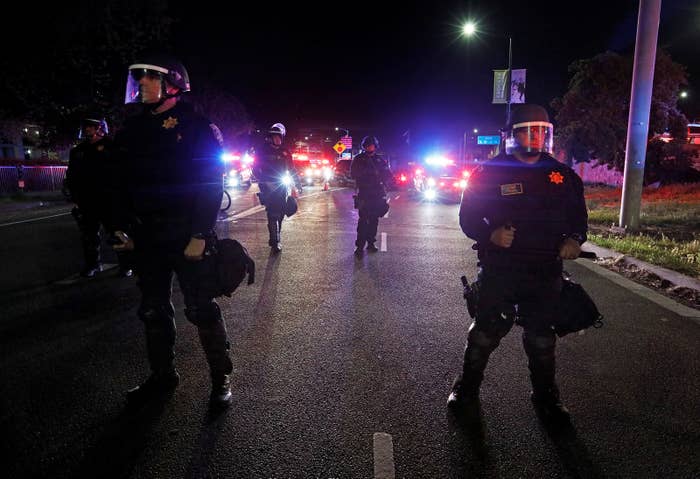 Sacramento County Sheriff Scott Jones asserted Monday that there were professional, paid protesters at a Saturday night vigil for Stephon Clark, the unarmed black man killed by police in his grandmother's backyard.

"Unfortunately, in many protests that have developed to this scope, there are professional protesters and professional instigators that infiltrate the protest for their own purposes, as well as participants from out of the region that inflame and antagonize the event," Jones said at a news conference. "That is what happened here, which culminated in many vehicles being struck, objects being thrown, and fires being started."
When Jones was asked if he had evidence that paid protesters attended the vigil, he replied, "We do have evidence, and we have seen it previously. You'll notice the same cadre of protesters at every protest, sometimes in other states."

Black Lives Matter and other protests over police violence have long been dogged by conspiracy theories that protesters were paid to incite violence and discontent. Tanya Faison, founder of Black Lives Matter Sacramento, told BuzzFeed News Jones' comments were "propaganda" and that she never encountered a paid protester.

Jones characterized the Saturday night demonstration as mostly peaceful, with one exception: a sheriff's office vehicle struck a protester after marchers surrounded the SUV and began kicking it while yelling at the officers inside. National Lawyers Guild legal observer Guy Danilowitz captured the collision on video.
After the SUV struck Cleveland, another protester ran after it and shattered the back windshield.
The sheriff's office has released no information about the officer in the driver's seat during the incident. The protester, Wanda Cleveland, was released from the hospital later that night with bruises on her arm and the back of her head.
"He never even stopped. It was a hit-and-run," she told the Sacramento Bee. "If I did that I'd be charged. It's disregard for human life."
At the press conference, Jones showed video of the incident from the point of view of the two law enforcement vehicles that became entangled in the protest. Skip ahead to 15:29 for uninterrupted video of the second vehicle hitting Cleveland.

The Sacramento Sheriff's Office did not immediately respond to a request for further comment.

Protests have rocked Sacramento since Clark's shooting, including delaying NBA games. An independent autopsy commissioned by his family found that police shot him six times in the back and twice in the side, sparking a fresh wave of protests over the use of force, especially given that he was unarmed.
The Clark family's lawyer, Benjamin Crump, said that the results contradict the police narrative of what happened the night he was killed.

Police have not yet released their own autopsy.