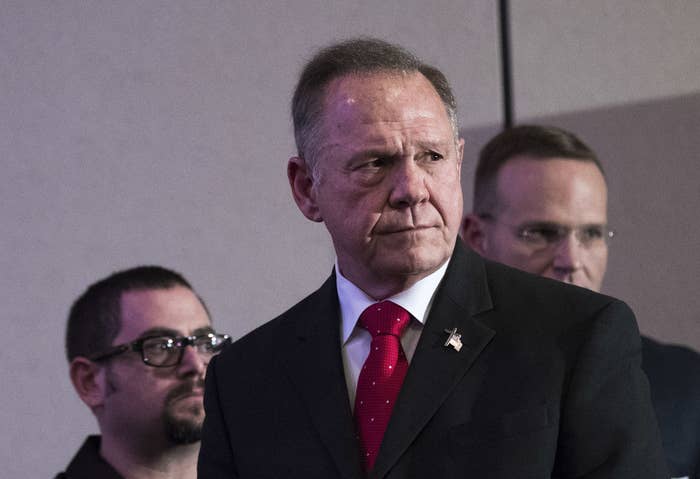 Roy Moore, the Alabama Republican currently facing calls to end his Senate bid amid allegations of sexual misconduct with teenagers, was given a hero's welcome Thursday by religious activists in Birmingham, Alabama, who blamed the news media for their candidate's troubles.

But even as he was embraced by supporters in Alabama, the White House moved to put Moore at some distance.

White House press secretary Sarah Huckabee Sanders, when asked if President Trump's endorsement of Moore still stood, said, "If the allegations are true," Moore "should step aside."
Trump himself has not addressed the latest sexual misconduct allegations against Moore. Asked directly if the president believes Moore should end his campaign, Huckabee Sanders said only, "The president believes that these allegations are very troubling and should be taken seriously, and he thinks that the people of Alabama should make their decision on who their next senator should be."
The crowd at the Birmingham Marriott, however, broke into cheers and applause when Moore himself briefly addressed the audience and said who he thinks should leave political life.

"I want to tell you who needs to step down. That's Mitch McConnell," Moore said of the Senate majority leader.

Four women in total have come forward to accuse Moore of pursuing them sexually when they were teenagers and he was in his 30s. One said she was just 14 at the time he brought her to his home and touched her over her underwear and guided her to do the same to him. Another, Beverly Young Nelson, alleged he sexually assaulted her. Moore has repeatedly described these accounts as "politically motivated" and threatened a lawsuit against the accusers and the Washington Post.

Two women, Kayla McLaughlin and Gena Richardson, came forward in a Washington Post story published just Wednesday saying that Moore pursued relationships with Richardson while the two were in high school and working at the Gadsden mall. Richardson said Moore gave her an "unwanted, forceful kiss."
Speaking at a podium bearing the hashtag #StandWithRoyMoore, religious leaders in Birmingham blamed the media for the accusations. "Ladies and gentleman, I present to you the hero of the day, our valiant leader Judge Roy Moore," said Faith2Action president Janet Porter at the start of a nearly two hour conference with over a dozen speakers.
Porter called the media "a lynch mob," and press coverage "a character assassination." She lambasted Moore's Democratic opponent Doug Jones in the Dec. 12 special election for his stance on abortion, offering graphic and inaccurate descriptions of medical procedures.
Alan Keyes, chairman of Renew America and a former Senate and presidential candidate, said, "I stand with Judge Roy Moore, because he never leaves God out."

"Roy Moore stands on the premise that when you come to strip away a man's rights, you spit in the face of God," Keyes said to the crowd. "If that's what they're doing to him, if when the rights of your representative are stripped away, what is the logical conclusion? That you're rights are stripped away, that your rights are gone."
Elizabeth Johnson, a blogger at the site Activist Mommy, said, "Facts should matter more than feelings, and the facts appear to show us that Roy Moore was framed." Johnson published misinformation about Moore's accusers on her site attempting to discredit them.
"Sexual assault is indefensible," Johnson continued. "I am an advocate for victims of sexual abuse. If I thought for a second these allegations were true, I'd be the first person in front of a microphone calling for Judge Moore to step down."

Rabbi Nolson Shmul Leiter, Help Rescue Our Children and Torah Jews for Decency, said that Roy Moore was working on behalf of religious leaders by standing up to "homosexualist gay terrorists" and "the LGBT transgender mafia."
Gordon Klingenschmitt, a former Colorado state senator who teaches at Colorado Christian College and runs the TV show PIGN News, quoted the Ten Commandments — "Thou shalt not bear false witness" — as he described Moore's accusers. He went on to mention Beverly Young Nelson's stepson, who used a baseless conspiracy theory to question his stepmother's account of her assault, and an inaccurate Breitbart story attempting to depict Leigh Corfman's mother as saying that the Washington Post coerced the story from her daughter. Corfman's mother had told the Washington Post that she was "horrified" when her daughter told her of her experience with Moore.

Many of the speakers singled out the media as being behind the attacks on Moore, a line of frustration that did not end with the conference speeches.
Flip Benham, the evangelical leader of Operation Save America, told the media present during his address, "Your knee is gonna bow, and you're gonna confess, you have no choice. Hell is a place you choose to go!"
At the start of the event, the event planner informed the Moore supporters intermingled with reporters crowded into seats in the small room that organizers "have requested no questions about any of the allegations" during the press conference portion of the event that followed the statements from Moore and faith leaders.
When the question and answer portion arrived, Moore sat back down in his seat. Porter, who had organized the event, stood at the podium to field questions.
The first question came from a CNN reporter who asked Moore whether or not he had touched any of the women who have alleged he sexually harassed them in some way. Moore's supporters yelled in anger.
"He's already answered that," said one. "Hush," said another. "Stop lying," said yet another.
A second reporter asked a similar question, at which point Moore and his wife Kayla stood up and exited the room, and the press conference came to an abrupt halt.
"You were told not to ask about that," a woman supporting Moore said angrily to the CNN reporter.
"You make me sick," another woman said to him on her way out.
In a narrow hallway outside, cameras and reporters surrounded Keyes, who berated the press for their questions.
"You refused to stop your abuse," he said angrily. "Asked, and answered, again and again. He could answer that question a thousand times, and if a thousand accusations were made, he could answer every one a thousand times and you would prove yourself a liar."
Other Moore supporters passed by and added their voices to the cacophony.
"You did not have the decency to abide by the rules that we established for you to come here and record our conference," said Pastor Stephen Broden.
"You were asked to ask questions about the issues, the issues about our country. You were not asked to ask personal questions about Mr. Moore. We wanted to hear what he had to say about the issues, and you did not allow it because you are the fake, lying news from the swamp," said Ginger Barbee, an Alabama Republican who had spoken for Moore.
Benham told the cameras to pan to the reporters, saying the media looked "smug" and was "frothing at the mouth" over the allegations.
"Look at the mob," he said. "These people are sick, sick, sick."
Blake Montgomery reported from San Francisco, California; Alexis Levinson reported from Birmingham, Alabama.