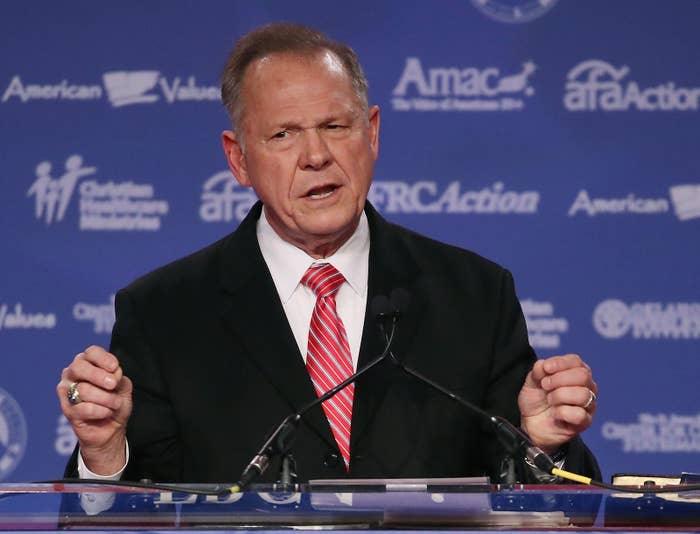 Roy Moore called the allegations that he'd initiated sexual conduct with a 14-year-old girl while he was in his thirties "a prime example of fake news."
Moore, a Republican candidate for Senate in Alabama, gave the comments during a speech at a Veteran's Day event in Alabama on Saturday morning.

Leigh Corfman told the Washington Post that in 1979, when she was 14, Moore met her outside of a courtroom after offering to watch her while her mother went into a child custody hearing. Corfman told the paper that Moore, on a second trip to his home, "took off her shirt and pants and removed his clothes. He touched her over her bra and underpants, she says, and guided her hand to touch him over his underwear."

On Saturday, Moore called the Post story "a desperate attempt to stop my political campaign for the United States senate," and questioned the timing of why the allegation.
"These attacks involve a minor and are completely false and untrue," he said.

On Friday, Moore denied the allegations of sexual misconduct with a 14-year-old, but seemed to leave open the possibility that he'd pursued at least one other teen during that time, while speaking on Sean Hannity's radio show.

"I don't know Ms. Corfman from anybody," Moore said on Hannity's show. "I've never talked to, never known her or anything." Moore called the story "completely manufactured."

Moore also called the allegations "politically motivated after 40 years of public service," and said he had "evidence of collusion" that would discredit the allegations but that he was not ready to go public with it. He issued a lengthy statement on Friday that didn't provide any evidence.

On Saturday he echoed his claim that political motivations influenced the story's release, and said his political opponent was "desperate."
"There are investigations going on. In the next few days there will be revelations about the motivations and the content of this article," said Moore, without going into specifics.
Moore is the Republican nominee for Attorney General Jeff Sessions' former seat. The general election is on Dec. 12.
Hannity also asked Moore about Debbie Wesson Gibson, who, according to the Post, was 17 when Moore pursued her for two months and said "he kissed her once in his bedroom and once by the pool at a local country club." She said "nothing bad happened" but that she realizes now the age difference made it inappropriate.

In response, Moore said, "I know her, but I don't remember going on dates with her. I knew her as a friend. If we did go on dates, then we did." He said he did not remember speaking to her civics class, which Gibson said is how they met.
Another woman, Gloria Thacker, told the Post she was 18 at the time when Moore initiated a relationship and gave her wine at an age when it would have been illegal for her to drink. Moore said he did not remember whether he had gone on dates with them, but said he would not have dated people so young.

Moore said, "I have never provided alcohol to minors." To try to support his argument, he said the county they lived in was dry.

Hannity asked Moore if he could "say unequivocally that you never dated anybody in their late teens when you were 32?"
Moore responded, "It would've been out of my customary behavior." He also said he would've never dated a woman without her mother's permission but added that Thacker and Gibson's mothers had encouraged the girls to be friends with him.
Moore said that anyone who abuses a 14-year-old girl "shouldn't be a Senate candidate, but I didn't do that."
Top Republicans said they are "deeply disturbed" by the allegations. Many said that if the allegations were true, Moore should drop out of the race.
A poll by conducted by Opinion Savvy and commissioned by Decision Desk HQ show that the race between Moore and Democrat Doug Jones has evened out in response to the news. Both candidates' chances, according to the poll, are at 46%. More than half of those surveyed said they do not believe Moore should withdraw from the race because of it; 35% said he should.
Moore has long been a controversial political figure, especially for his stance on homosexuality, which he said should be illegal. The same day as the allegations of sexual misconduct broke, CNN reported that Moore was removed from presiding over a divorce case in the 1990s after barring a lesbian mother from seeing her children because of the mother's "present lifestyle."
"I have never provided alcohol to minors, and I have never engaged in sexual misconduct. As a father of a daughter and a grandfather of five granddaughters, I condemn the actions of any man who engages in sexual misconduct not just against minors but against any woman," Moore said in his statement released Friday.

Moore's campaign sent out a fundraising email during the interview reiterating his earlier statements: "The Obama-Clinton Machine's liberal media lapdogs just launched the most vicious and nasty round of attacks against me I've EVER faced."
After the interview, Republican Sens. Steve Daines of Montana and Mike Lee of Utah said on Twitter they had withdrawn their endorsements of Moore.
"I am pulling my endorsement and support for Roy Moore for U.S. Senate," Daines wrote.
"Having read the detailed description of the incidents, as well as the response from Judge Moore and his campaign, I can no longer endorse his candidacy for the US Senate," Lee wrote.