GAINESVILLE, Florida — A white nationalist who claims to be the leader of the alt-right movement was met with 2,500 mostly peaceful protesters Thursday at the University of Florida. Some confrontations did turn violent, though, and in one case led to a shooting off campus, police said.
Richard Spencer's address at the university came after Florida Gov. Rick Scott declared a state of emergency in advance of the event, prompting a heavy law enforcement presence at the campus.
After the speech, police reported a single shot fired near the university from a silver Jeep, although no one was injured. The next day, police said they had arrested three men believed to have been in the Jeep — Tyler Tenbrink, 28; William Fears, 30; and Colton Fears, 28 — and charged them with attempted homicide.
According to the police report, Tenbrink yelled, "I'm going to fucking kill you" before he fired at protesters. William and Colton Fears allegedly encouraged him by saying "kill them" and "shoot them."
The police report also states that Tenbrink admitted to firing the gun.
In a press release, Gainesville police said that prior to shooting, the three men argued with protesters at a bus stop and, when it got heated, gave Nazi salutes and chanted in praise of Adolf Hitler.
All three men were interviewed earlier in the day by BuzzFeed News outside Spencer's speech.
Tenbrink, a convicted felon with alleged ties to extremist groups, faces an additional charge of possession of a firearm.
At a press conference before the speech, Spencer defended his right to speak about issues of race and white nationalism and his role of breaking through the what he described as a cone of liberal ideology on college campuses.
"If we can't do it at public institution, where can we do it?" he said.
Memories of the deadly and violent events in August in Charlottesville, Virginia, where Spencer led white supremacists carrying torches in a march chanting phrases such as "Jews will not replace us," had local authorities on edge.
"We don't want another Charlottesville on our hands. It's top of mind for everybody," Alachua county commissioner Mike Byerly told BuzzFeed News at the event. He had come to protest Spencer. He estimated combined costs to the city and the university would exceed $1 million.
In addition to state resources activated for the University of Florida event, police banned masks and water bottles at the site of the speech.
People who attended Spencer's speech told BuzzFeed News he was met with chants from protesters, such as "fuck you" and "go home Spencer," and his remarks were often drowned out. Inside the event, protesters and police outnumbered self-identified white nationalists and Nazis by as many as 30 to 1, one man said. Chris Weaver, a PhD student at UF, estimated that there were between 20 and 30 Spencer supporters vs 200 to 250 protesters.
The event was billed a celebration of free speech, but Spencer took a fair amount of time to deride protesters who used their voices against him. Members of Identity Evropa told BuzzFeed News that they dictated to police who should and should not be allowed inside the venue.
Videos from inside the venue showed Spencer arguing with attendees during a question and answer session, denying that he was responsible for violence at his events. During his remarks, which included him promoting the idea of a separate white "ethnostate," protesters within the audience sustained boos.
"You are cowardly, trying to shut down a movement that is growing, that is going to stand up for white people," Spencer replied.
Outside, police worked to separate white nationalists and protesters, who at times shouted in each others' faces. The crowds outside the event were largely peaceful — save for one man who was punched.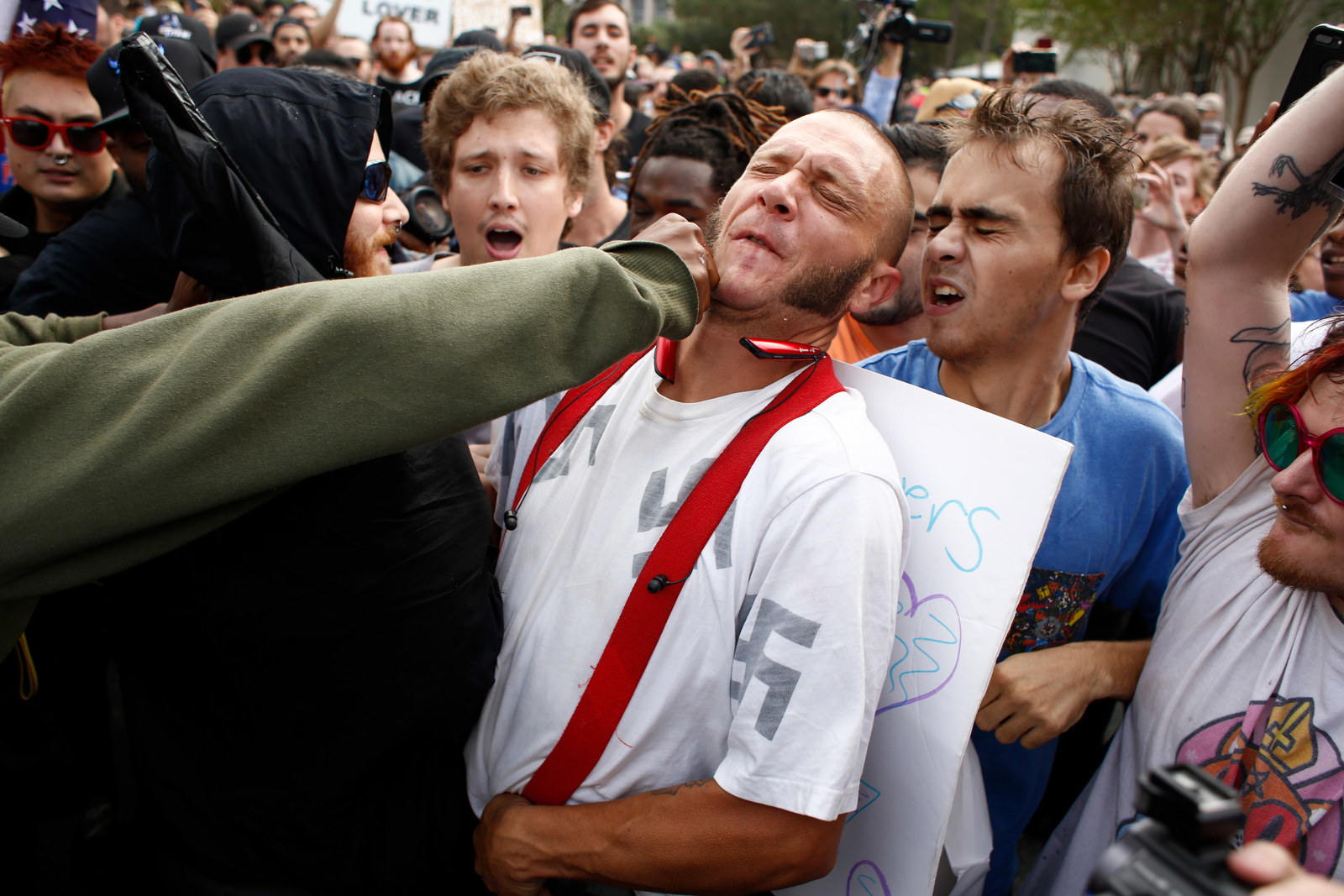 The man was wearing a shirt with swastikas on it, and he told BuzzFeed News that he was a Nazi. Protesters gathered around him, shouting and spitting.
After Spencer's speech, some white nationalists were escorted through the crowd of protesters by police. Tenbrink, the felon involved in the shooting after the speech, was taken away in handcuffs after jumping a barricade to avoid protesters. Police told BuzzFeed News they detained him for "trespassing" after he hopped the barricade.
Authorities said only two people were arrested, and five people reported minor injuries.
A 28-year-old man was arrested on suspicion of bringing a gun to the protest, a violation of the state law against carrying a firearm on campus. The Alachua County Sheriff's Office said he was a security guard hired by one of the media organizations covering the event.
A 34-year-old man was also arrested on suspicion of resisting arrest without violence, the sheriff's office said.
The white supremacist website The Daily Stormer was trying to encourage flash mobs outside Jewish cultural centers in Gainesville.
Such confrontations have turned violent, and sometimes deadly, in the past.
In Charlottesville, a woman was killed when a man drove a car into a "Unite the Right" rally organized by Spencer, drawing widespread condemnation and setting off a political firestorm over President Trump's initial response.
At his press conference Thursday, the 39-year-old white nationalist credited with coining the term "alt-right," blamed anti-fascists, or antifa, for the violence.
"We are dealing with a violent…terrorist group known as antifa," Spencer said. "They explicitly talk about using violence to shut down speech."
Unlike in past events, Spencer was not invited to the University of Florida, but instead booked the venue himself. When the school tried to block his appearance, Spencer threatened a lawsuit, prompting the university to reverse course and take extraordinary precautions. University officials said they planned to spend hundreds of thousands of dollars on security alone.
"Although UF leadership has denounced Spencer's white supremacist rhetoric, the university, as a state entity, must allow the free expression of all viewpoints," the school said in a statement.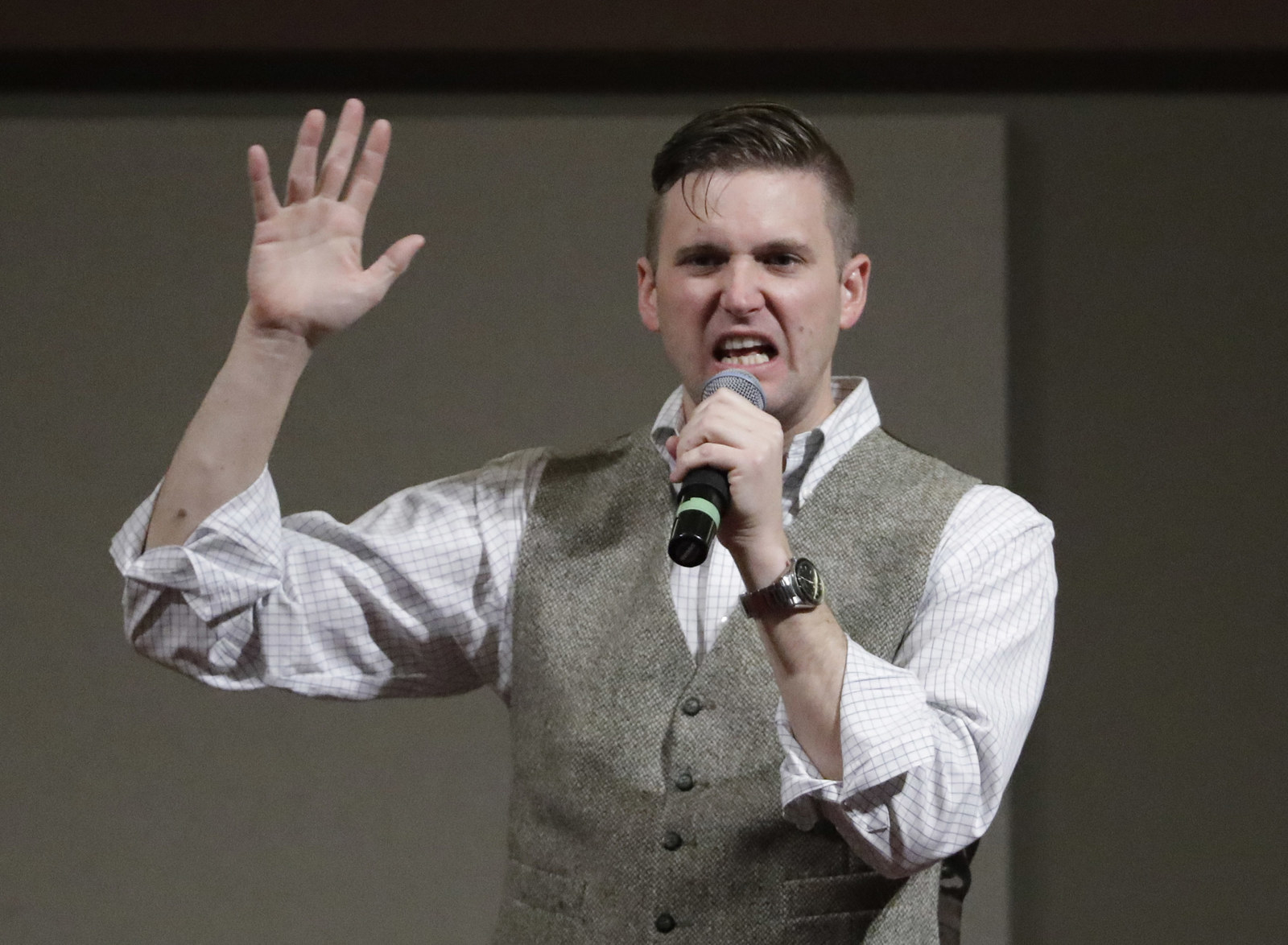 Spencer was scheduled to speak alongside white supremacists Eli Mosley, leader of Identity Europa, and Mike Enoch, host of the alt-right anti-semitic podcast The Right Stuff. All three men believe in a whites-only United States formed by "peaceful ethnic cleansing."
Mitch Emerson, the organizer of one of the largest planned protests against Spencer ("No Nazis at UF — Protest Richard Spencer"), told BuzzFeed News the goal was "to make the message very clear that they are not welcome and there are more of us then them."