Rapper Post Malone apologized Thursday for a video of him riding around Las Vegas in a Humvee decked out with a mounted machine gun.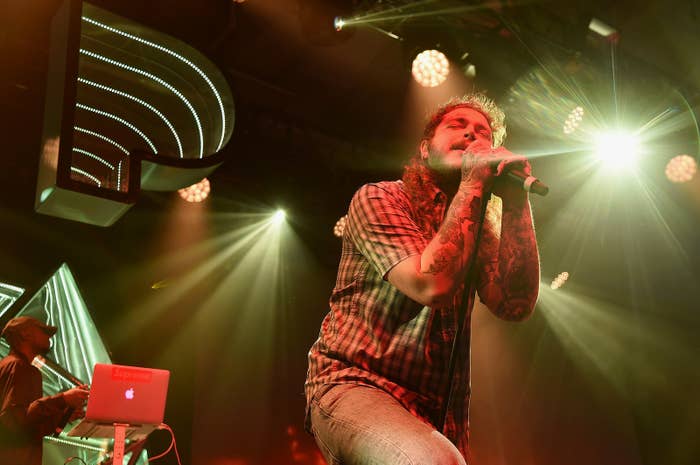 Many people said it was insensitive of the 22-year-old rapper, whose real name is Austin Richard Post, to do in a city where a gunman in October killed 58 people, making it the deadliest shooting in US history.
Christie Stevens, an adult film star, tweeted for girls at the Adult Entertainment Expo, where Malone had been spotted, to avoid him because of the video.
And some people in the replies to his video weren't happy.
"There was a shooting in Vegas recently and your [sic] driving around with a massive gun. Idiot," one person tweeted.
"I enjoy his music but this is nonsense," another said.
Malone replied to Stevens that "the gun isn't even real y'all. ... never thought anyone would assume that i was being disrespectful."
Battlefield Vegas, a firing range in Las Vegas dedicated to large weapons, did not immediately respond to a request for comment.
But not everyone was mad: "I'm in the military and I'm not offended. You keep doing you fam."
"i will sleep well tonight knowing post malone is protecting me"
Others came to Post Malone's defense: "Don't read into everything so much."
The day after the video, Post Malone apologized on Twitter, saying, "honestly, never meant to offend anybody. i apologize if i did. had no bad intentions. got offered a ride in the humvee and took it."
But wait, there's more!
The backlash and apology came on the same day as a profile of the rapper appeared in GQ. In it, he said: "I definitely feel like there's struggle being a white rapper. I don't want to be a rapper. I want to be a person that makes music."
As of Thursday, his song "Rockstar" was No. 3 on the Billboard Hot 100 charts.

Commence more backlash:
"Didn't you just score a #1 hit?????"
But as with the Humvee backlash, some people defended the remark: "I don't blame @PostMalone for speaking on what he spoke on."
"If I see 1 more person slander Post Malone I swear I'll have this man attack you"
Including the author of the profile, Bijan Stephen.
Stephen, an editor for Vox, wrote on Twitter, "i think i'm a Post Malone stan sorry." Stephen did not immediately respond to a request for comment.
"(yes, we talked about his relationship to blackness / whiteness)."
CORRECTION
Christie Stevens' name was misspelled in an earlier version of this post.