Monday was the start of baseball season, with the Washington Nationals playing the Miami Marlins.
And it was open season for protests, too.
Organizers brought a banner that stated "Impeach Trump #Resist" and unfurled it just as the game was ending.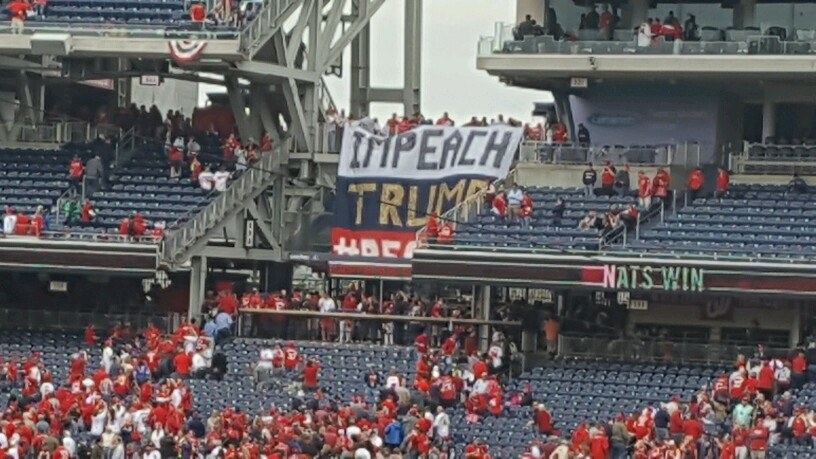 The organizers behind the stunt were Jason Charter, Ryan Clayton, and other members of their group Americans Take Action, who also pulled a prank at the Conservative Political Action Conference distributing Russian flags emblazoned with Trump's name to attendees. Charter said the banner was 27-feet-by-21-feet.
"Had a fun day at the #Nationals #OpeningDay game. Trump was not there, but we still left him a message. #Resist #ImpeachTrump." Charter tweeted.
Some people, however, were not pleased.
Charter said he and other organizers targeted the Nationals game because President Trump was slated to throw the opening pitch.
They were planning to unroll the banner when the president was on the field. Trump canceled, though, and Americans Take Action unrolled the banner just before the game ended.
They didn't stay to see the results for fear of being arrested.

"He wasn't there today because he was scared," Charter said, "There needs to be an independent investigation into his ties to Russia, and when there is — maybe Mike Flynn's testimony will be the nail in the coffin — we think he'll be impeached. It'll probably happen in the next six months."