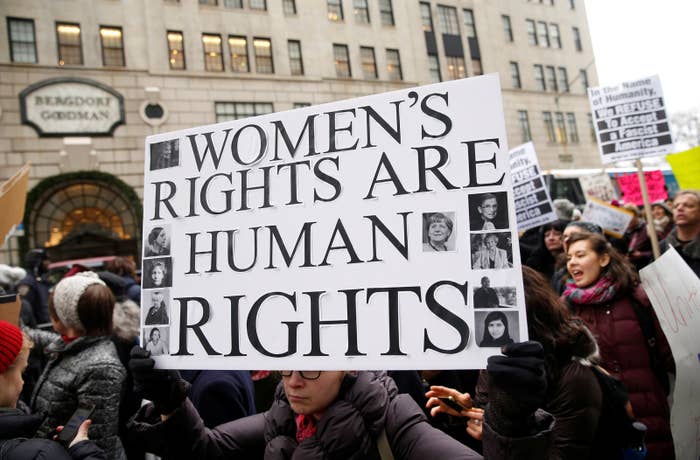 The Women's March on Washington, a protest planned for the day after Donald Trump's inauguration in Washington, DC, has partnered with Planned Parenthood, writer Gloria Steinem, and Calypso musician and civil rights activist Harry Belafonte.

As honorary co-chairs, Belafonte and Steinem will attend the march, though their responsibilities beyond that are unclear. They may speak at the rally, though the official lineup has not been announced. Planned Parenthood will provide digital promotion, volunteers, and staff around the country, as well as event safety and security expertise. The Women's March plans to announce more partners in the new year.
According to Bob Bland, a co-chair of the march, one goal is to mobilize people on a local level with familiar organizations as well as at the event on Jan. 21. "Our partnerships will give people who attend a huge variety of organizations they recognize that they can volunteer for as we move forward. We'll be able to align regionally and nationally," she told BuzzFeed News.
The partnerships add recognizable figureheads to a movement in search of unity. Working with Planned Parenthood also signals a focus on abortion and access to women's health services as central to the march because of the health provider's reputation. Planned Parenthood is working with organizers on programming for the event itself, though the group's website also generally calls out environmental, LGBT, and racial issues. It has not issued an official policy platform, Bland said, but it plans to do so in the new year.
The group has not shared plans to focus on specific policies, but has said the event is pro-women rather than anti-Trump. In a statement to BuzzFeed News, organizers said the march "is a display of solidarity affirming our shared humanity and fundamental human rights."
"We will send a strong message to the incoming administration that millions of people across this country are prepared to fight attacks on reproductive health care, abortion services, and access to Planned Parenthood, as they intersect with the rights of young people, people of color, immigrants, and people of all faiths, backgrounds, and incomes," Cecile Richards, president of Planned Parenthood, said in a statement.

The event has four official co-chairs: Tamika Mallory, a former executive director of the National Action Network; Linda Sarsour, an executive director of the Arab American Association of New York; Carmen Perez, an executive director of The Gathering for Justice; and Bob Bland, CEO and founder of Manufacture New York. March organizers have emphasized the intersectionality and diversity of their protest.
"Together we are bridging the historical struggles for women's rights and civil rights to the current intersectional movement for dignity and human rights," Sarsour said in a statement about Steinem's and Belafonte's involvement.

The march began as a Facebook event and rose to national prominence as 155,000 people said they would attend and almost 240,000 more indicated they were interested.
March volunteers will be busing demonstrators to Washington from around the country for the protest. The event itself will begin at 10 a.m. near the US Capitol at the intersection of Independence Avenue and Third Street SW.
Women's March organizers expect 150 affiliated marches to happen across the world to around the same time.
UPDATE
This story has been updated to expand the number of marches that will happen in cities around the world.