Pfizer Said It's Postponing Drug Price Increases After Meeting With Trump
The announcement came one day after Trump slammed drugmakers on Twitter, saying they "should be ashamed" for raising prices "for no reason."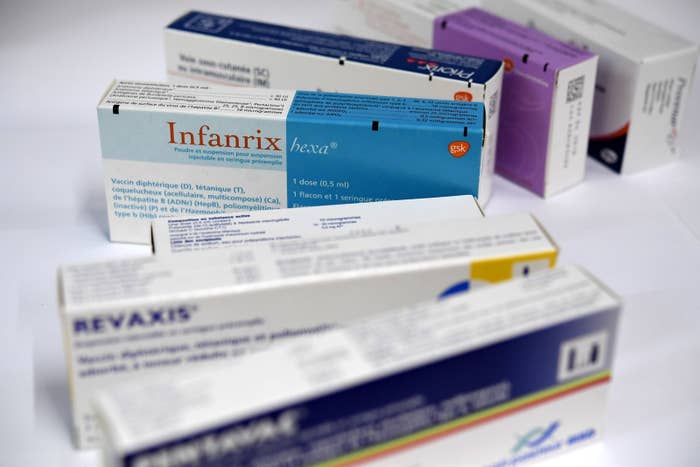 Pharmaceutical giant Pfizer said Tuesday that it is deferring recent drug price increases until the end of the year after an "extensive discussion" between the company's CEO, President Trump, and Health and Human Services Secretary Alex Azar.
The announcement came after Trump tweeted Tuesday that he had met with Pfizer CEO Ian Read to discuss his "drug pricing blueprint" — his plan to fulfill a campaign promise to lower drug prices across the board — and that the company would reverse the recent price hikes as a result.
Pfizer confirmed the meeting in a statement, adding that it plans to defer the price increases that went into effect on July 1 "to give the president an opportunity to work on his blueprint to strengthen the healthcare system and provide more access for patients."
Senator Ron Wyden responded to the meeting Wednesday with a stern letter to Azar and Read asking for details of the deal between Pfizer and the administration by July 25th.
"Like many pronouncements coming out of the Administration, the President's agreement with Pfizer is long on theatrics and short on real and sustainable relief for patients being mugged at the pharmacy counter," Wyden wrote.
On Monday, Trump slammed Pfizer and other drugmakers on Twitter, saying they "should be ashamed" for raising prices "for no reason."
"They are merely taking advantage of the poor & others unable to defend themselves," he tweeted.
The bash was likely in response to a report in the Financial Times that Pfizer, one of the largest pharmaceutical companies in the US, had raised the price of 100 drugs, including Viagra, effective July 1. However, Pfizer disputed that number in an email to BuzzFeed News, saying it was actually "40 brands," but that the Financial Times "counted different dosages of the same product as different products."
A Wells Fargo report also found that Pfizer increased the prices of 41 drugs in July, according to the Washington Post.
Whatever the increase, Trump vowed to take action in his tweet on Monday, writing, "We will respond!"
The price hikes were also enacted months ago when Trump claimed that pharmaceutical companies big and small were planning to make "voluntary, massive drops in prices."
The Department of Health and Human Services did not immediately respond to a request for comment.