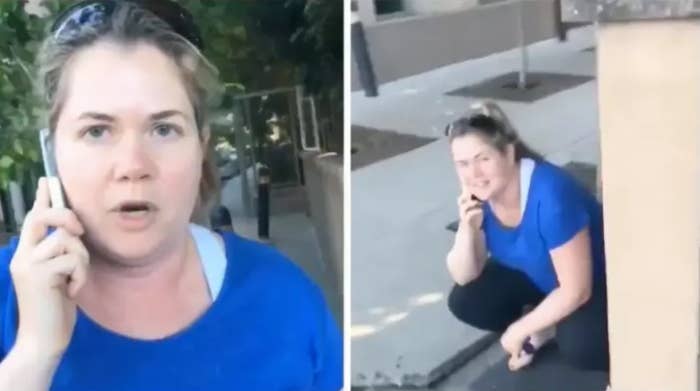 The woman dubbed "Permit Patty" for allegedly calling the police on an 8-year-old girl selling bottled water has resigned from her job following widespread outrage.

"Alison Ettel, CEO of TreatWell Health, has resigned, effective immediately," company spokesperson Cynthia Gonzalez said in a statement. "This decision, while not an easy one, is in the best interest of their patients."
The girl's mother posted a video of the encounter to Instagram on Saturday, in which she can be heard saying, "This woman don't want to let a little girl sell some water. She's calling the police on an 8-year-old little girl."
The girl was selling bottled water near the San Francisco Giants' stadium on a game day. Ettel can be heard in the video saying "illegally selling water without a permit."
She later told HuffPost she was only "pretending" to call police and that her actions were not in response to the race of the girl, who is nonwhite, but rather because she and her mother were "screaming about what they were selling."
A woman who said she is the girl's cousin later posted the video to Twitter, saying, "this lady decided to call the cops on an 8 year old. #PermitPatty," and the hashtag took off from there.

Until Tuesday, Ettel was the founder and CEO of the medical cannabis company TreatWell Health, which manufactures medical marijuana tinctures for pain relief in humans and pets. But a number of cannabis dispensaries had dropped TreatWell's products in response to the video and said they would donate sales of their remaining inventory to nonprofits, the San Francisco Chronicle reported.
"It is Ms. Ettel's belief that TreatWell, its employees, and patients should not have to suffer because of a situation that occurred in an escalated moment. And she regrets her part and is remorseful," Gonzalez said in the company statement.
The incident and uproar follow a similar pattern as the drama of "BBQ Becky," a white woman who called the police on a group of black people having a cookout in Oakland, California. After the initial furor over the incident subsided, she became a widely shared meme.

In another recent incident, two Native American teens were interrogated by campus police at Colorado State University after a white woman on their campus tour was suspicious of them being "real quiet."