"Paranormal Action Squad" Is YouTube's First Original Animated Series
An "off-color" Ghostbusters full of "high-octane ass-kicking."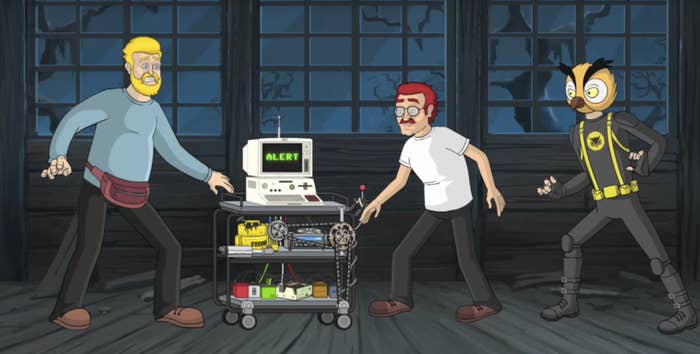 YouTube has announced its first original animated show, Paranormal Action Squad, for YouTube Red, its premium subscription service. The show will premier globally on Nov. 16.

The eight-episode animated series follows the exploits of two hapless "paranormal enthusiasts," Paul and Eddie, who investigate hauntings and other ghostly events with the help of their enthusiastic and idiotic neighbor Vanoss. Paranormal Action Squad features the voices of three YouTube gaming stars — Mr_Sark, Vanoss, and SeaNanners — who have a combined reach of about 25 million subscribers on the video platform. It's overseen by Michael Rowe, who's written for Futurama and Family Guy.
In a promo video, Mr_Sark, one of the creators of Paranormal Action Squad, described the show's humor as "off-color" and said that it will include "high-octane ass-kicking". The cartoon, reminiscent of the shows commonly associated with Cartoon Network's Adult Swim, is aimed at adults. YouTube's marketing materials tout the show as "DIY heroes for WTF world." Cartoon Network did not respond to requests for comment.
A YouTube Red spokesperson acknowledged that the comedy of Paranormal Action Squad is similar to Adult Swim but stressed that the development of the show was quite different.
"The show isn't going after a cable or broadcast audience," the spokesperson said, "because that audience already lives on YouTube and likes this content and these creators. Everything we do on Originals is based on popularity of genres already there."
You can see a sneak peek from the show below on Mr_Sark's channel: