Oculus just cut the price of its Rift virtual reality headset from $599 to $499 and its controllers from $199 each to $99.
You can also buy a Rift and two controllers for a $598 bundle. The company, owned by Facebook, makes the Oculus Rift headset and the software that powers the Samsung Gear.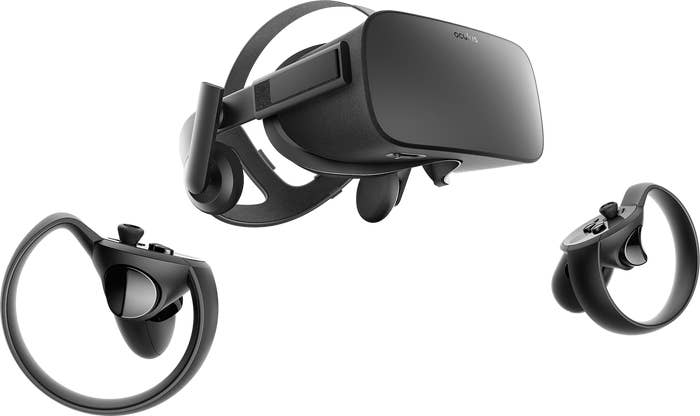 The price cuts are meant to make the Rift more accessible to people turned off by its high cost. But $600 is still a big chunk of change. And to use an Oculus, you still need a computer with enough processing power and memory to download and run the games, and as mentioned on Oculus's website, these kinds of computers often cost upwards of $1,000.
This doesn't mean Oculus is failing.
Oculus won't disclose how many Rifts it's sold so far, but the New York Times reports that this kind of price cut isn't indicative of struggling sales at Oculus. It's more likely that, as the company smooths out its manufacturing and logistics, there are fewer recurring errors that bring up the average cost of a unit. The company wants to expand beyond its core audience of tech and gaming enthusiasts, so Oculus hopes the cuts will lure more people to virtual reality, according to the Times.

But its price isn't helping.
Oculus has competition in the VR space. Sony recently announced it sold almost a million Playstation VR headsets just four months after the device's debut in October 2016. Oculus has been on the market since March 2016. The Playstation VR, priced at $399, runs on the Playstation 4 console, also priced at $399.
Sony, which has sold 53 million Playstation 4 consoles, has an established lineage of dedicated partner studios and blockbuster titles. Oculus, much newer to the gaming industry, faces wariness about the return on investment for VR games. Oculus doesn't have a game as big as Mario or Halo yet, though Oculus does plan to release one game per month from its internal studios in 2017.
In a blog post, Oculus executive Jason Rubin acknowledged that price seems be a determining factor in how well VR rigs sell. He notes that Playstation's console headset is beating the Rift because of its competitive price, but that "even less expensive Mobile VR headsets, like our Gear VR device, are outselling Console VR."
It's true! VR devices are mad expensive!
The other powerful VR rig, the HTC Vive, will cost you $800 for a headset, two controllers, and two motion-sensing towers. And that price doesn't even take into account the powerful PC you need to tether it to. Vive said in a statement that it won't match the Rift's price.
Even Google Cardboard, just $15, relies on a smartphone with a data plan. Google also recently released the Google Daydream VR headset ($80), which currently only works with Google's Pixel smartphone ($649).
So for some people, Oculus's price cuts still aren't enough.