A viral screenshot that appears to show rapper Post Malone dragging Domino's for creating a pizza parody of one of his songs isn't real. Both Malone and Domino's have said they did not send the tweets.
The screenshot appears to show Domino's tweeting a pizza-themed parody of Malone's song "Rockstar," which is at #2 on Billboard's list of the week's 100 most-played songs, and Malone replying to Domino's asking it to "never fucking do that again."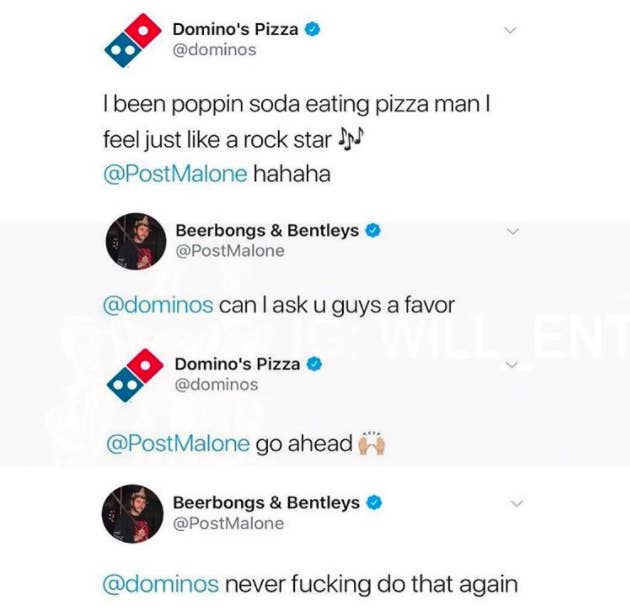 The screenshot has gone viral across social media. The account @MeninistTweet, which has 1.68 million followers, tweeted it and received 72,000 retweets and 250,000 likes. Fuckjerry, an Instagram account account with nearly 13 million followers, posted it and received more than 200,000 likes in an hour. The Facebook page Trending Memes — 242,000 followers — also posted the photo, and people shared it more than 25,000 times and liked it 11,000 times. It's received more than 5,000 upvotes on Reddit.

MeninistTweet replied to Malone with "can we send you some pizza?" but did not delete their original tweet that Malone said was fake.
The most common version of the fake screenshot is watermarked with "IG: will_ent" and appears to have spread from that Instagram profile to others. An account matching that name posted the screenshot two days ago and got almost 140,000 likes.
The person behind will_ent, who declined to give their real name, said they didn't make the screenshot and wasn't sure whether it was real. They said they had sourced the image on Sunday from a website they didn't recall. They said they watermarked the picture because other pages copy will_ent. They said they didn't know the picture had gone viral.
Malone, however, denied sending the tweets.
Domino's spokesperson Tim McIntyre said in an email, "They are not real. We're looking into it."