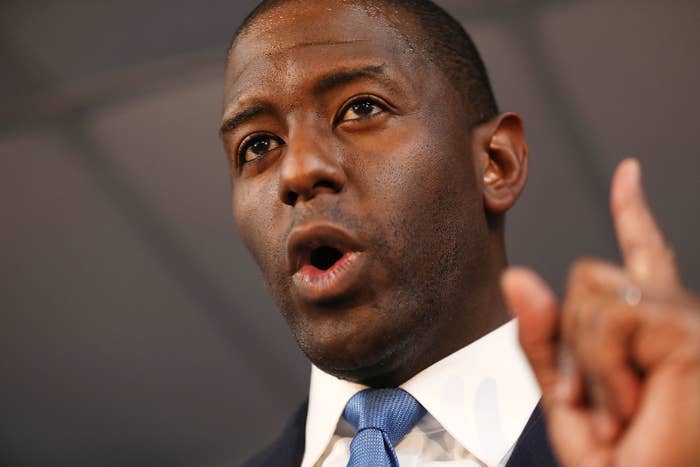 An Idaho neo-Nazi is robocalling Florida residents to disparage a black candidate for governor using racist stereotypes.

Earlier this week, Tallahassee Mayor Andrew Gillum won the Democratic nomination for the Florida governorship in a primary, becoming the first black person to be nominated for the position by either major party.
Gillum's Republican opponent, Florida Rep. Ron DeSantis, told Fox News the day after the primary that Florida voters shouldn't "monkey this up" and that Gillum was "an articulate spokesman for the far left." The remarks sparked widespread backlash and condemnation.
The robocall recording begins with someone speaking in a minstrel dialect pretending to be Gillum, according to the Tampa Bay Times, and asking voters to support him. Monkey sounds play in the background, the Times reported, and the speaker mentions DeSantis's comments.
The recording ends with a disclaimer that it was paid for Road to Power, a neo-Nazi podcast and website run by an Idaho man named Scott Rhodes who's known for distributing racist propaganda in parking lots.
Florida Gov. Rick Scott condemned the recording on Twitter.
On CNN's State of the Union Sunday morning, Gillum told host Dana Bash that he found the calls "deeply regrettable." He said he hoped DeSantis would heed his call to not "weaponize race."
"People are taking their cues from him, from his campaign, and from Donald Trump. And we saw in Charlottesville that that can lead to real dangerous outcomes," Gillum said.
In a statement to the Times, a spokesperson for Gillum's campaign said, "This is reprehensible — and could only have come from someone with intentions to fuel hatred and seek attention. Please don't give it undeserved attention."
A spokesperson for DeSantis's campaign said, "This is absolutely appalling and disgusting — and hopefully whoever is behind this has to answer for this despicable action. Our campaign has and will continue to focus solely on the issues that Floridians care about and uniting our state as we continue to build on our success."
Neither Gillum's nor DeSantis's campaign immediately responded to a request for comment.
This is not the first time Road to Power has made racist robocalls. About two weeks ago, the site made calls in Virginia in support of ethnic cleansing of minorities and calling for the repeal of the constitutional amendment that gives black people the right to vote. Rhodes has made similar calls in Northern California in support of Patrick Little, a neo-Nazi claiming to run against California Sen. Dianne Feinstein.
UPDATE
This article was updated to include Andrew Gillum's comments on CNN.