National Geographic's editor-in-chief published an essay Monday acknowledging the magazine's history of racist coverage of people who aren't white.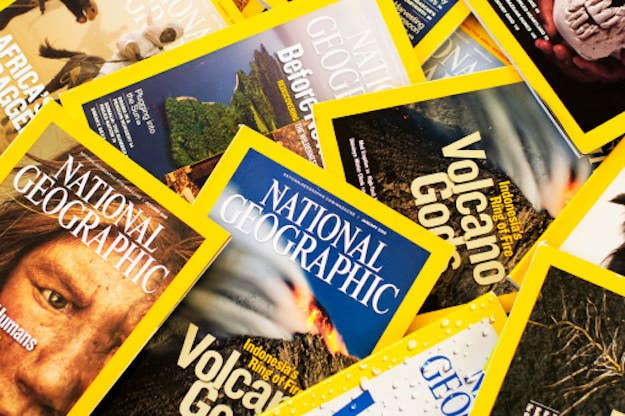 Susan Goldberg is the first Jewish editor-in-chief of National Geographic and the first woman to hold the position.
Titled "For Decades, Our Coverage Was Racist. To Rise Above Our Past, We Must Acknowledge It," the editorial details what a historian found when combing through National Geographic's archives.
There are some shocking examples:
* African-Americans were excluded from National Geographic membership until 1940, even as the magazine wrote about African countries.
* Referring to Aboriginal Australians, a caption read, "South Australian Blackfellows: These savages rank lowest in intelligence of all human beings."
* For a 1962 article about South Africa, published months after a massacre of black South Africans, the reporter did not interview any black South Africans.
* One piece called the antebellum South, where slavery was legal, "a chapter of this country's history every American is proud to remember" in 1965.
Some of the coverage Goldberg writes about is more subtle and insidious, like the tendency not to cover the lives of black people in the United States while depicting people of color elsewhere as "exotics, famously and frequently unclothed, happy hunters, noble savages — every type of cliché."
John Edwin Mason, a University of Virginia historian whom National Geographic hired to assess its 130-year history, wrote that the magazine often reinforced stereotypes.
"Americans got ideas about the world from Tarzan movies and crude racist caricatures," Mason wrote. "Segregation was the way it was. National Geographic wasn't teaching as much as reinforcing messages they already received and doing so in a magazine that had tremendous authority. National Geographic comes into existence at the height of colonialism, and the world was divided into the colonizers and the colonized. That was a color line, and National Geographic was reflecting that view of the world."
The essay also highlights progress. Goldberg pointed to a 1977 article about South Africa that discusses the apartheid regime and pictures opposition leaders and a 2015 story in which the magazine gave Haitians cameras and asked them to document their daily realities.
Mason wrote that analyzing National Geographic's archives was "a fascinating, challenging, & ultimately rewarding project."
The magazine devoted its April issue to the topic of race, which Goldberg said was one impetus for her essay.
Goldberg also said she was reflecting on the 50th anniversary of the assassination of Martin Luther King Jr. and the likelihood that, in just a few years, white children born in the US will be a minority. She wrote that she planned for the magazine's workforce to be diverse as well.
"It hurts to share the appalling stories from the magazine's past," Goldberg wrote. "But when we decided to devote our April magazine to the topic of race, we thought we should examine our own history before turning our reportorial gaze to others.
"We have a duty, in every story, to present accurate and authentic depictions — a duty heightened when we cover fraught issues such as race."