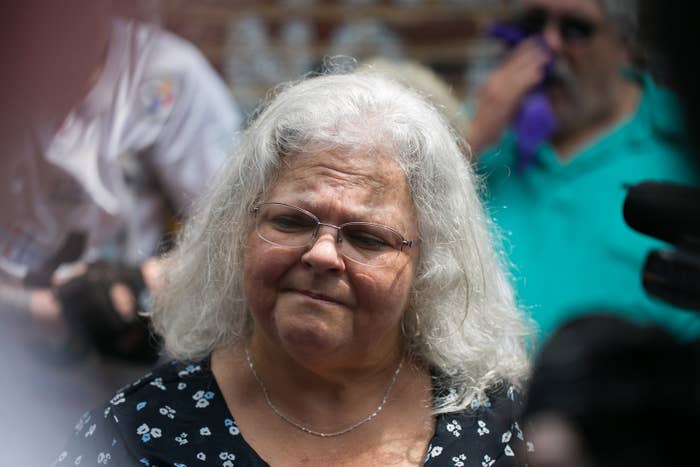 CHARLOTTESVILLE, Virginia — The mother of the counterprotester killed last year at the "Unite the Right" rally in Charlottesville confronted her daughter's killer in court for the first time Monday.

"Her death was like an explosion in the world," Susan Bro said of her daughter, Heather Heyer.
Bro also talked about the toll the tragedy had taken on her.
"I can't concentrate. I can't read books. Some days I can't do anything but cry or sit and stare," she said.
Bro read her victim impact statement at the sentencing of James Alex Fields Jr., the 21-year-old neo-Nazi convicted Friday of first-degree murder and other charges for killing Heyer and injuring dozens of others. Last August, Fields rammed his Dodge Challenger into a crowd of anti-racist protesters that included Heyer. In addition to first-degree murder, he was convicted Friday of five counts of aggravated malicious wounding, three counts of malicious wounding, and one count of a hit-and-run.
Fields will face up to life in prison when he is sentenced, likely Monday afternoon.
"I had a hard time finding photos of us because we were together so often," Bro said. "We took for granted we'd be together. Now, she's reduced to photos and videos from the past."
Bro spoke of her close relationship with her daughter, of not being able to hold down a job since her death, and of the suffering their family has endured.
"My family has been to therapy as the darkness has tried to swallow us whole," she said. "We are survivors, but we're much sadder survivors. Therapy only helps a little bit. My granddaughter used to Snapchat with Heather. Now she barely remembers her."
As she spoke, she had trouble seeing her statement through her tears.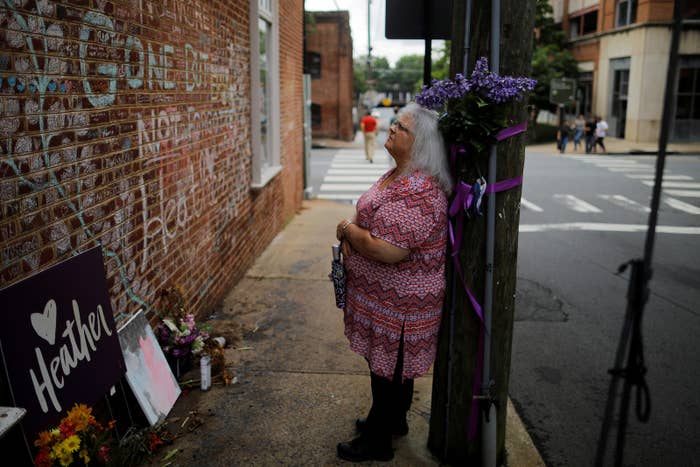 Three other victims addressed the jury before Bro.

Wednesday Bowie, who was injured in the attack, said her best friend no longer speaks with her because of his traumatic memories of the car attack. Her pelvis and vertebrae were fractured in multiple places as the neo-Nazi reversed from the crowd. But she said there had been some light in the darkness of the aftermath.
"I want to thank the survivors. You are the beautiful gift Mr. Fields gave to me in spite of himself," she said.
Jeanne "Star" Peterson, whose legs and back were so severely broken by the attack that she now must use a wheelchair more often than not, spoke of "pain beyond what [she] can describe," adding that the time since the attack has been "a living nightmare."
"My son doesn't want to go out in public with me because he's scared," she said. "He asks me, 'What if there's another bad guy?' I can't answer why someone would do this on purpose."
The trial itself included gruesome testimony from victims of the car attack as they described not only their injuries but the permanent effects the attack had on them. The photo most synonymous with the events of "Unite the Right," which went on to win the Pulitzer Prize, shows several of the people Fields hit in midair.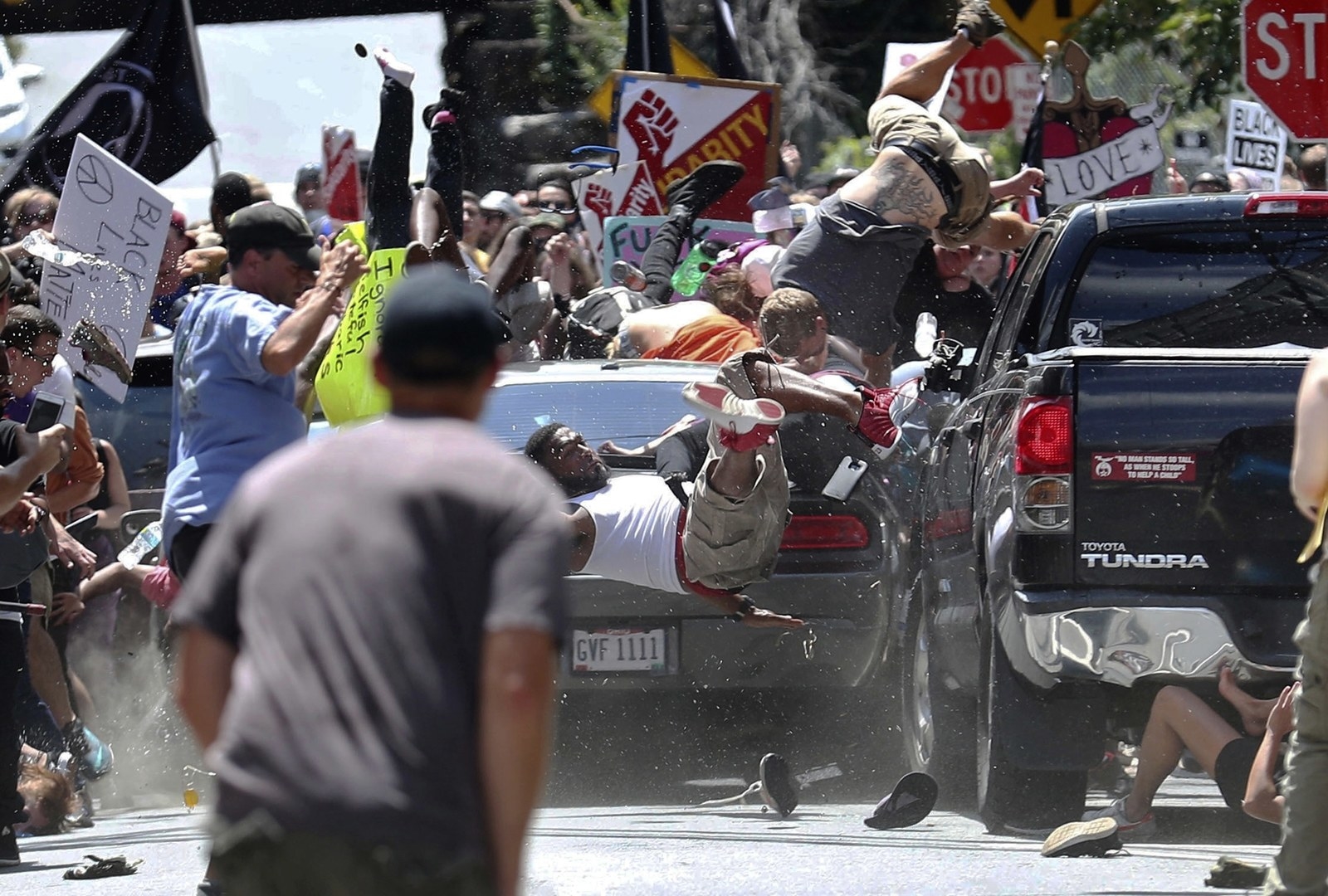 The neo-Nazi had driven overnight from Ohio to Charlottesville on Aug. 12, 2017, for the "Unite the Right" rally, which was convened as both a protest against the removal of a local statue of Robert E. Lee and a meet-and-greet for the country's most prominent white nationalists. The night Fields arrived, hundreds of white supremacists carrying tiki torches marched on the University of Virginia.

Bro has taken up the mantle of her daughter's anti-racist activism since her death, appearing at the 2017 Video Music Awards and establishing the Heather Heyer Foundation. Bro's eulogy for Heyer became a rallying cry that's still inscribed on her daughter's memorial to this day.
"Heather was full of love, full of justice, and full of fairness. Mr. Fields tried to silence her, but I refuse to allow that. I'm the type of mom where if you mess with my kid on the playground, it's on," Bro said. "I stood up in her place. I talk to everyone who will listen about her and about hate."
But, she added, "I'd trade every bit of it just to hold my daughter again."
"I don't hate Mr. Fields," she said. "I'm leaving him in the hands of justice."

Victims spoke of relief after his conviction. Several of them marched to the place where Heyer died and to the contested statue the night the verdict was delivered.
"This is the best I've felt in a year and a half," Bowie said Friday.
Peterson spoke of continuing the fight against racism in honor of Heyer.
"The fascists will never stop us," she said. "We will fight in Heather's memory until the day we die."
Heyer's death has made her a mononymous emblem of anti-racist resistance in Charlottesville, and posters of her name beneath a heart dot the city.
Organizers of "Unite the Right" planned for the event to be the highest-profile moment yet for their burgeoning movement. But Fields' attack had the opposite effect. It punctured their momentum and energized the opposition, leading to public embarrassments, social media bans, and the jailing of many alt-righters. No prominent white nationalist leaders attended Fields' trial.