Milo Yiannopoulos has yet another mess on his hands.

On Friday, his "Free Speech Week" featuring a series of right-wing speakers at the University of California, Berkeley, fell into disarray just days before it was scheduled to begin on Sunday.
The university said Saturday that the student group that had invited Yiannopoulos, the Berkeley Patriot, had withdrawn from the event, and that the school would not be going forward with preparations to secure the planned gathering. Yiannopoulos cancelled the event in a Saturday Facebook Live broadcast but said he would be on campus Sunday at noon.
On Sunday, Yiannopoulos, "new right" blogger Mike Cernovich, anti-Islam writer Pamela Geller, and others came to campus for 20 minutes — they signed autographs, sang the national anthem, and left.
"Police insisted," that they leave, Cernovich told BuzzFeed News. Yiannopoulos said on his Facebook page that police purposefully hamstrung the event and that yelling protesters, one of whom appeared to be with the anti-Trump organization Refuse Fascism, stifled him. Police asked anyone who wanted to hear Yiannopoulos speak go through a metal detector. The claim that police failed to protect the event echoed statements Yiannopoulos made in February, after Berkeley students and local activists rioted in response to a speech he planned to give at the school.
UC Berkeley police chief Margo Bennett said that authorities had not told the right-wingers to go: "He left on his own."

"We don't know why he decided to leave when he did," university spokesperson Dan Mogulof added, calling Yiannopoulos' event "the most expensive photo op in the university's history." Bennett estimated that the event, which drew a crowd of 700-800, cost the university $800,000. UCPD spokesperson sargeant Sabrina Reich said that campus police arrested three people.
Members of the Berkeley Patriot did not immediately respond to request for comment, but multiple local news outlets reported that the student group had withdrawn from the event.

Yiannopoulos canceled a Saturday press conference in favor of a Facebook Live broadcast in which he officially called off the event and insisted he would go to the campus Sunday "with or without student and university help" for a rally with a reduced lineup of far-right speakers. He also apologized to the speakers for the confusion.
"Ann Coulter is entirely right to have bowed out," he said.
Coulter, a longtime conservative firebrand who recently turned against President Donald Trump over his stance on undocumented immigrants, told Fox News on Friday that she would not attend the event.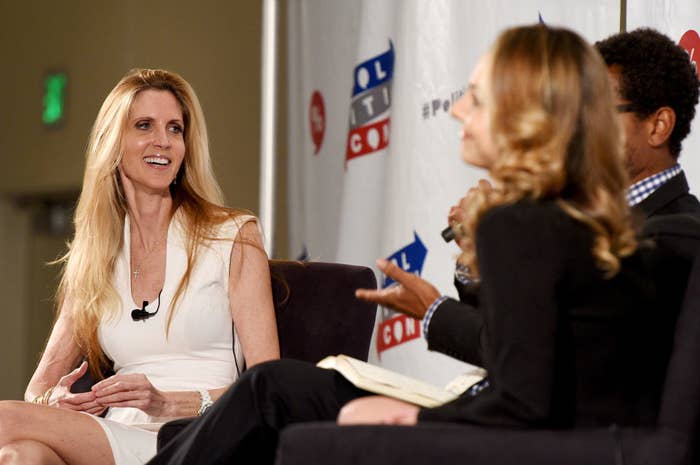 Steve Bannon, Trump's former head strategist, was listed on the initial lineup of speakers, but never publicly acknowledged the event and was instead scheduled to be in St. Louis Sunday.

In addition to confusion over the guest list, Yiannopoulos and student co-organizers with the Berkeley Patriot, an online publication, failed to book high-capacity indoor venues on campus and instead planned for the events to be held outside, leaving university officials, along with everyone else, guessing as to whether the event would actually happen.
Yiannopoulos and Berkeley Patriot members maintained the university is to blame for the chaos by stonewalling them.
"We were unable to meet the deadlines because of bad communication with the university," Ashton Whitty, a member of Berkeley Patriot, told BuzzFeed News last week. "They stopped responding to us and wouldn't meet with us in person."
Yiannopoulos echoed Whitty's complaints in a Facebook video posted Sept. 19.
But Mogulof said the university had not heard anything about a cancellation from the organizers, so the administration proceeded with security measures as though the event would go on as planned. The university had already incurred costs in the "low six figures" and could spend as much as $1 million dollars on the event, he added last week.

Mogulof also called the complaints against the university "utter nonsense."
"We sent [the Berkeley Patriot] a contract in mid-July, the same contract that the Berkeley College Republicans signed for Ben Shapiro, and they dithered for five weeks and wanted special treatment and a subsidy," Mogulof said. "Then Milo tells the Daily Cal that he'll spend $250,000, so why was money an issue?"
The organizers missed the deadlines to book large indoor venues and even rescinded a reservation for a smaller one, Anna Head Hall, according to Mogulof.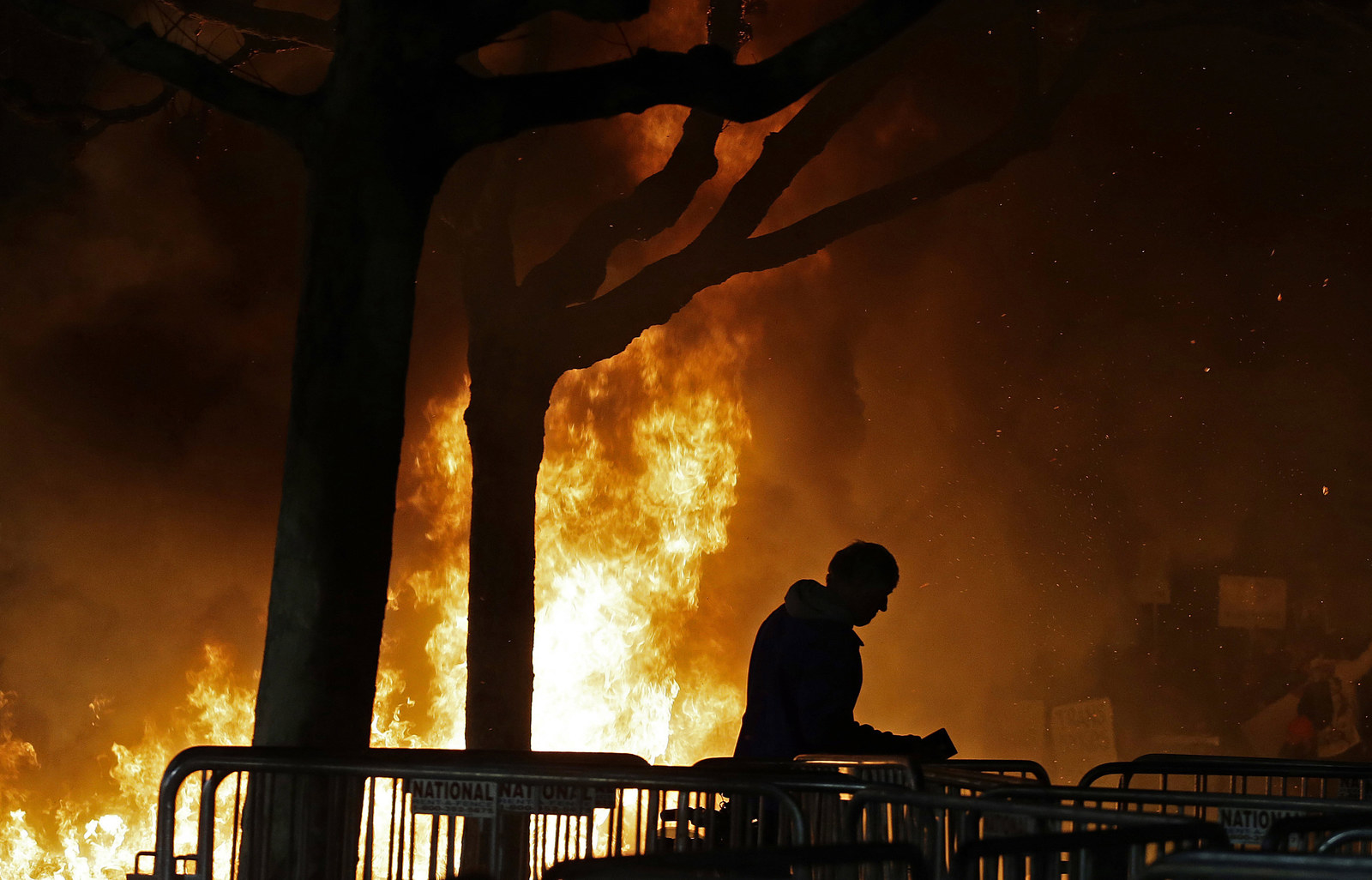 Last month, another far-right provocateur also replaced his planned rally in San Francisco with a press conference amid widespread confusion over its fate.

Yiannopoulos fell from favor in the alt-right in February after footage surfaced of the now-former Breitbart editor saying sexual relationships between underage teens and adults could be consensual and beneficial. The same month, protesters at UC Berkeley rioted over a speech he had been invited to give on campus.
Lucian Wintrich, a writer for the conspiracy-theory-peddling pro-Trump site the Gateway Pundit, said in a video Friday that Yiannopoulos knew the event would be canceled as early as Wednesday. Wintrich, who said he would not attend the event, also accused Yiannopoulos' company of giving invited speakers "conflicting information."

"Watching somebody cry wolf is highly frustrating," Wintrich told BuzzFeed News. "It sets up a really bad situation for all of when it actually is the university's fault."
James Damore, the former Google software engineer known for writing an internal memo attacking gender diversity, said Wednesday he was booked to speak without his knowledge and would not appear.
Charles Murray, a controversial academic who has written that differences in IQ are racially based, told the Chronicle of Higher Education that he had also been listed as a speaker without his consent, and called Yiannopoulos a "despicable asshole."

In his Saturday Facebook broadcast, Yiannopoulos said he "only included Charles Murray on the speakers' list to troll him."
Cernovich, a "new right" blogger who has reported on the Trump administration, also gave conflicting messages about his own attendance. He told the Atlantic he had a "family visit" planned during the event, but tweeted Friday morning that he would "see people Saturday and Sunday."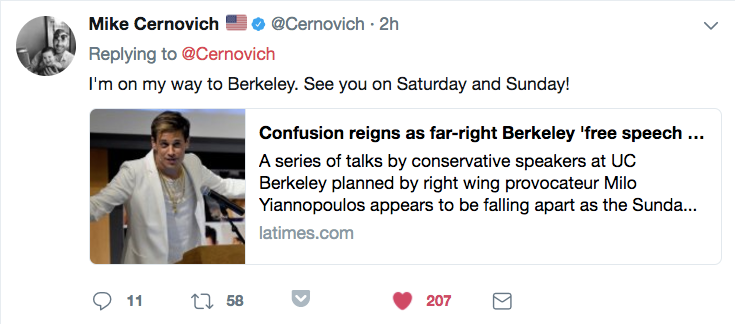 Still, others said they planned on being there. The right-wing street artist who goes by Sabo, tweeted his travel itinerary Friday saying "the show goes on."
Meanwhile, the anti-Trump organization Refuse Fascism created Facebook events for protests running Saturday through Wednesday in Berkeley. Thousands indicated they were "interested" in the Saturday event alone.