More than 270,000 people have shared the photo since it was uploaded to Facebook on Sept. 10, with many jokingly asking how they might get arrested by the handsome cops.
The reaction became so big the department even said it would make a calendar of them.
Even Ellen got in on the action.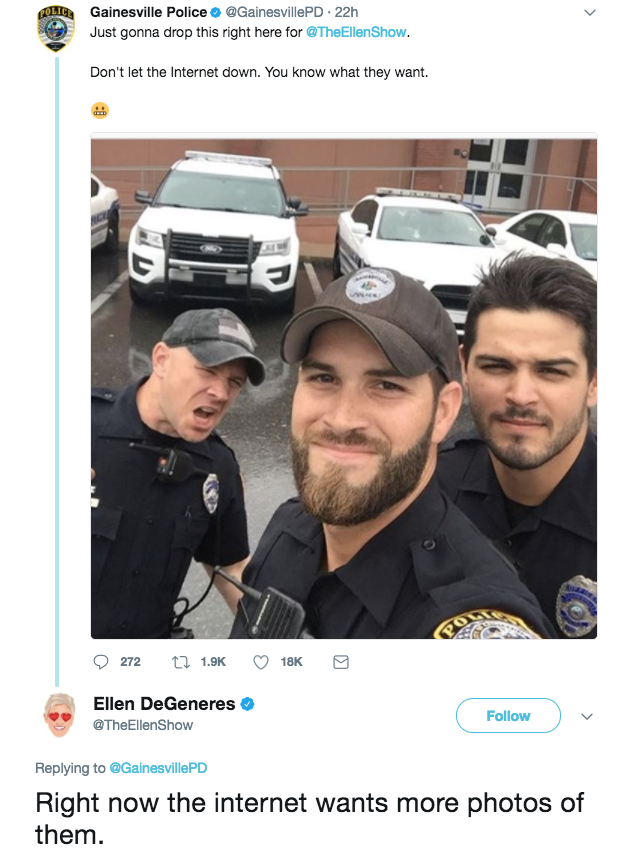 But the officer in the center with the nice beard, Michael Hamill, is now under investigation by his own department.
In a statement to BuzzFeed News, Gainesville PD spokesperson Ben Tobias wrote:
Several citizens brought information to our attention regarding a complaint against Officer Hamill.

GPD is reviewing the allegation in accordance with Florida law and department policy.

Under Florida law, complaint information is confidential until an investigation is concluded, and we will not be offering any further statement at this time.
The Gainesville Sun reported that Officer Hamill, sworn into the force in 2016, is in trouble for old anti-Semitic Facebook posts.
The newspaper said it was sent screenshots of posts by Hamill, one of which from April 2013 reportedly read:
Who knew that reading jewish jokes before I go to bed would not only make me feel better about myself but also help me to sleep better as well. Here is one for everybody, 'What's the difference between boy scouts and jews?' Anybody know? Well it is because 'Boy scouts come back from their camps.'
Another 2011 post is reported to read:
so I find it funny that people will talk about how our government needs to do something about our economy and in reality it's YOU who needs to stop taking advantage of our system and get a life and do something with your life. Gotta love reality when it hits you in the face. Stupid people annoy me. Put them in an oven and deal with them the Hitler way. Haha.
According to the Sun, someone complained to Gainesville PD about Hamill's posts.
*sigh* We'll just leave this right here.