Microsoft Debuts "Teams" Office Chat, And Slack Might Be A Little Worried
Microsoft's new office chat system enters a market crowded with big name software, including its own.
Today Microsoft announced Microsoft Teams, a new office chat platform that looks a lot like a Slack competitor. Microsoft created the enterprise software to help tie together work people do in Office365, which includes Skype, Office apps like Word and Excel, Outlook email, and other software.
Teams is available as a customer preview now and will be included in all Office365 Enterprise and Small Business Suite subscriptions in early 2017. Office 365 boasts 85 million monthly active users, according to Microsoft.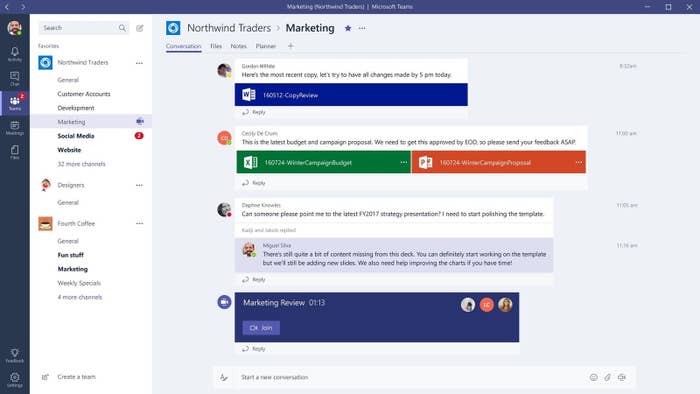 Slack replied to Microsoft's announcement with an open letter ad that occupied the entire back page of the New York Times (it also posted it on its blog, Several People Are Typing). The letter offered Microsoft some "friendly advice" and said that "all this is harder than it looks." Slack believes it's "here to stay," and its founder, Stewart Butterfield, seemed confident about this on Twitter:

BuzzFeed News reached out to Slack for comment. Microsoft declined to respond to the ad.
Office chat technology is a crowded market; Teams is also competing with Facebook Workplace, Salesforce's Chatter, and Hipchat, in addition to Slack. Convincing customers to switch to Microsoft Teams from the products they're comfortable using will be a challenge.
But Microsoft CEO Satya Nadella believes Team's artificial intelligence gives the service an edge that differentiates it from other chat apps. Teams features organizational tabs and search, as well as bots like "Polly," a parrot that takes polls, and "WhoBot," a bot that will tell you information about your coworkers and their posts.
Nadella said during the presentation, "Just like Outlook brought email, contacts, and calendars under strong user scaffolding, Microsoft Teams will bring together chat, meetings, notes, and a host of other extensions to help teams get work done." Microsoft already owns an enterprise social network, Yammer, and Skype has a chat system. Teams is also open to third party integrations.
The product is meant to go with the recently announced Surface Studio and the giant Surface Hub, a touchscreen whiteboard.
Microsoft reported improved earnings in Q3 2016, largely bolstered by its enterprise offerings and cloud software.