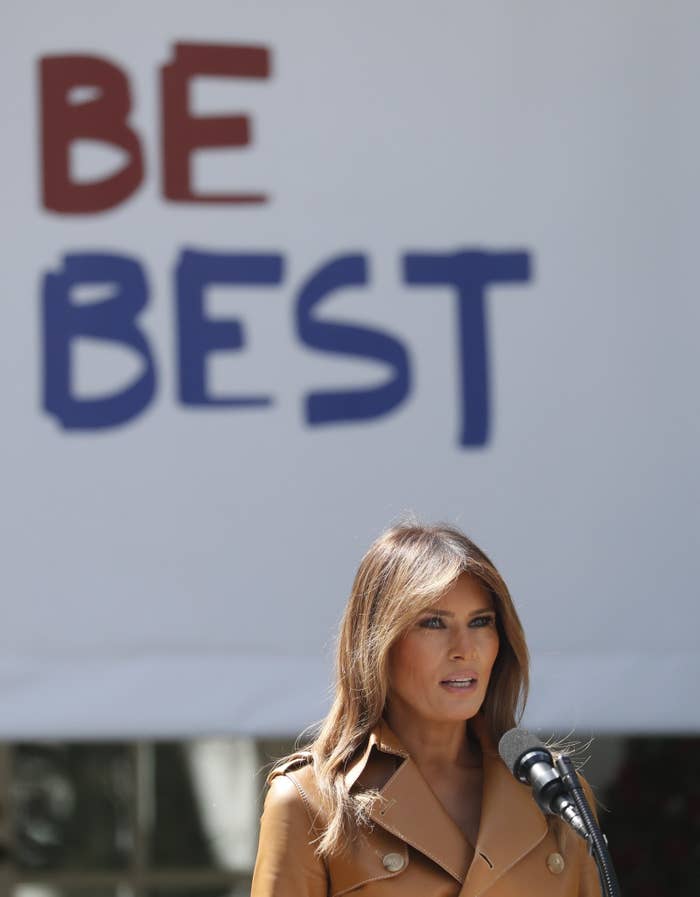 First lady Melania Trump's anti-cyberbullying campaign brochure was largely recycled from an Obama-era publication in 2014, with most of the material copied over verbatim.
On Monday, Trump launched her "Be Best" initiative to promote children's health, focusing on well-being, social media and online activity, and opioid addiction. As part of that, she and the Federal Trade Commission (FTC) released a 27-page document outlining her plan to help parents talk with their children about being safe online.
But the document copies sections almost word-for-word from a FTC pamphlet published in January 2014 as part of the agency's "Net Cetera" campaign, which began under President Barack Obama in 2009. After tweaking some language and graphics and adding an introduction from the first lady, the White House uploaded the new document, "Talking With Kids About Being Online," to its website as the only external resource for Trump's new Be Best website.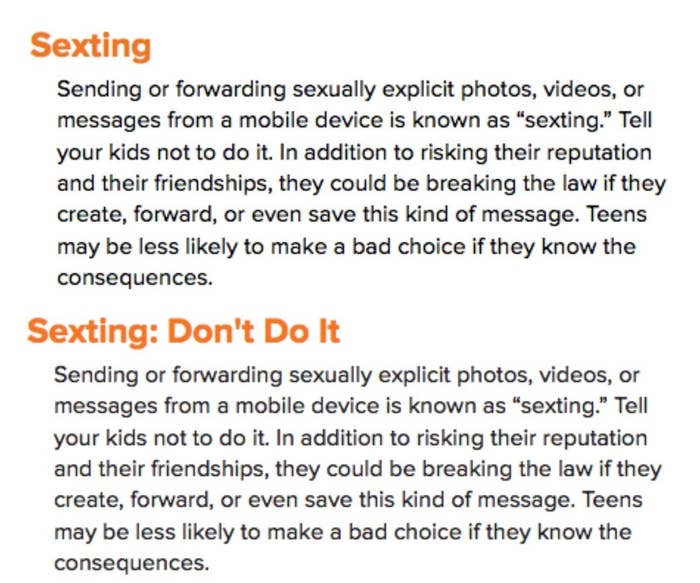 "As it is clearly related to the social media portion of Mrs. Trump's initiatives, it is a good resource to include with some of our Be Best materials," first lady spokeswoman Stephanie Grisham told BuzzFeed News. "It was updated and edited to reflect today's event and we were happy to be able to provide the children in attendance with such a resource."

But the updates appeared to be minimal, stoking concerns from online observers that Trump, who copied from Michelle Obama for her speech at the 2016 Republican National Convention, was again plagiarizing for her newest initiative. On the cover page, a graphic for a mobile phone was slightly altered to show a more modern device, while certain headlines were changed with no additions to the underlying content. The 2014 headline for discussion on "Sexting," for example, was updated to read "Sexting: Don't Do It" in the current version. The paragraph explainer that followed was exactly the same.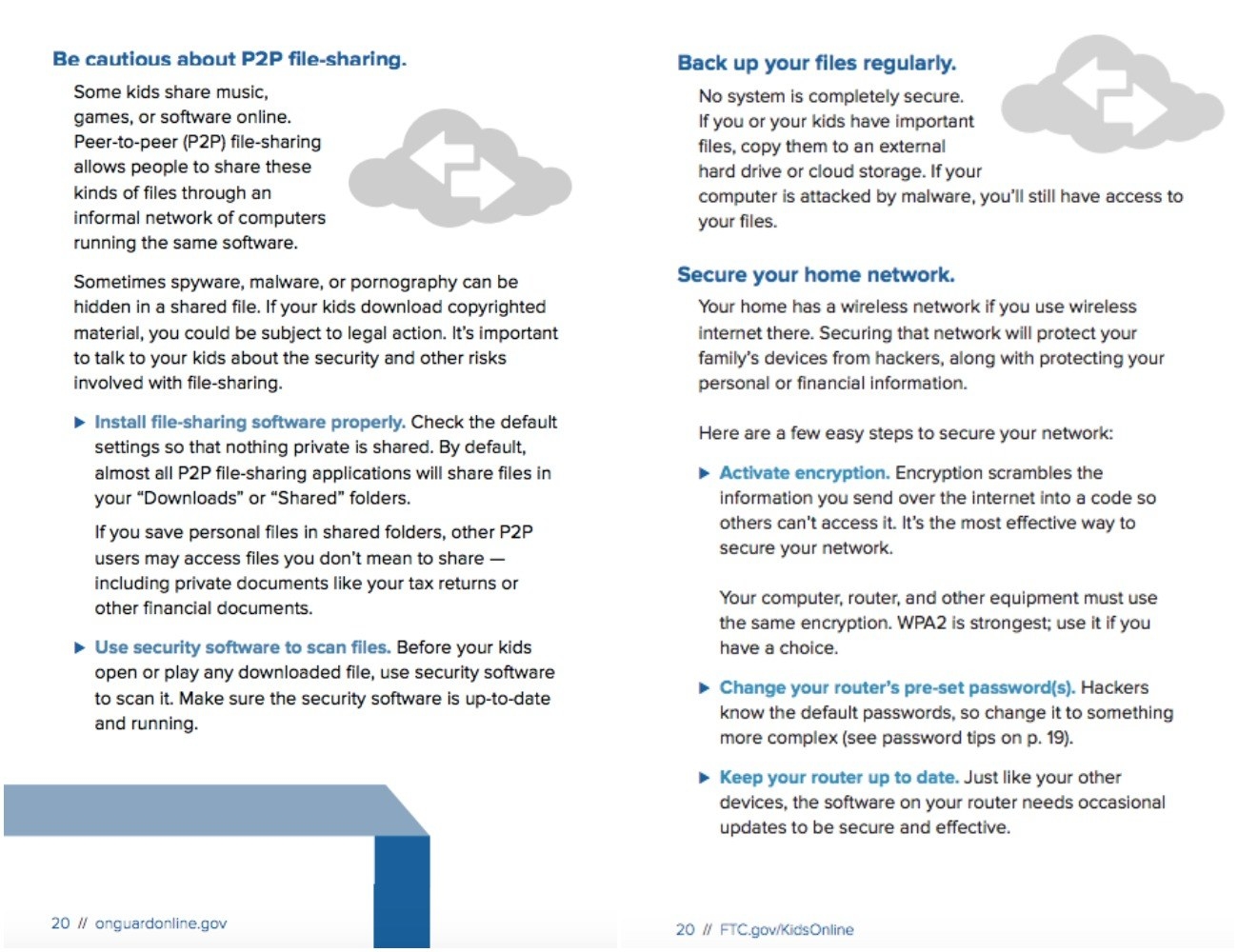 Nat Wood, an associate director with the FTC, said the agency worked with Trump to update and redistribute the earlier edition and that many organizations modify and reprint its materials. Wood added that the FTC was not involved in Be Best beyond revising the booklet.

After BuzzFeed News inquired about the content of the booklet, Be Best's website changed the language describing it from "a booklet by First Lady Melania Trump and the FTC" to "a FTC booklet, promoted by first lady Melania Trump" (emphasis added). Grisham and Wood did not immediately respond to request for comment on the change.

Wood pointed to changes in the 2018 guide that included new guidelines on how to combat cyberbullying, disable in-app purchases, handle passwords and personally identifiable information, back up files, and use public Wi-Fi, along with a letter from the first lady.
Trump's brochure stripped out the name of the prior initiative, "Net Cetera," while also including an introduction from Trump with her photo, signature, and Be Best's logo.
On Tuesday the White House issued a statement slamming the "opposition media" for lobbing "baseless accusations towards the First Lady and her new initiatives."
"After giving a strong speech that was met with a standing ovation and positive feedback, the focus from opposition media has been on an education booklet, "Talking with Kids About Being Online" produced by the Federal Trade Commission (FTC) in 2009," the statement reads. "Mrs. Trump agreed to add Be Best branding and distribute the booklet in an effort to use her platform to amplify the positive message within."
The statement ended by urging the media to "Be Best" in their own professions.
The first lady also thanked a slew of technology companies on Monday for their assistance in developing the platform, including Google, Facebook, Amazon, Microsoft, Snap, and Twitter. Representatives for those companies met with the first lady in March during a roundtable discussion about technology and child safety that drew some press attention at the time.

But it is unclear what those companies contributed to the platform beyond what was lifted from the FTC's 2014 pamphlet. Facebook, Twitter, Snap, and Amazon declined to comment. Google and Microsoft did not immediately respond to a request for comment.
An Amazon account belonging to the company's policy team tweeted that it is "excited to partner" with the first lady to "promote positive experiences for children online" on Monday after Trump's announcement. However, it did not provide details on the nature of its partnership.
A White House readout from the March meeting described the discussion as focused on "identifying digital opportunities for both parents and kids to ensure safe online behaviors, and effective solutions and public policies to improve online safety."
Despite the level of technological expertise in the room, the White House said the "common theme among all in attendance was that talking to children remains the number one parental and adult control in the online space."
Katie Notopoulos contributed reporting.