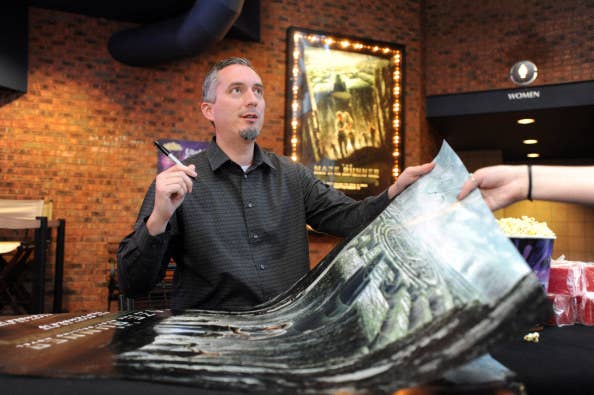 Facing sexual misconduct allegations, James Dashner, the author of the best-selling Maze Runner series of dystopian young adult novels, apologized on Twitter Thursday night, saying he never meant to hurt anyone.
"I can sincerely say that I have never intentionally hurt another person. But to those affected, I am so deeply sorry," he wrote. "I am taking any and all criticism and accusations very seriously, and I will seek counseling and guidance to address them."

Dashner's agent and publisher have cut ties with him since the allegations were made.

Dashner also wrote that he believes in the #MeToo movement and has attempted to reconcile a knee-jerk defensiveness with listening to victims.

"But I also have thought about how numerous women now have come forward as part of a vital movement to lead a discussion about sexual harassment and discrimination in the publishing industry," he wrote. "I believe all victims must be heard, and I'm committed to listening to them."
Multiple anonymous people have accused Dashner of sexual harassment and misconduct in the comments section of an article about sexual harassment in the children's publishing industry by the School Library Journal. The nature of the allegations is unclear, but the comments have sparked a widespread conversation about sexual harassment in the industry.
Dashner's agent, Michael Bourret, said Wednesday he would no longer represent the author. And his publisher Penguin Random House said Thursday that it would no longer publish any of his books.
Children's publishing has been rocked by allegations in recent weeks even as it has doled out its most prestigious awards, the John Newbery and Ralph Caldecott medals. Earlier this week, the Society of Children's Book Writers and Illustrators (SCBWI) expelled Jay Asher, author of Thirteen Reasons Why, after he said he had had "affairs with consenting adults." Lin Oliver, executive director of the SCBWI, said Dashner has not been a member since November 2016 when his membership expired.
School Library Journal closed the comment section of the original article after commenters began fighting with and trolling one another. The journal's executive editor wrote that the forum was "no longer conducive to civil conversation" and that it was "beyond our ability to confirm the veracity of comments."

Penguin Random House published Dashner's latest novel, Maze Runner: Death Cure, last month. The author had been at work on a novel for adults, The Waking, to also be published by Penguin Random House.
Dashner, the SCBWI, and Penguin Random House did not immediately respond to requests for comment.
CORRECTION
The John Newbery Medal was misspelled in an earlier version of this post.