Mark Zuckerberg has taken to his preferred social network to defend longtime board member and early Facebook investor Peter Thiel.
Responding to "concerns about Peter Thiel as a board member and a Trump supporter," Zuckerberg wrote in an internal Facebook post, presumably this week, "We can't create a culture that says it cares about diversity and then excludes almost half the country because they back a political candidate. There are many reasons a person might support Trump that do not involve racism, sexism, xenophobia, or accepting sexual assault. It may be because they believe strongly in smaller government, a different tax policy, health care system, religious issues, gun rights or any other issue where he disagrees with Hillary."
Zuckerberg's full post is below. Facebook confirmed its authenticity to BuzzFeed News.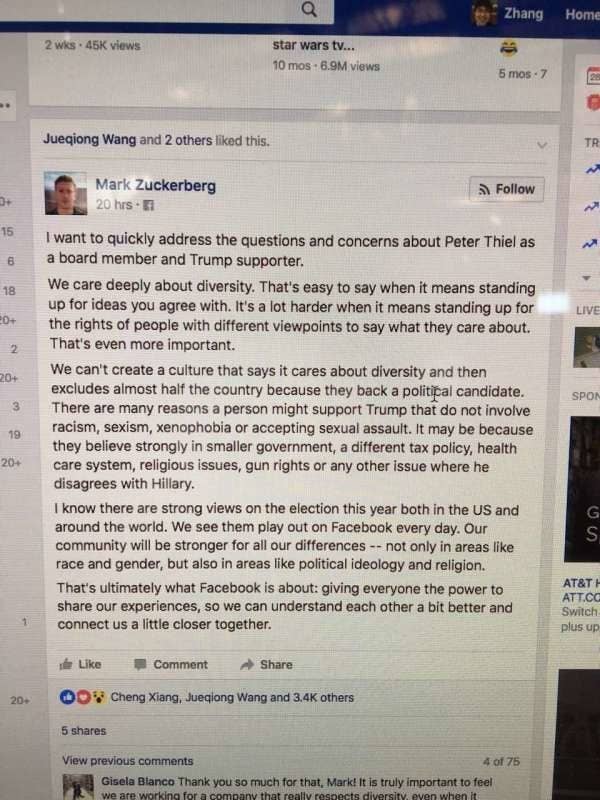 The "Zhang" in the top right corner has not been identified. BuzzFeed News has reached out to the people who liked the post for comment.
Zuckerberg's remarks recall what Sam Altman, president of Y Combinator and a friend of Thiel's, told BuzzFeed News on Sunday: "It is possible to simultaneously maintain the positions that I think Trump would be absolutely terrible — the most unfit candidate I have ever seen from a major party to be president — and also that the right thing to do with people who disagree with you is not to shun them and cut off ties."