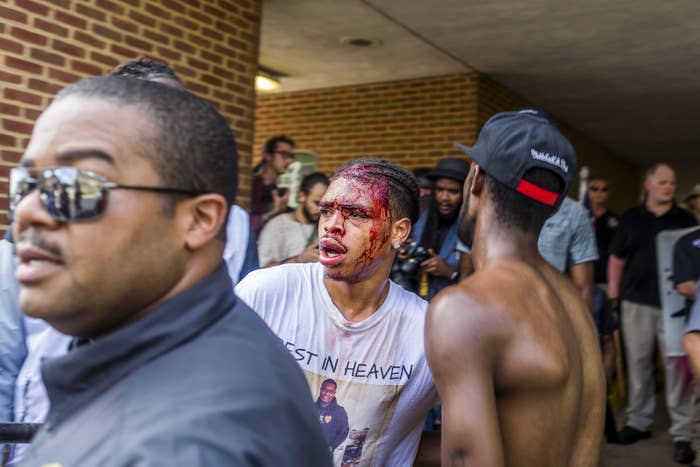 A black man beaten at the "Unite the Right" rally last year in Charlottesville, Virginia, has been found not guilty of assaulting white supremacists.
DeAndre Harris, 20, was acquitted of a misdemeanor charge of assault and battery on Friday, according to his lawyer. If convicted, Harris could have faced one year in jail and a $2,500 fine.
Video footage shows Harris swinging a heavy flashlight at white nationalist Harold Ray Crews, identified by the Southern Poverty Law Center as the chair of the North Carolina chapter of the white nationalist group League of the South. A judge ruled that Harris didn't intend to hit Crews and swung the flashlight only because he believed that Crews was attacking his friend with a flagpole, according to the Washington Post.
In response, several white supremacists chased Harris into a parking garage and attacked him, for which four of them are facing charges. Harris suffered a spinal injury and needed 10 stitches.
The assault occurred before white supremacist James Alex Fields allegedly drove his car into a crowd, injuring dozens and killing 32-year-old counterprotester Heather Heyer.
Harris's attorney, Lee Merritt, called the charges "clearly retaliatory" after a warrant went out for his client's arrest on felony assault charges in October. The charges were later reduced to a misdemeanor. Merritt's only comment on the acquittal was "DeAndre Harris found not guilty!"
The attack occurred in a parking garage adjacent to the Charlottesville police station. An independent review published in December found that police "failed miserably" in responding to the Unite the Right event as a whole, and the Charlottesville police chief subsequently resigned.
The United Nations cited Unite the Right, naming Harris specifically, in a condemnation of racism in the United States following the violence in Charlottesville.

BuzzFeed News captured the incident live on Facebook. The assault begins at the one-hour mark.