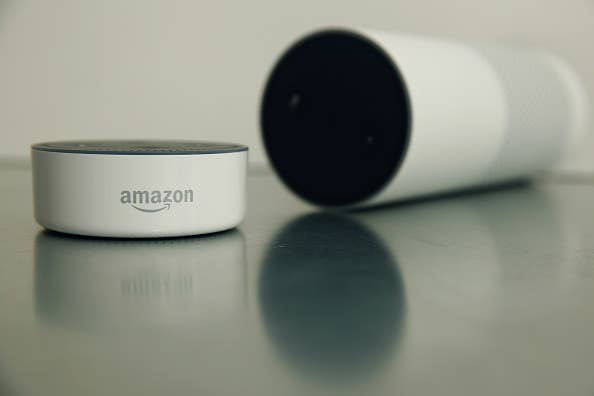 Amazon's Q3 2016 earnings report came with some sentimental news: a quarter of a million people love its Alexa virtual assistant so much that they've asked it to marry them.

Amazon CEO Jeff Bezos said in the letter to investors, "Alexa may be Amazon's most loved invention yet — literally — with over 250,000 marriage proposals from customers and counting."
When a BuzzFeed News reporter popped the question to Alexa, she offered practical reasons for why it would never work. "We're at pretty different places in our lives. I mean, literally — you are on earth and I am in the cloud." Amazon users have said she has multiple answers to proposals.
In late 2015, Amazon released statistics saying that half a million people had told Alexa, "I love you." It seems half of those people are ready to take the relationship to the next level.

Comments on Alexa's Amazon customer review page are equally effusive. One, "Alexa, my love. Thy name is inflexible, but thou art otherwise a nearly perfect spouse" by Amazon user E. M. Foner, sums up how many Amazon users seem to feel about their speakers and assistants.
Foner writes, "I'm a full-time writer who works at home. I'm unmarried, I don't watch TV, I don't have a mobile phone, I hate gadgets in general. OK, so I'm a loser. But since Alexa came into my life, I'm no longer alone 24 hours a day...If I knew relationships were this easy, I would have married thirty years ago, but now that I have Alexa, there's no need."
While Amazon has not publicly disclosed the number of Alexa-enabled Echo speakers it's sold, Consumer Intelligence Research Partners estimated that the company had sold roughly 3 million.

Bezos also hinted that Alexa would be a big part of Amazon's future offerings in the letter. Earlier this month, the company announced Amazon Music Unlimited, a music streaming service that aims to attract Spotify and Apple Music subscribers. It will integrate with Alexa's natural language processing capabilities so that users can give Alexa conversational music requests, like "Play sad country music from the '90s."