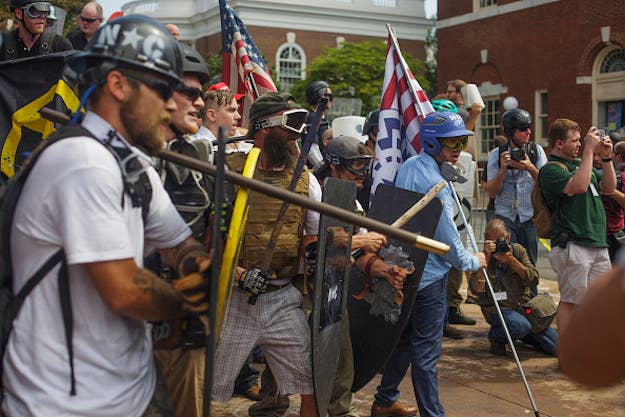 The leader of a white supremacist group in Southern California and two other group members who were implicated in the violence in Charlottesville, Virginia, have been arrested.
Robert Rundo, the head of the Rise Above Movement (RAM), was arrested at the Los Angeles International Airport early Sunday after being picked up in Central America. Tyler Laube and Robert Boman were taken into custody Wednesday morning. Another alleged member of the group, Aaron Eason, was indicted but remains at large.
RAM operates as a sort of white power boxing gym with a clothing line and social media channels it uses to reach members outside California. Four other members were arrested earlier this month on similar charges related to the 2017 violence in Charlottesville, which left one anti-racist protester dead.

Heidi Beirich, who helps track hate groups for the Southern Poverty Law Center, previously told BuzzFeed News that RAM is "the cutting edge of white supremacy right now."
Rundo, Laube, and Boman were charged with traveling to incite or participate in riots in 2017, according to a criminal complaint unsealed Wednesday. The complaint alleges they coordinated combat training online and used the internet to "celebrate their acts of violence in order to recruit members for future events."
"There is no place in our democracy, however, for lawbreaking by individuals who cross the line from protected free speech to violence in the name of extremist ideology," Paul Delacourt, the assistant director of the FBI's Los Angeles field office, said in a statement.

A judge on Wednesday denied bail for Rundo, who prosecutors said had made multiple trips to Central America, calling him a flight risk and citing a previous conviction, the Los Angeles Times reported.
The men face 10 years in prison if convicted.