During a Senate hearing Thursday, Supreme Court nominee Brett Kavanaugh was asked about his high school yearbook page, which references, among other things, a "Devil's Triangle."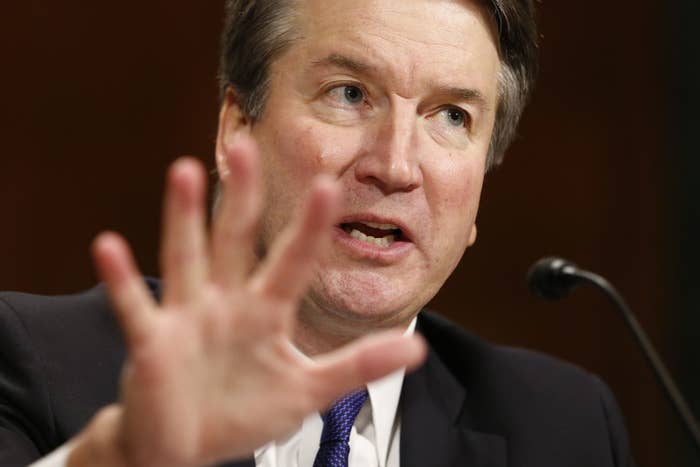 Kavanaugh was sitting before the Senate Judiciary Committee to answer questions about an alleged sexual assault on Christine Blasey Ford, who said he sexually assaulted her when they were in high school. Two other women have also made allegations of sexual misconduct.
Kavanaugh told the committee Devil's Triangle refers to a drinking game similar to Quarters, in which players bounce quarters off a table into cups of beer. (For those who missed it, Kavanaugh said repeatedly during the hearing that he likes beer.) If you get a coin in a cup, the other player drinks. If you don't, you drink. Voilà.
However, not many people were aware of the term. Google searches for the term spiked for the first time in years after it was raised during the hearing.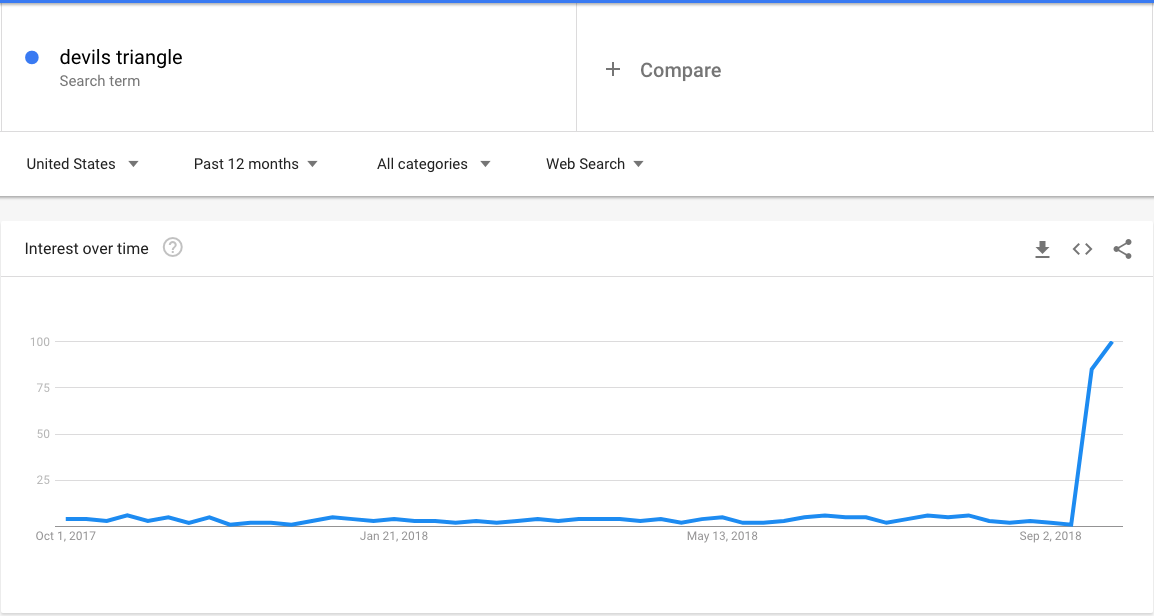 Someone inside the House of Representatives may have even edited the Wikipedia page for the term to include the drinking game explanation, though it's unclear if it's a troll.
The Devil's Triangle is also a less popular name for the Bermuda Triangle. (The more you know!)
But is it actually a drinking game?
The most popular definition of the term on Urban Dictionary, the unofficial catalog of modern slang, explains the term as a threesome between two men and one woman. The site even highlighted it as the "Word of the Day."
David Enrich, who broke the story of Kavanaugh's yearbook, also said that the judge's classmates would not have used the term to refer to a drinking game.
Wikipedia also refers to the Devil's Triangle as "a colloquial term for a sexual threesome consisting of one woman and two men."
People were also calling into C-SPAN about Kavanaugh's explanation like 🤔
It's unclear who's right or whether it will even matter for Kavanaugh's confirmation. Senators on the Judiciary Committee didn't follow up about the definitions he provided.
But Kavanaugh's page also says he's a "Renate Alumnus," which Kavanaugh said during the hearings was meant to convey friendship with a woman named Renate Schroeder Dolphin, but which others said was an unsubstantiated boast about sexual conquest.
Kavanaugh also explained Thursday that "boofed," another term he used on his yearbook page, refers to flatulence. However, Urban Dictionary defines it as "taking it in the butt; had anal sex." Kavanaugh had directed the term to his friend Mark Judge, who Ford testified was in the room when Kavanaugh allegedly assaulted her.
Here's a transcription of Kavanaugh's yearbook page, with emphasis added:
Varsity Football 3, 4; J. V. Football 2; Freshman Football 1; Varsity Basketball 3, 4 (Captain); Frosh Basketball (Captain); J. V. Basketball (Captain); Varsity Spring Track 3; Little Hoya 3, 4 Landon Rocks and Bowling Alley Assault — What a Night; Georgetown vs. Louisville — Who Won That Game Anyway?; Extinguisher; Summer of '82 — Total Spins (Rehobeth 10, 9...); Orioles vs. Red Sox — Who Won, Anyway?; Keg City Club (Treasurer) — 100 Kegs or Bust; [redacted] — I Survived the FFFFFFFourth of July; Renate Alumnius; Malibu Fan Club; Ow, Neatness 2, 3; Devil's Triangle; Down Geezer, Easy, Spike, How ya' doin', Errr Ah; Rehobeth Police Fan Club (with Shorty); St. Michael's...This is a Whack; [redacted] Fan Club; Judge — Have You Boofed Yet?; Beach Week Ralph Club — Biggest Contributor; [redacted] — Tainted Whack; [redacted]; Beach Week 3-107th Street; Those Prep Guys are the Biggest...; GONZAGA YOU'RE LUCKY.