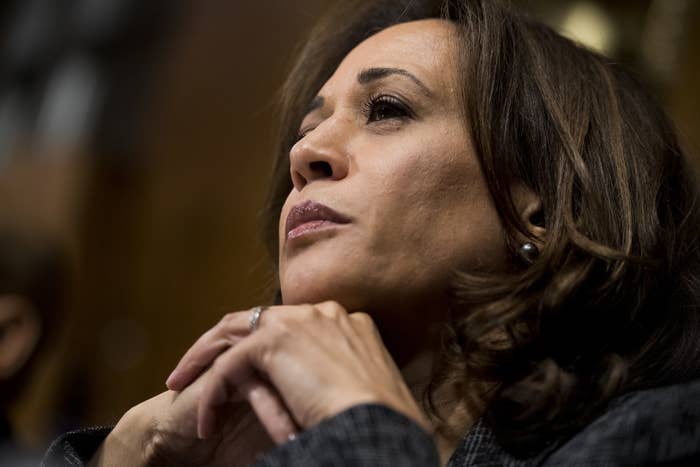 Sen. Kamala Harris delivered a powerful address to Christine Blasey Ford at her Senate hearing Thursday, calling her a "true patriot in fighting for the best of who we are as a country."
Harris was among the many Democrats on the Senate Judiciary Committee who used their time allotments to praise Ford for coming forward and testifying in public about her allegation that Supreme Court nominee Brett Kavanaugh sexually assaulted her when they were high school.
Republican senators, on the other hand, ceded their question time to Rachel Mitchell, an experienced prosecutor of sexual assault cases.
But Harris told Ford that no matter what happens as a result of her testimony, she would be remembered in history books as a "true profile in courage at this moment in time."
Here is a transcript of Harris's statement:
Dr. Ford, first of all, just so we can level set, you know you are not on trial. You are not on trial.

You are sitting here before members of the United States Senate's Judiciary Committee because you had the courage to come forward, because, as you have said, you believe it was your civic duty. I was struck in your testimony by what you indicated as your intention when you first let anyone associated with these hearings know about it. And what you basically said is you reached out to your Representative in the United States Congress hoping that person would inform the white house before Judge Kavanaugh had been named. That's extremely persuasive about your motivation for coming forward.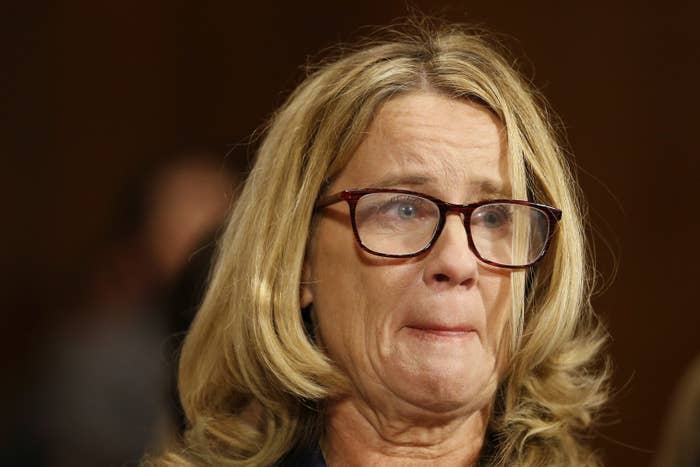 And so I want to thank you. I want to thank you for your courage and I want to tell you I believe you. I believe you. And I believe many Americans across this country believe you. And what I find striking about your testimony is you remember key, searing details of what happened to you. You told your husband and therapist, two of the most intimate of your confidantes and you told them years ago about this assault. You have shared your experience with multiple friends years after that and before these hearings ever started.

I know having personally prosecuted sexual assault cases and child sexual assault cases that study after study shows trauma, shame and the fear of consequences almost always cause survivors to at the very least delay reporting, if they ever report at all. Police recognize that, prosecutors recognize that, medical and mental health professionals recognize that. The notes from your therapy sessions were created long before this nomination and corroborate what you have said today.

You have passed a polygraph and submitted the results to this committee. Judge Kavanaugh has not. You have called for outside witnesses to testify and for expert witnesses to testify. Judge Kavanaugh has not. But most importantly, you have called for an independent FBI investigation into the facts. Judge Kavanaugh has not.

And we owe you that. We owe the American people that. Let's talk about why that is so important. Contrary to what has been said today, the FBI does not reach conclusions. The FBI investigates, interviews witnesses, gathers facts and presents that information to the United States Senate for our consideration and judgment. This committee knows that in spite of what you have been told.

In 1991, during a similar hearing, one of my Republican colleagues in this committee stated these claims were taken seriously by having the Federal Bureau of Investigation launch an inquiry to determine their validity. The FBI fulfilled its duty and issued a confidential report.

Well, that could have and should have been done here. This morning it was said that this could have been investigated confidentially back in July, but this also could have been investigated in the last 11 days since you came forward, yet that has not happened.

The FBI could have interviewed Mark Judge, Patrick Smith, Leland Kaiser, you, and Judge Kavanaugh on these issues. The FBI could have examined various maps that have been presented by the prosecutor who stands in for the United States senators on this committee. The FBI could have gathered facts about the music or conversation or any other details about the gathering that occurred that evening. That is standard procedure in a sexual assault case.

In fact, the manual that was signed off by Ms. Mitchell, the manual that is posted on the Maricopa County attorney's website as a guiding principle and best practices for what should happen for sexual assault cases highlights the details of what should happen in terms of the need for an objective investigation into any sexual assault case. It says, "effective investigation requires cooperation with a multi-disciplinary team that includes medical professionals, victim advocates, dedicated forensic interviewers, criminalists and other law enforcement members." The manual also stresses the importance of obtaining outside witness information.

You have bravely come forward. You have bravely come forward. And I want to thank you because you clearly have nothing to gain for what you have done.

You have been a true patriot in fighting for the best of who we are as a country. I believe you are doing that because you love this country, and I believe history will show that you are a true profile in courage at this moment in time in the history of our country and I thank you.
CORRECTION
Rachel Mitchell's name was misstated in an earlier version of this post.