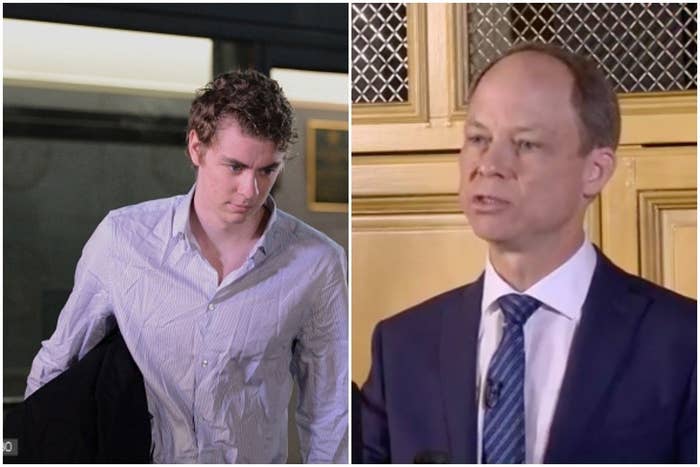 Aaron Persky, the judge who handed down the controversial six-month sentence for the sexual assault conviction of former Stanford swimmer Brock Turner, compared his decision to school desegregation on Tuesday.

Persky, a Santa Clara County Superior Court judge who is a facing a June 5 recall vote in retaliation for what critics said was a shamefully lax sentence, defended himself and argued that removing him from office would weaken the justice system.

"Brown v. Board of Education was unpopular in many states," he said at a press conference in Palo Alto, referencing the Supreme Court decision that determined racial segregation was illegal. "Imagine for a moment if those federal judges had been faced with judicial recall in the face of that unpopularity."
It was his first public statement on the case in nearly a year.

"We ask judges to follow the rule of law, not the rule of public opinion," he added.

Persky faced national criticism in response to his 2016 decision to sentence Turner to six months in jail for three counts of felony sexual assault. Turner, who was convicted of sexually assaulting another student while she was unconscious, served three months of the sentence.
The perceived leniency of the sentence sparked outrage and debate over sexual assault. It became national news after BuzzFeed News published the letter Turner's victim read aloud in court.
Stanford Law School Professor Michele Dauber is leading the recall effort because, she said, Persky has exhibited "a long pattern of bias in favor of privileged men."
"Persky has repeatedly abused his discretion on behalf of abusers," Dauber said. "As a result, voters in this county have lost confidence in his ability to be fair."

She called his Brown v. Board of Education comparison "absurd."
"In Brown, the Supreme Court bravely ruled with the powerless against the powerful. In Brock Turner's case, Persky did the exact opposite," she said.
Persky did not immediately respond to a request for comment.