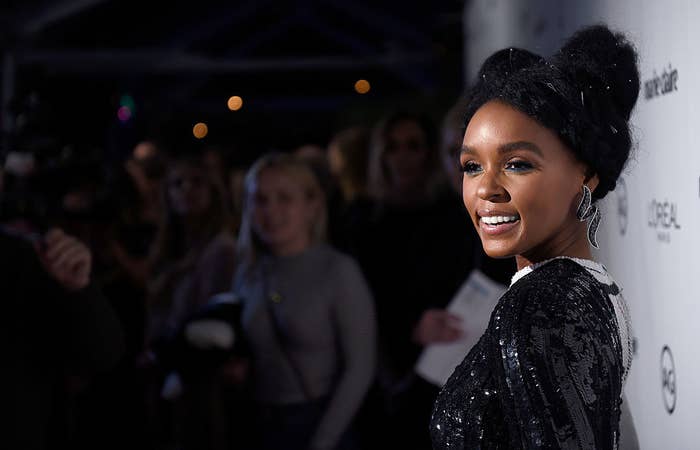 The Women's March on Wednesday released the names of the artists who will perform at the kickoff of the Jan. 21 protest, with Janelle Monáe, Maxwell, and Angelique Kidjo headlining.
Other performers include the Indigo Girls, Toshi Reagon, Samantha Ronson, Emily Wells, DJ Rekha, MC Lyte, St. Beauty, Beverly Bond, Alia Sharief, DJ Rimarkable, Amber Coffman, Mary Chapin Carpenter, and Climbing PoeTree.
Among the speakers planned to address crowds at the event are America Ferrera, Angela Davis, Gloria Steinem, Ashley Judd, Scarlett Johansson, Melissa Harris-Perry, Michael Moore, and the group Mothers of the Movement, commonly associated with the Black Lives Matter movement.

Planned Parenthood President Cecile Richards, Erika Andiola, Ilyasah Shabazz, J. Bob Alotta, Janet Mock, LaDonna Harris, Maryum Ali, Melanie Campbell, Rabbi Sharon Brous, Rhea Suh, Sister Simone Campbell, Sophie Cruz, and Zahra Billoo will also speak.

March co-chairs Bob Bland, Carmen Perez, Linda Sarsour, and Tamika Mallory will also speak.
Steinem and Harry Belafonte are honorary co-chairs, and the march has partnered with Planned Parenthood and other women's health care advocates for a turnout expected to approach around 200,000 people in Washington, DC.
The announcement comes with the addition of Questlove, Grimes, Matt and Kim, KT Tunstall, Neko Case, Rakim, TV on the Radio, and Lila Downs to the March's Artists Table, a high-profile support committee of around 150 artists chaired by America Ferrera.
"Music has always been a powerful tool for galvanizing unity and I believe that singing and standing together, our voices will be stronger than any force that tries to repress us," Monáe said in a statement released by the Women's March.
Toshi Reagon, music director of the Women's March, has also recorded a cover of "Ella's Song," a song written by her mother about civil rights activist Ella Baker, and Reagon will perform the song to close out the march.

The march, which will take place the day after President-elect Donald Trump's inauguration, aims to connect women across various identities, though it has run into internal splits over race, abortion, and the rights of sex workers. The organizers have been adamant that the event is "pro-woman" rather than "anti-Trump."