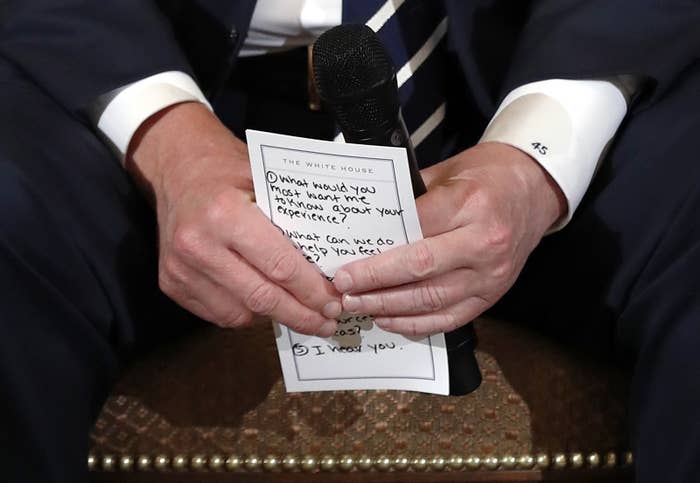 President Trump held a listening session at the White House on Wednesday with students and family members affected by school shootings, including the one in Florida last week that killed 17 people.
The session included a powerful speech from the father of one of the slain students and other pleas to take action from those affected by tragedy. The president had said his primary goal was to listen, but he also apparently had written down some reminders for how to handle what turned out to be a very emotional event, as viewable in the Associated Press photograph:

What would you most want me to know about your experience?

What can we do to make you feel safe?"

[Covered by hands]

resources? ideas?

I hear you.

The president's reminders obscured in the first photo were visible in a second one.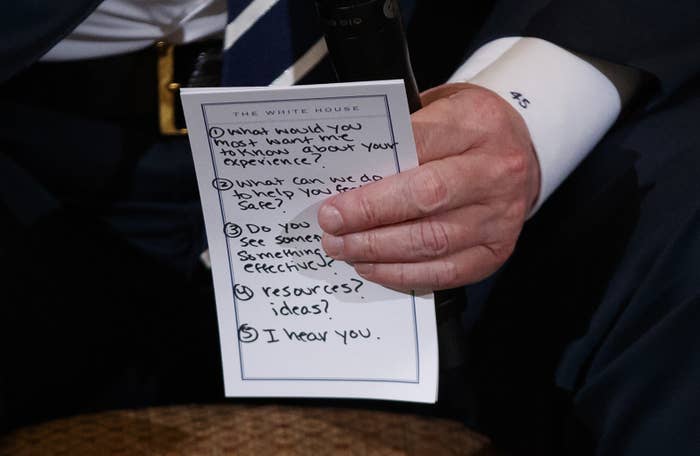 The last item on the note prompted rounds of jokes and criticism on social media.
Some people thought it demonstrated a lack of empathy.
"*goes up to grieving widow at funeral* i hear you."
"'I hear you' had to be scripted. I have nothing left."
"Is that something you really need a periodical reminder to do, especially when it comes to something this important, @realDonaldTrump?"
House Minority Leader Nancy Pelosi, a Democrat, took umbrage with the notes and tweeted from her team's account: "'I hear you,' @realDonaldTrump? And yet, you and Republican leaders do absolutely nothing."
Responding to Pelosi's tweet, White House spokesperson Hogan Gidley said, "The President heard those kids and parents today — he heard their fear, their pain, and their hope for a better future that includes real solutions to make our schools safe. After decades of doing absolutely nothing on this issue...The question is, 'Nancy, did you?'"