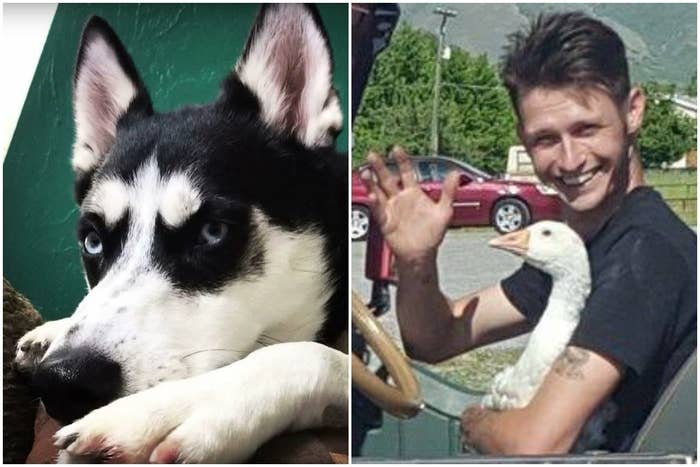 Police say a 4-year-old husky named Nikita killed two dozen animals in a small Utah town over the course of just a few hours on Memorial Day, and now her owner is facing charges.

Nikita's owner, Mackenzie Morton, was cited by police on 27 counts of attacking animals, several of which survived, and one count of an animal running at large.
Morton told Fox 13 that the dog, which will be in quarantine while awaiting an administrative hearing, escaped her boyfriend's house in the town of Tooele for just a few hours.
"I didn't think she was going to go on a killing spree," she added.

Trip Kiss, the owner of the nearby petting zoo KissMade for special needs children, said that the husky killed nine of his animals — two rabbits, a duck, a turkey, four chickens, and a specially trained goose named Rex.
Kiss told BuzzFeed News that the attack ruined his Memorial Day.
"I planned on mourning friends, not cleaning up pet remains," he said.
Kiss's wife Kaley mourned the loss of Rex on Facebook as more than just a pet goose, but a "part of our family."
"I know that sounds stupid, but most people don't know how much care and effort you put into poultry and livestock," she wrote.
Police said the dog killed another 15 chickens in a yard near the zoo.

"Honestly, I was just so much in shock, because that's not her. She doesn't do that kind of stuff," Morton said of Nikita while also apologizing to those who lost animals.
Local news media obtained security footage from the zoo that shows the husky carrying carcasses.
Trip Kiss said he was angry at Morton because "she could have prevented this."
When a friend asked on Facebook if he had any updates, Kiss replied, "Not much, the owner most likely will never pay up." He also changed his profile picture to a photo of him and Rex the goose.

"[Morton] should NEVER get her dog back under any circumstances, she has already proven to be negligent with the dog," Kaley Kiss wrote on Facebook.

Morton and the Tooele City Police Department did not immediately respond to requests for comment.