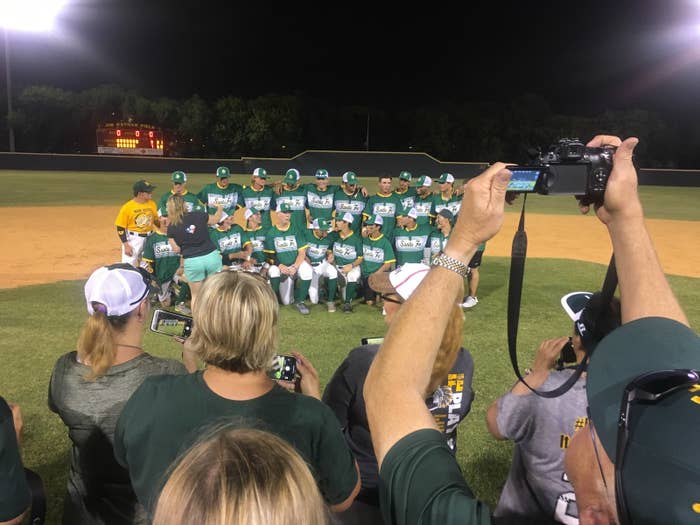 SANTA FE, Texas — Just hours after the Santa Fe High School shooting on Friday, the school's baseball team voted unanimously for Saturday's game to go ahead.

The opening pitch, against Kingwood Park High School, was thrown at 7pm. But baseball was secondary as the community came together to heal after 10 people died and 13 others were injured in the shooting.
"We were here, but our minds were still on the tragedy that happened yesterday. I was physically ready, but my mind just wasn't there," said Jacob Long, a senior pitcher for the Santa Fe Indians, who had painted crosses on his face in eye black to commemorate the victims of the shooting.
Crying and overwhelmed by emotion, Long had to leave the pitcher's mound mid-game, with bases loaded. It was his last high school game.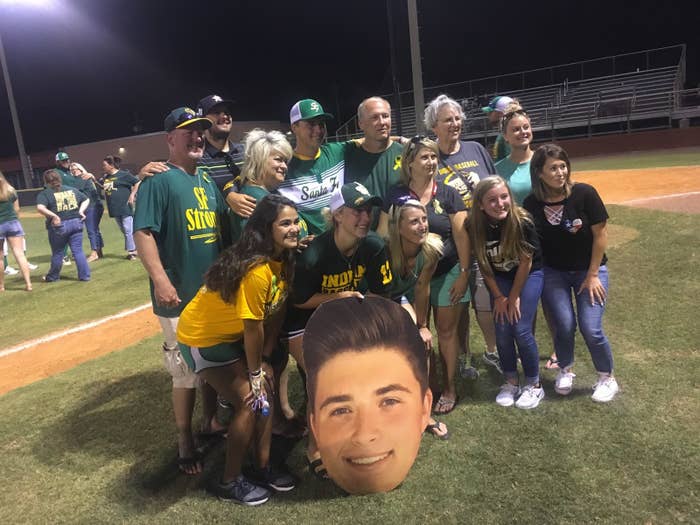 The bleachers at Deer Park High School were full and crowds spilled around the edges of the field, as many Santa Fe classmates and parents saw each other for the first time since the shooting.

A handmade "We Love Santa Fe" sign stood at the entrance, while a sign from Santa Fe's opponents that read "K Park Stands With Santa Fe" was tied to fence. Dozens wore green and yellow ribbons or freshly printed T-shirts bearing slogans supporting Santa Fe High. The tickets, normally $5, were free after a local businessman covered the cost.
Tyler Fountain, a senior pitcher for the Indians, said the game became a symbol of hope that life could return normal in the wake of the shooting. The crowd, he said, was four times the size of the one that typically turns out for a normal game.
"We realized we had the whole community, all of Santa Fe, backing us up, so we couldn't let them down. We had to give them a little fight, a little hope," Fountain told BuzzFeed News.
Chris Curtis, a member of Santa Fe's basketball team, said he only found out that some of his fellow players weren't injured in the shooting when he saw them at the baseball game. Students had to leave their phones at school, he noted, leaving many wondering about the fate of their classmates. He had seen a friend wounded during the shooting, Curtis said, and thought the friend had died until the end of the day Friday, when he learned otherwise.
Santa Fe sophomore Maddy Blake came with her friends to support her boyfriend, Rome Schubert, who was shot in the back of the head Friday morning. The bullet exited his body through the left side of his neck, though he miraculously did not suffer any major injuries.

"It's comforting knowing that all these people are here for us, knowing that we're all going through the same thing" Blake said.
Freshman Natalie Alvarez, 15, told BuzzFeed News she spent Saturday at home, unable to believe the shooting had really happened. "I still don't believe it," she said.
But she came to the game.
"I've been in bed all day until I heard that the boys were playing tonight. I didn't have the energy to do anything but come here," Alvarez said.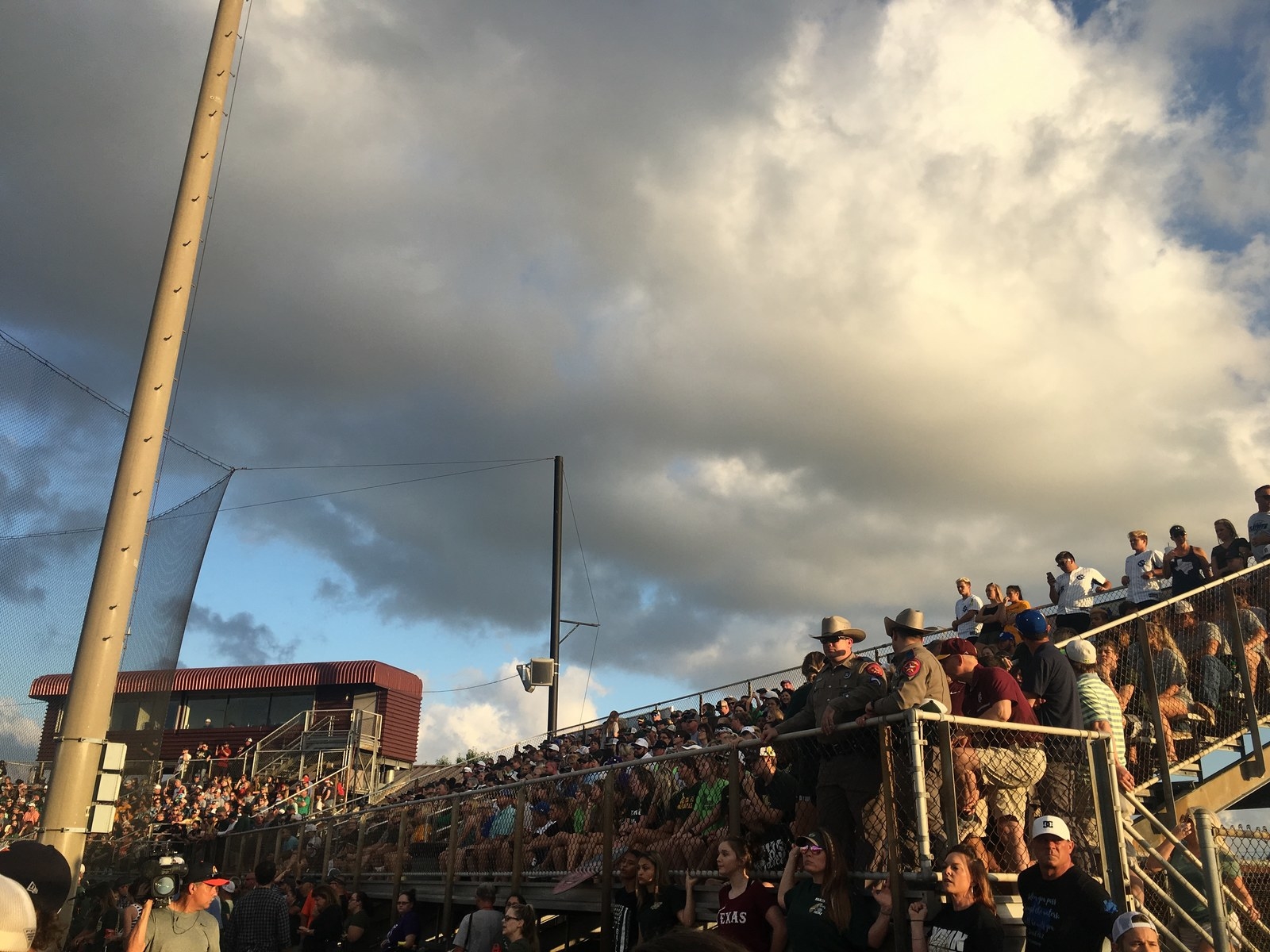 Her friend, Laney Childs, 14 — they play on Santa Fe High School's volleyball team together — spent Saturday serving meals as part of a team fundraiser organized weeks ago.

On Friday, she'd been in the gym when the shooting took place. "We saw blood. We saw people that had gotten shot," Childs said.
But on Saturday night she wanted to come and support her school. "We decided no matter what we had to come," she added.
Her mother, Amy Childs, 41, accompanied her to Saturday night's game, wanting to be close to her daughter after receiving a terrifying phone call as Laney fled school the day before.

"All I could hear was her running and breathing hard 'it's real mom, it's real, it's happening, people are shot," Amy Childs said.
Many Kingwood Park parents and supporters wore T-shirts that read "Santa Fe Strong." Sue Lizalbi, a mother of a Kingwood Park player who owns a screenprinting business, printed 50 T-shirts and gave them away because she wanted to do something for the students.
The Santa Fe Indians lost the game 0-7 to a standing ovation.