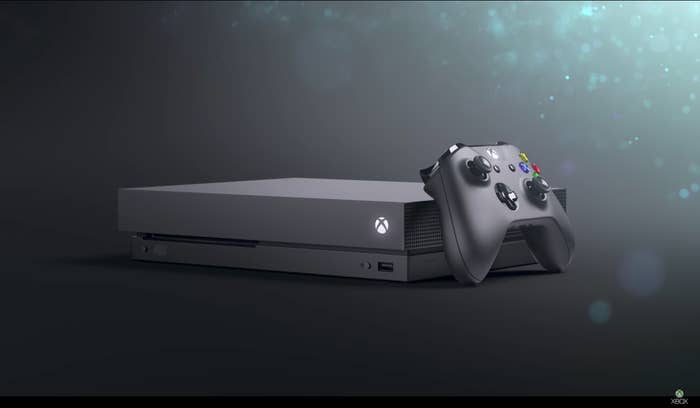 Microsoft has debuted a new console, the Xbox One X, today at the annual Electronic Entertainment Expo (E3) gaming conference in Los Angeles.
"The smallest Xbox ever" hits shelves worldwide on November 7th, priced at $499.
The Xbox One X has significantly more processing power than its predecessor, the Xbox One.
The Xbox One had 1.3 teraflops of graphical processing power, whereas the Xbox One X has six. In layman's terms, that means the images on the new console will be much sharper. It's core processing unit is also 30% faster than the Xbox One, which means shorter load times.
Like the PlayStation Pro, the Xbox One X is largely a hardware update on an existing console. Games made for the Xbox One X will be playable on the Xbox One, albeit at reduced graphical quality, according to Microsoft.

Before the launch, people on Twitter were speculating that Microsoft was throwing shade at Sony with hidden "6>4" messages in its teaser ads. The PlayStation Pro, Sony's latest console, has 4.2 teraflops of graphical processing power. The Xbox One X has six.

The company placed heavy emphasis on the quality of the images that the Xbox One X will produce, pointing out that the console is capable of "supersampling," meaning you won't need a 4K TV to play with top-quality images; 1080p sets should be fine.
The new console will be backwards compatible with older Xbox games — which hasn't always been the case with Microsoft's game consoles — as well as with existing Xbox One controllers and accessories.
The crowd at Microsoft's press conference went wild at the announcement of backwards compatibility. One E3 attendee shouted "I love you!" to the presenter after hearing the news.

Microsoft teased some titles during the announcement but didn't say how many would be available at launch.
Bioware, a subsidiary of Electronic Arts, showed off its highly anticipated new game called Anthem.