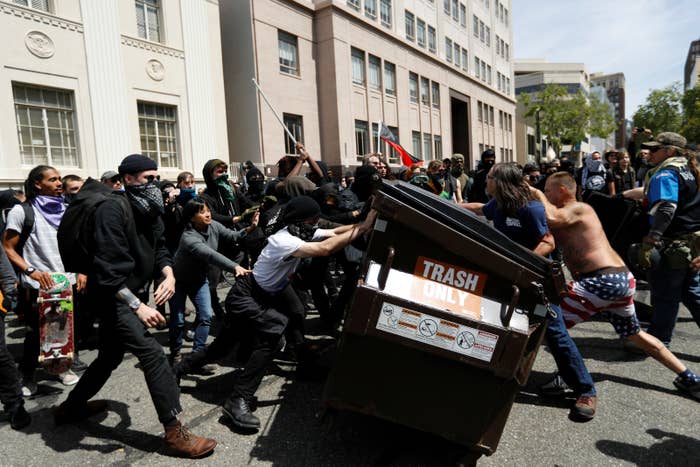 BERKELEY, California — A rally organized by alt-right Trump supporters — and a subsequent counterprotest from their opponents on the far left — descended into chaos and open street brawling here Saturday, in what has become a monthly ritual of political violence in this Bay Area college town.
Both pro- and anti-Trump protesters arrived Saturday armed with shields and helmets, apparently ready for a fight. In fact, the fight seemed to be the reason many came out. Throughout the day, the two sides fought using wooden poles, pepper spray, mace, explosives, bagels, milk, and fists, bloodying their opponents in the melee. In conversations with BuzzFeed News, each side claimed that the other provoked the violence.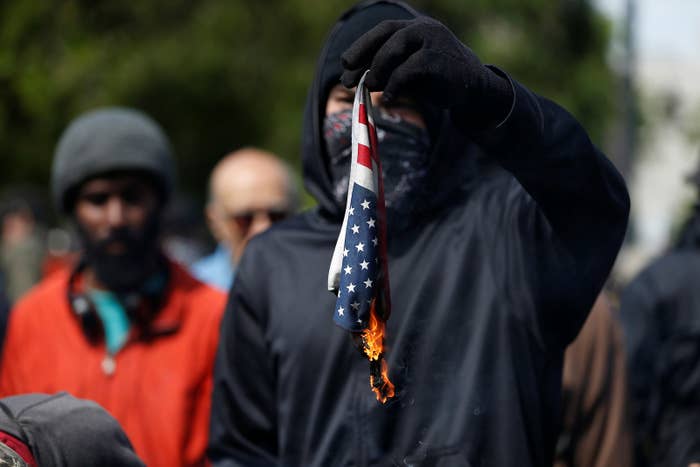 By mid-afternoon, the dueling protesters were screaming insults at each other over a flaming pile of trash and using a dumpster as a battering ram. Police were nowhere in sight.
It's become a familiar scene in Berkeley. Long a bastion of liberal activism — and the birthplace of the Free Speech Movement — the city has emerged as a hotbed for political violence since the election of President Donald Trump. A rally organized by Trump supporters last month similarly broke into chaos, with hundreds of pro- and anti-Trump demonstrators using pepper spray, wooden poles, and bricks to fight each other.
In February, the University of California, Berkeley was forced to cancel a speech by former Breitbart writer Milo Yiannapoulos after protesters swarmed the campus with Molotov cocktails and weapons. The incident became a flashpoint for conservative media, and prompted Trump to tweet a threat to cut federal funding from the university.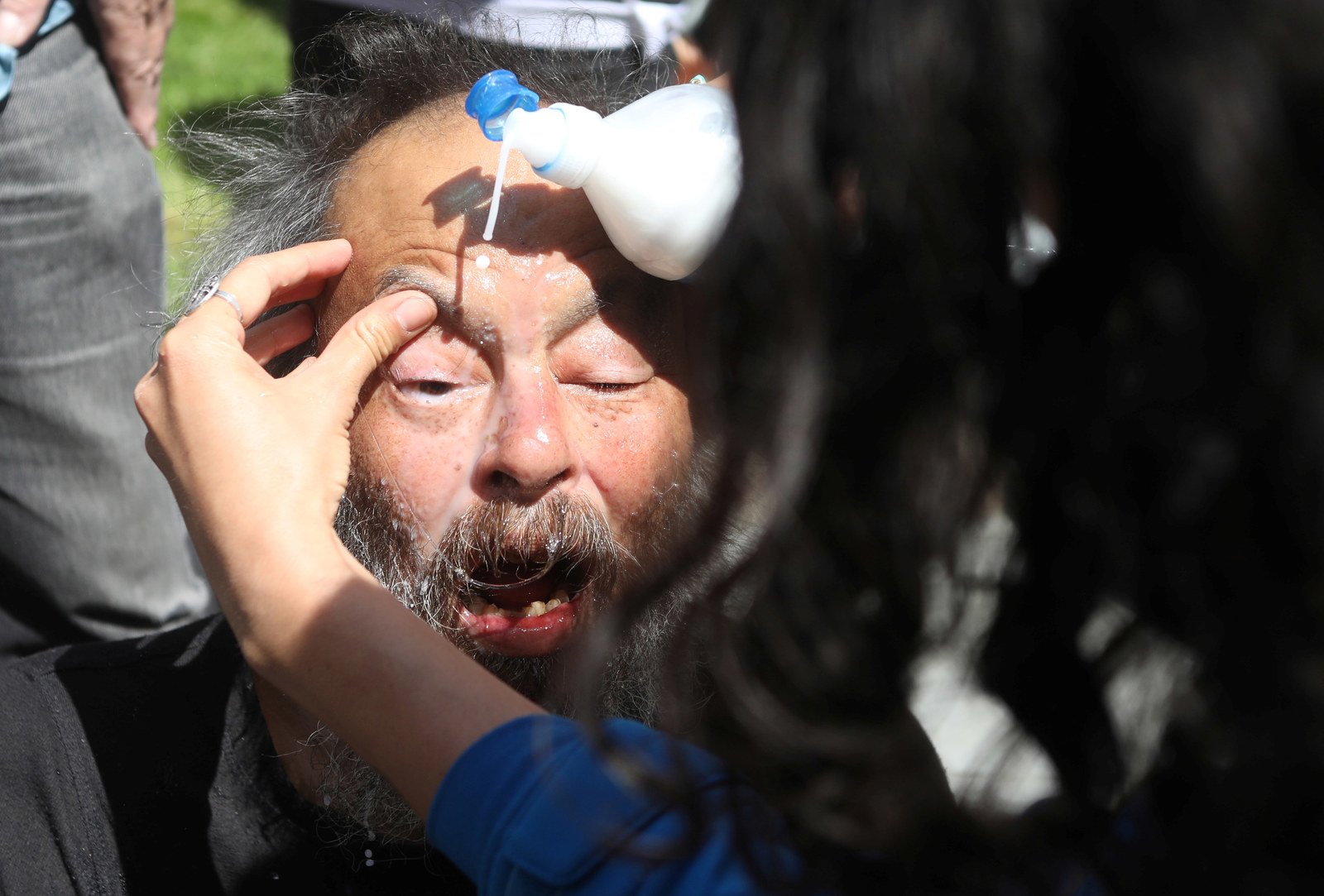 Like the March event, Saturday's pro-Trump rally was organized in part as a response to the Milo protests. Billed as a free speech rally, the demonstration was planned by Rich Black, a Los Angeles libertarian activist. Bay Area anti-Trump activists quickly assembled a counter-demonstration, promising to use "black bloc" tactics to shut down the alt-right event.
Black tweeted a video of himself the following Monday saying, "I could not be more satisfied with the outcome of the event." He said he saw moderate liberals and those on the far-right joining together in unity to "stand against radicalism and domestic terrorism."
About 200 and 300 people showed up for the dueling demonstrations in Berkeley's Civic Center Park Saturday. By Sunday night, 23 people had been arrested.
The fighting started early. Shortly after the rally began, protesters from both sides stood yelling at each other from opposing sides of temporary orange police fences. Police lined the perimeter, but that didn't stop a protester from reaching over to push a man in a Make America Great Again hat. When the man pushed back, one threw a punch, and the barrier quickly came down.

Initially, police attempted to break up these types of fights. But as the rally moved from the park into the streets, and then toward the downtown BART station, law enforcement were surprisingly absent from the scene. Protesters stomped one another into the concrete, using pepper spray and wooden poles. One fight entangled dozens of people along a sidewalk.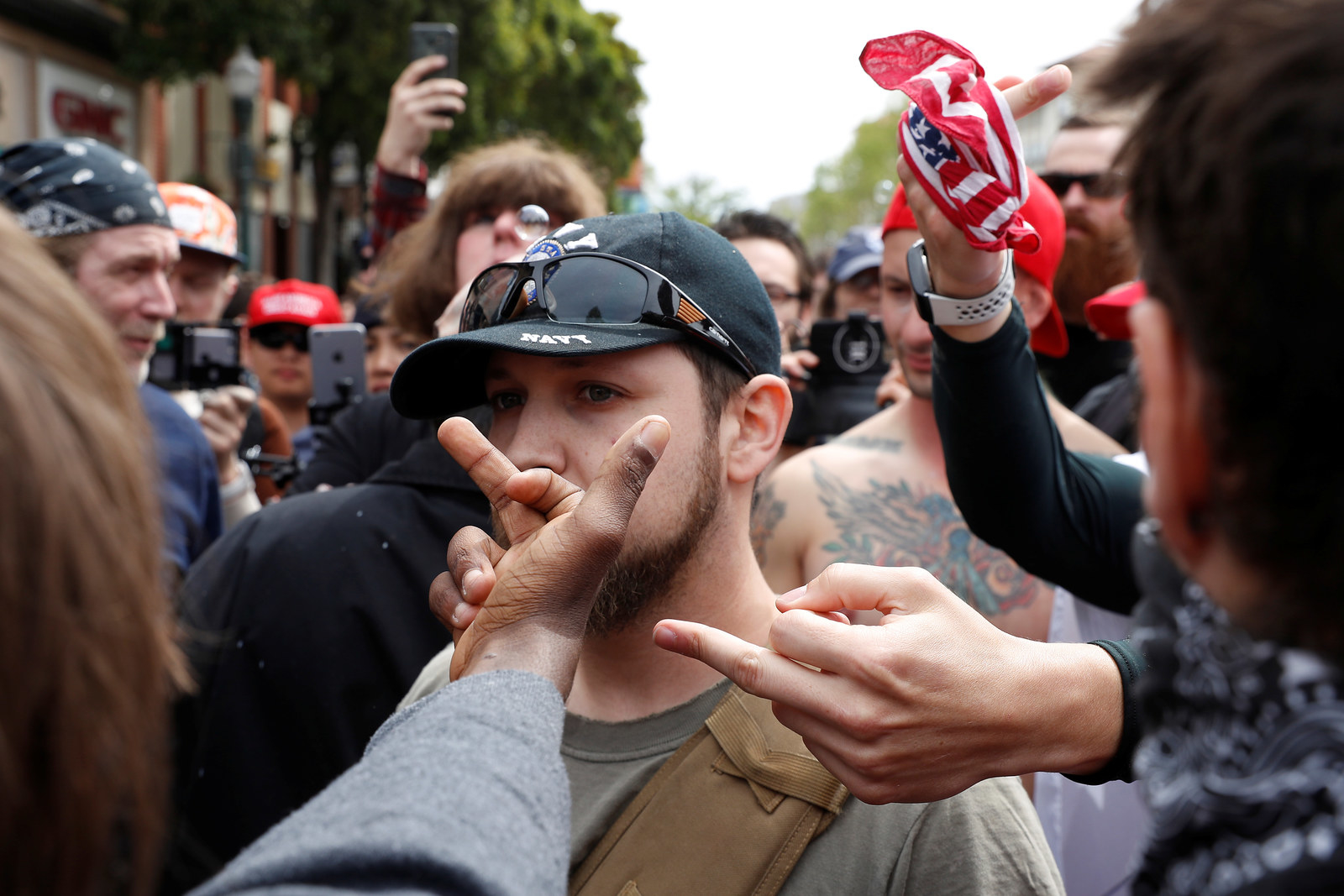 In perhaps the most frightening — and puzzling — moment, a smoke bomb went off, scattering demonstrators from both sides. In the ensuing confusion and smoke clouds, the alt-right regrouped faster than their counterparts and advanced in a mob, punching people, throwing them to the ground, and beating them with sticks. Black-clad leftist demonstrators started running, and the group of Trump supporters — about 50 people — gave chase up Center street, shouting. In their path was an upturned stainless-steel pot of just-cooked pinto beans, which one conservative quickly fashioned into a weapon.
(You can see the pot fly into the air in the video below at about the 1:05 mark.)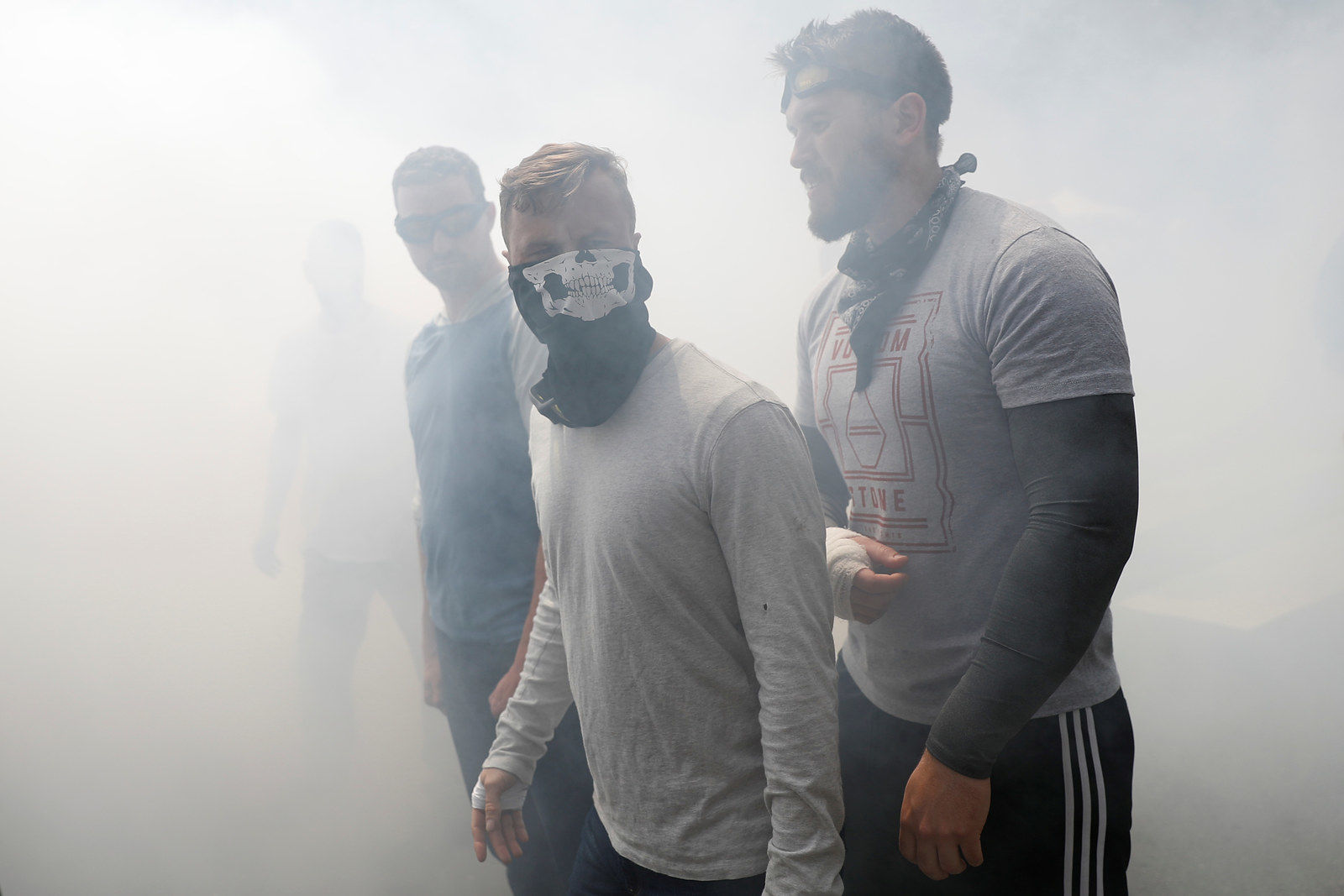 Several notable alt-right figures were in attendance. Nathan Damigo, the founder of the white supremacist group Identity Evropa, punched a woman straight in the face. Kyle Chapman, a local alt-right folk hero known as Based Stickman, was also in the mix, dressed for combat in a helmet, elbow pads, and heavy kilt. Anthime Gionet — another alt-right writer (and former BuzzFeed employee) who goes by the name Baked Alaska — livestreamed the violence, trolllng anti-Trump protesters by offering them a can of Pepsi.
Several alt-right bloggers were scheduled to speak at Black's rally, including Irma Hinojosa, a member of Latinos for Trump; the Manspot, a hyper-virile personality who comments on the US military; and Brittany Pettibone, who writes about Pizzagate and "white genocide." Stewart Rhodes, a leader of the Oath Keepers militia group, was also in town, ostensibly to protect the Trump supporters.
Many of the Trump supporters appeared to have come to Berkeley from other places: In an informal survey of 10 alt-righters, several said they had come from Southern California, and some said they lived further north in California; one had traveled from Rhode Island.
For the alt-right Trump supporters, Berkeley appeared to be a symbol of liberal censorship. "It's exactly the place we need to go," Lauren Southern, a libertarian writer and one of Saturday's speakers, told me. "We need to be in places where they want to make it so we're afraid to speak our minds. This is the main place that needs defending."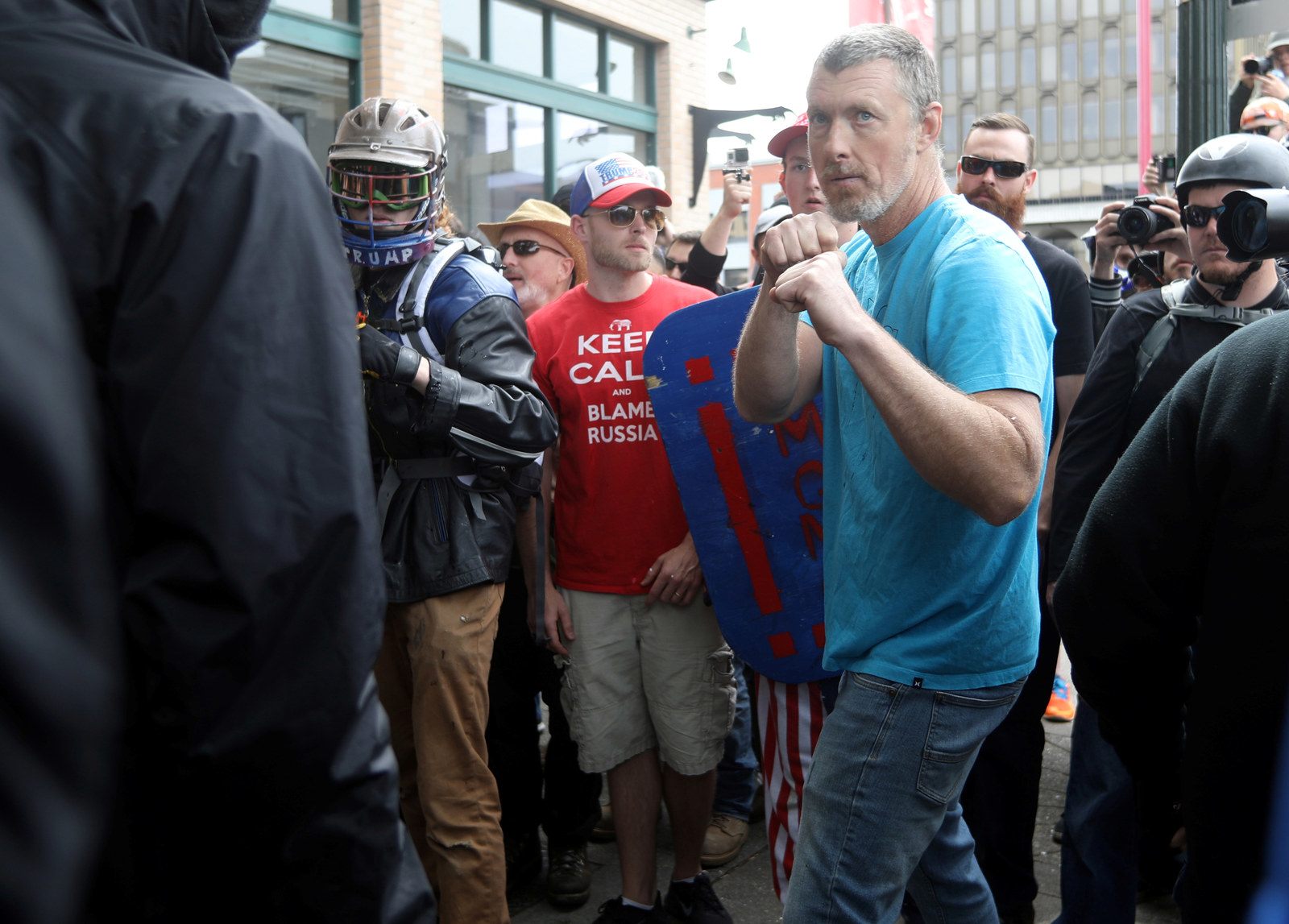 It's worth noting that several alt-righters were giving Nazi salutes:

The anti-Trump demonstrators — a group largely made up of a cadre of liberal activists who call themselves anti-fascists or "antifa" — were less identifiable. Many showed up dressed in black and balaclavas, a black bloc tactic aimed at obscuring their identities from the police. They were hostile to cameras for the same reason.
According to black bloc demonstrators, the group, often associated with anarchist movements, lacks a centralized organization. Instead, the activists show up largely organically in response to other events, and engage in what they call "direct action," which often entails property damage or physical confrontation, instead of dialogue and peaceful protest.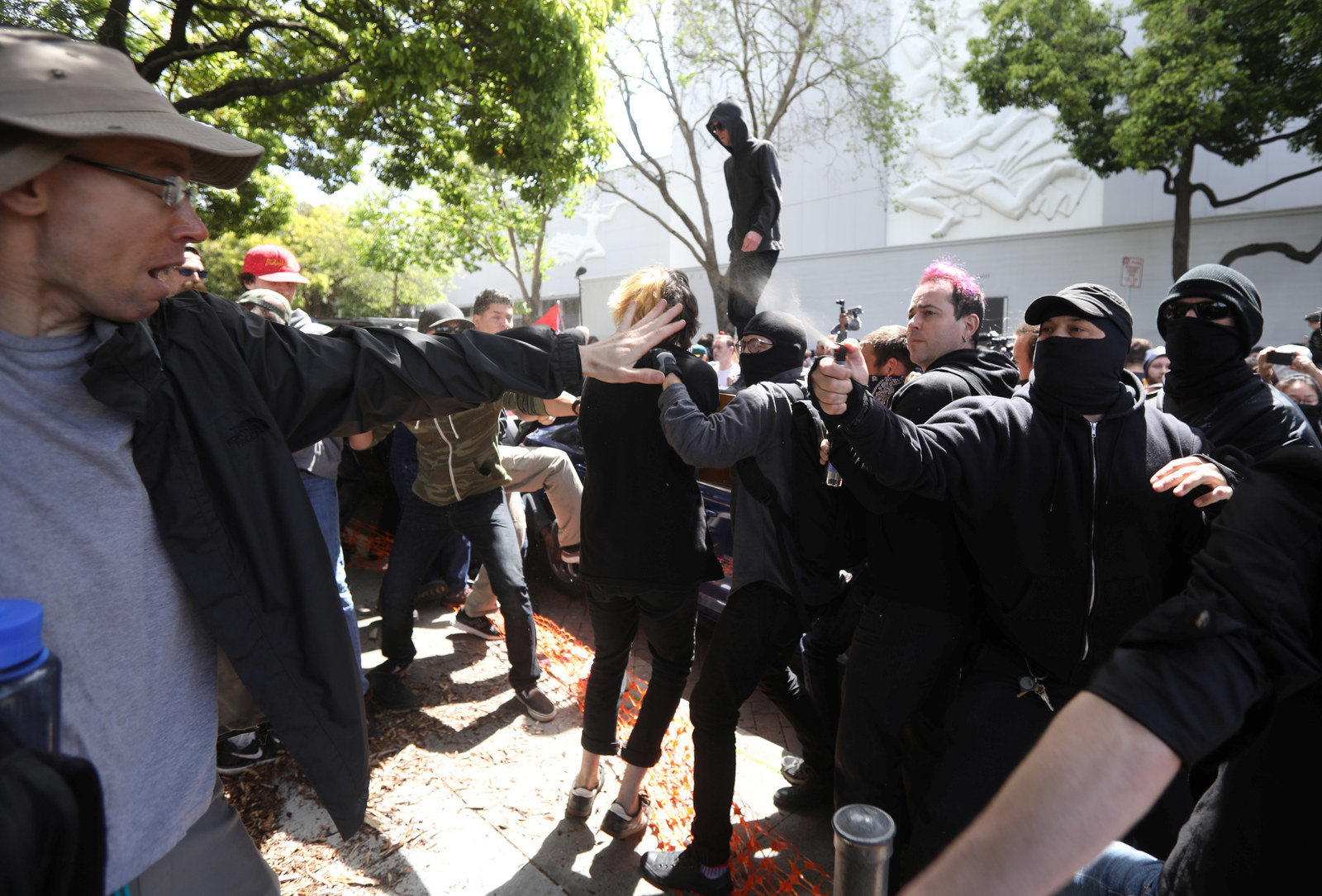 The anti-Trump protesters were keen to label their alt-right opponents bigots and racists, cheering "Two, four, six, eight, America was never great!" and "No KKK! No fascist USA! No Trump!"

One black bloc demonstrator told BuzzFeed News he had come out to demonstrate because the alt-right "are trying to build up a base here and get bigger in our community."

The alt-righters returned the jeers, with shouts of "Commies go home!" at the liberal activists. "Communism has infested the United States since the 1950s, especially at colleges, and most of all just a few blocks from here at UC Berkeley," Southern said in her speech Saturday. It's not necessarily a categorization self-described "antifa" would strongly deny.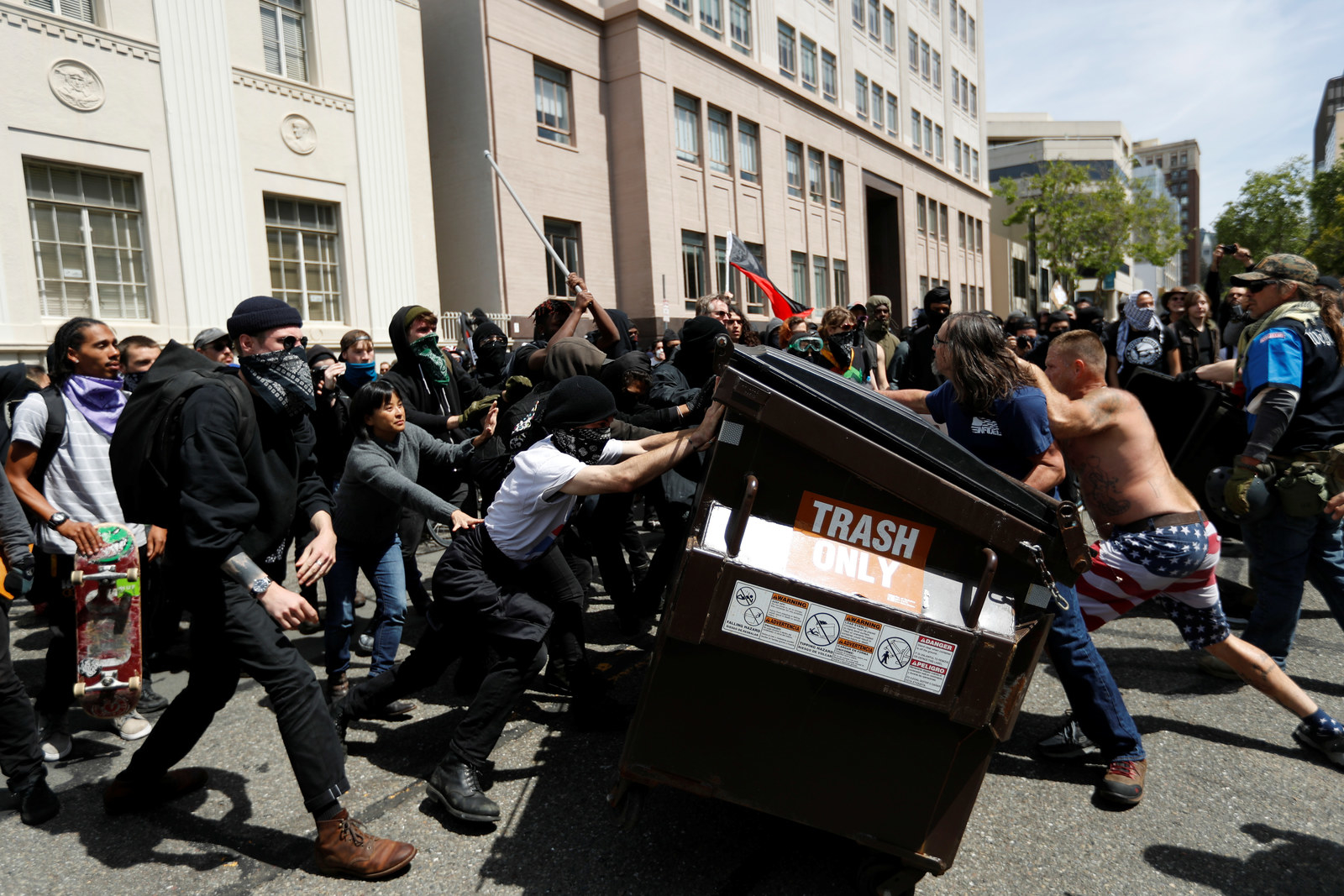 The liberal protesters also skewed younger than the Trump supporters. I watched one young woman with green hair and sharp, slanted eye makeup tear up as she was arrested by Berkeley police. She didn't know how she had broken the law, she said, looking like she didn't quite know what she'd signed up for.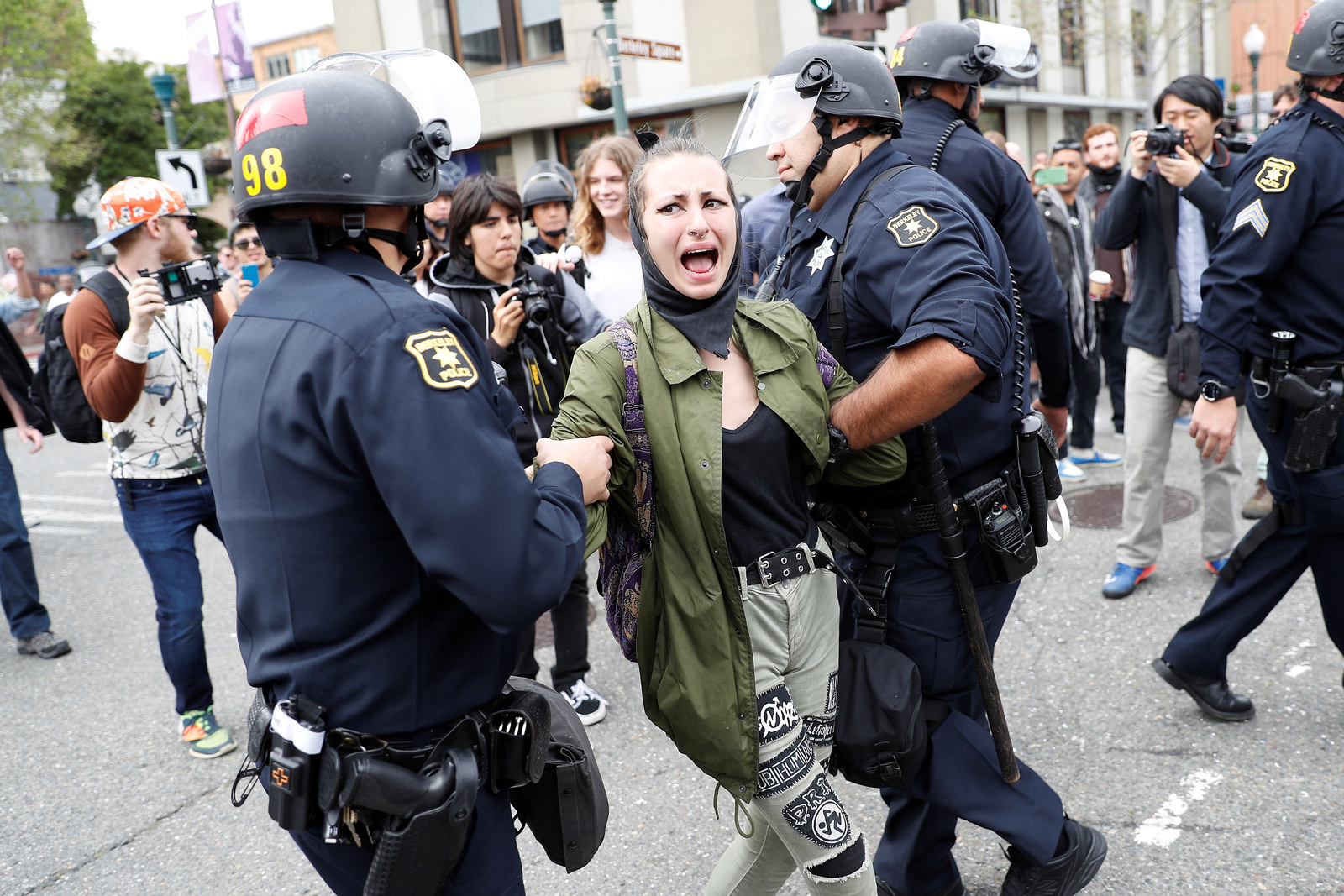 Unlike other recent demonstrations, though, the pro-Trump supporters seemed to outnumber liberal activists. By the end of the day Saturday, many on the alt-right claimed to have "won."
Still, it's not likely to be the last time protests turn violent in Berkeley this year. Ann Coulter is slated to speak on campus at the end of the month.
Here's our livestream from the streets of Berkeley:
CORRECTION
Rich Black identifies as a libertarian activist. A previous version of this story said he was a member of the alt-right group the Proud Boys.