What was 2016? A dumpster fire? A hot mess? 2012's revenge?
2016 was full of contradictions. We suffered the deaths David Bowie, Prince, and Harambe. There was plenty of fun too: the Rio Olympics and Pokémon Go happened this year. We also had the US election. More than anything else, 2016 was consumed by the election. Most people didn't have words for it. So many people used GIFs to process the chaos of the year.
Tenor, the company that makes the GIF keyboard for some of the world's most popular messaging apps — iMessage, Facebook Messenger, Kik, Twitter, Google Gboard, and the Android's Touchpal and Kika keyboards — has compiled data on how people responded to big events in 2016. Half of the company's user base, according to CEO David McIntosh, is in North America, around a quarter is in Europe, and the remainder is in Latin America, the Middle East, and Asia.

Strap in to find out how everyone reacted to this doozy of a year:
Celebrity deaths:
The year started out on a super uplifting note with the deaths of David Bowie, Alan Rickman, and, later, Prince. That meant that people were sharing sad GIFs way more than happy ones.
We were #crying
We were even talking about #sex less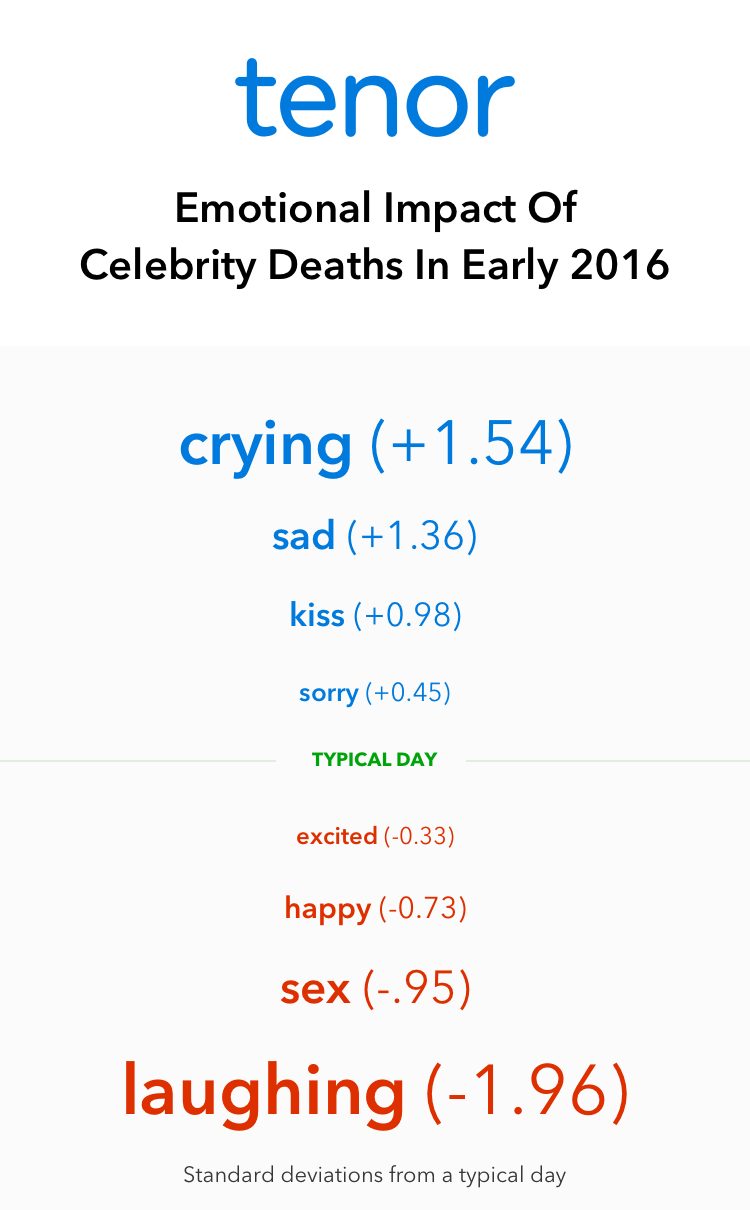 Then came the summer, which was an anxious time
#nervous spiked

We were sweltering, especially in the Southwest
It was one of the hottest summers on record in the US. #Melting was v popular

It all came to a head on June 19
A lot of people were losing their damn minds
The combination of the NBA finals and the "Battle of the Bastards" episode of Game of Thrones may have had something to do with the anxiety and triumph in the USA.
One event in particular made the summer crazy: Brexit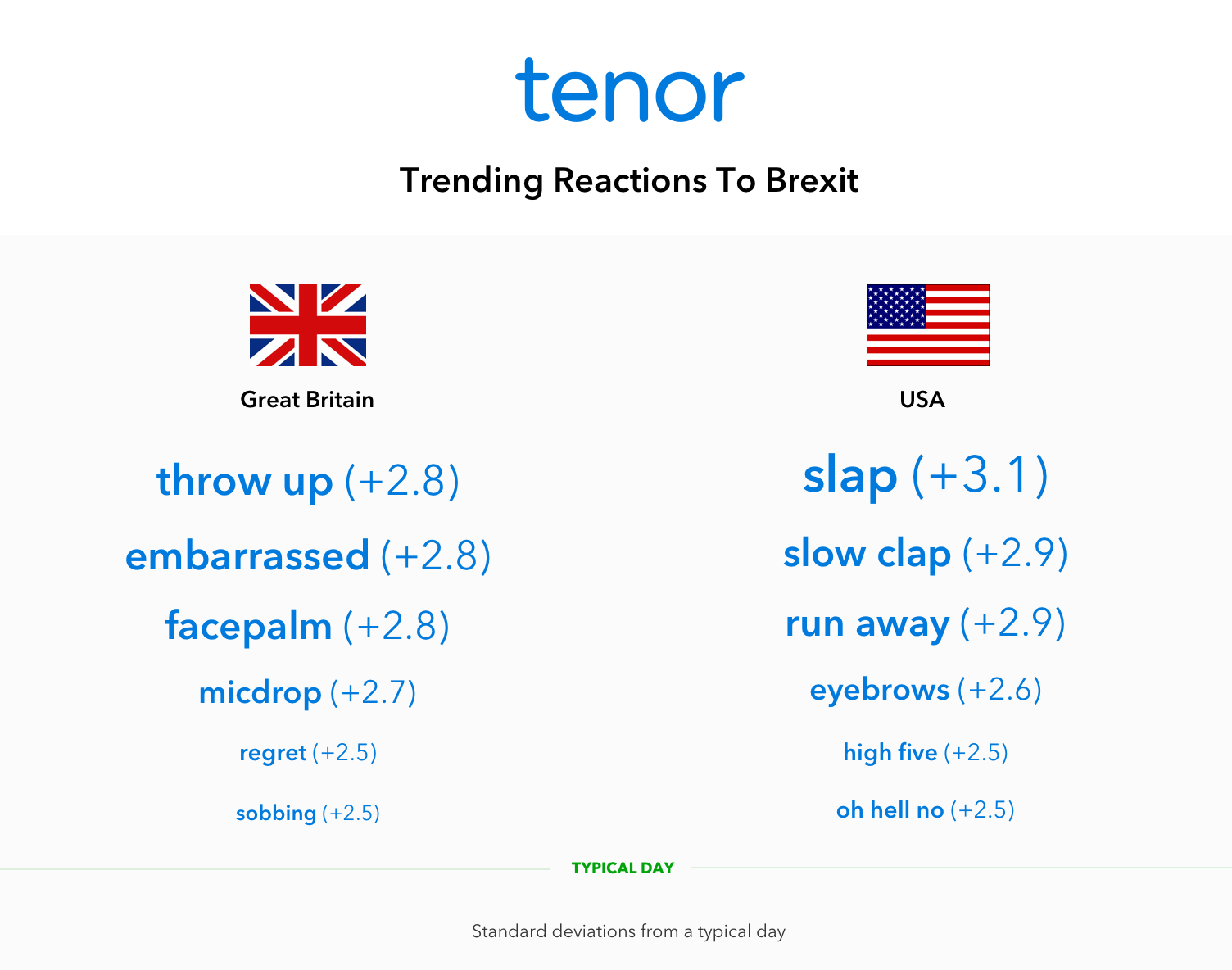 The USA wanted to smack some sense into the UK.
And the British overwhelmingly wanted to barf
At least there were GIFs to help people process the panic
#RunAway spiked in the US and gave us this parakeet action movie masterpiece.

2016 wasn't all death and political mayhem, though. Pokémon Go came out and gave us something to collectively obsess over:
The week after the wildly popular game came out, Pokémon GIFs accounted for about 7% of all shares on its keyboards, according to Tenor.
And, of course, the grandaddy of all 2016, the fire to our dumpster: The Election.
#Crying spiked hard on November 8.

The tears and sadness were out of control.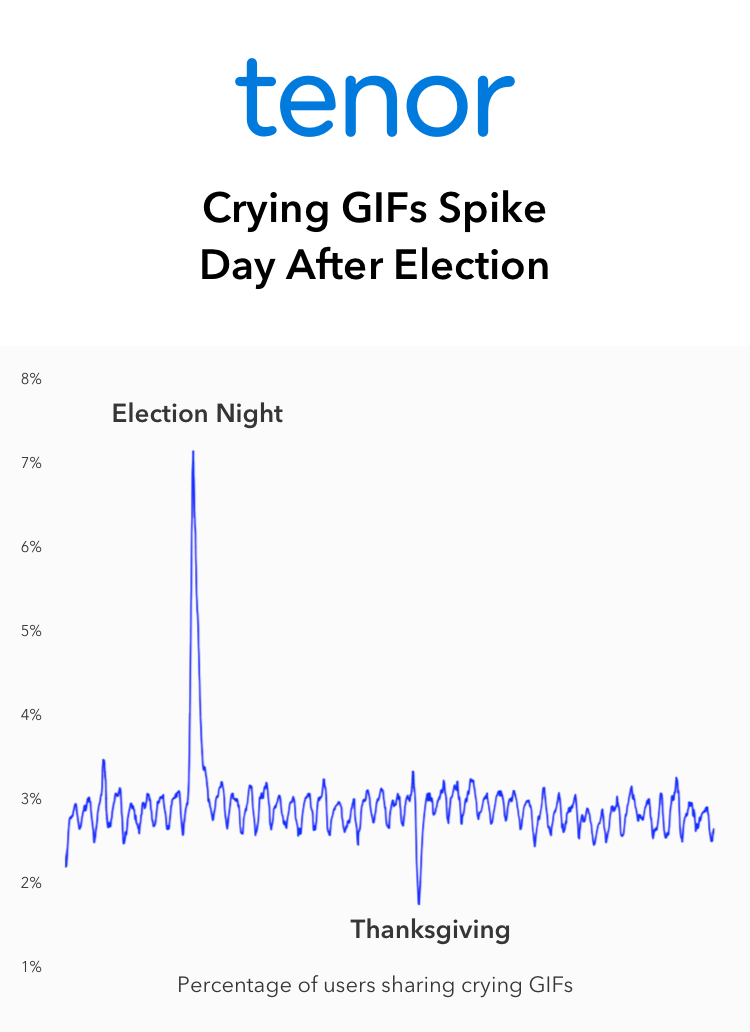 Thank goodness for Thanksgiving — at least that lightened the national mood a little.

But after it was about crying, it was about hugs: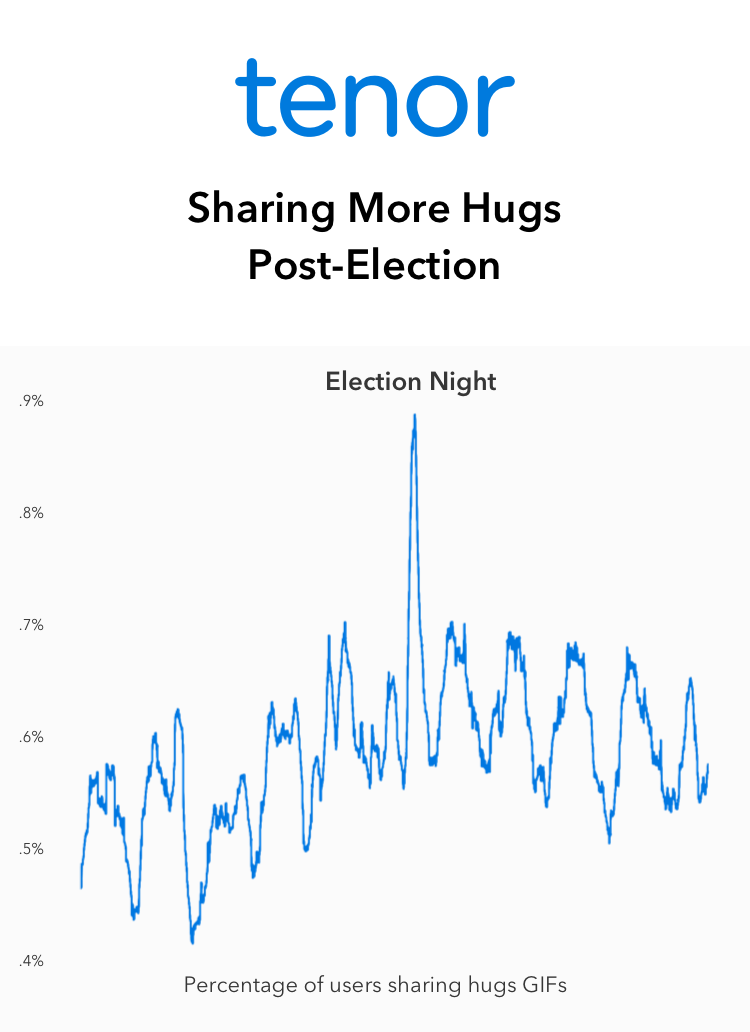 People were consoling each other. That's nice.
And that's a wrap! See you never, 2016!