SAN FRANCISCO — Getting tickets to see the smash-hit musical Hamilton by Lin-Manuel Miranda will cost you. But last week, a Google-partnered school program called #EduHam gave thousands of students from low-income high schools in the Bay Area, Chicago, and New York a chance to see the show for free, and debut their own performances.
Google.org, which contributed an $800,000 grant to #EduHam to purchase tickets to the musical for students, also added a new twist to the educational program: virtual reality tours of Alexander Hamilton's life via its Google Cardboard Expeditions program.
The six-week #EduHam course brings American Revolution–themed studies to life as a part of students' regular history classes using curriculum developed by The Gilder Lehrman Institute of American History. Google's VR component draws primary source images from Gilder Lehrman's archives and Google Street View. The program culminates in students' writing and performing a history-inspired monologue, sometimes on the same stage as Hamilton performers, as was the case at San Francisco's Orpheum Theater. Then they get to attend a performance of the musical itself.
Destiny Freidin, a junior at San Leandro High School, was chosen from more than 300 members of her grade to perform on the Orpheum stage. Her performance as Sally Hemings (not a character in in the musical, but a historically important figure nonetheless) drew deafening cheers from a 2,000-person crowd made up of students from 14 Bay Area schools.

Freidin said she had learned a great deal about both history and stage presence from #EduHam. She had never heard of Sally Hemings before reading about her in class. And her previous audiences for school plays and musicals, she said, had been "max 300 people, and I knew most of them." Ruben Cabral, the actor who plays Hamilton's friend John Laurens and Hamilton's son Philip in the San Francisco cast, said that Freidin's performance as Hemings was "killer."

#EduHam, which offers reduced price or free admission to Hamilton performances, began with 20,000 public school students in New York City. Google's grant provided funds for 5,000 students to attend the show in San Francisco, Chicago, and New York City.

Gilder Lehrman and Google collaborated to create lesson plans and six 360-degree tours of important places in Alexander Hamilton's life: battlegrounds from the American Revolutionary War, the buildings in Philadelphia where debates over the US Constitution took place, the New York offices where Hamilton established the national bank, George Washington's White House, Hamilton's own house, and the dueling grounds where Aaron Burr mortally wounded Hamilton.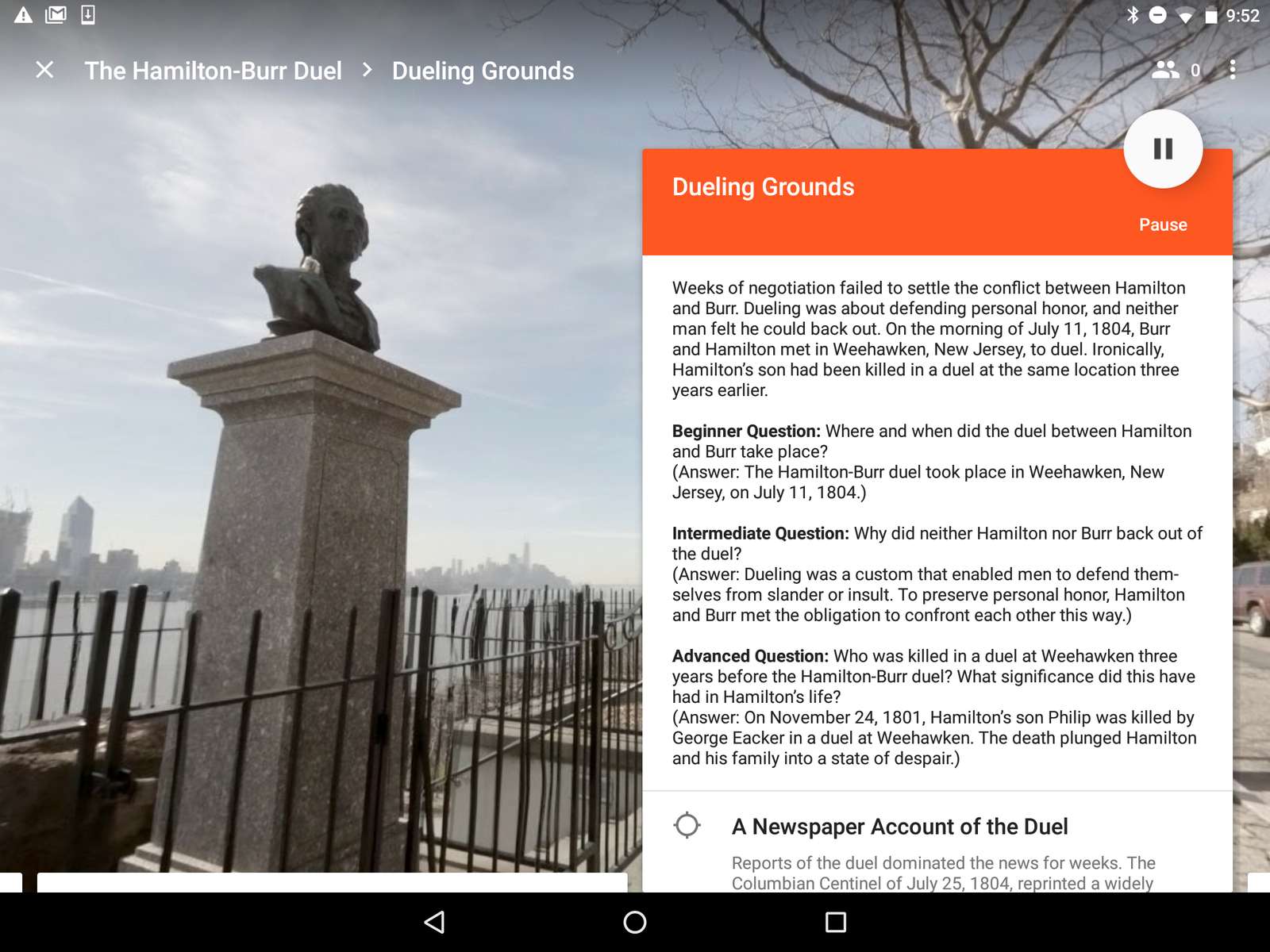 Students can access the tours with the lightweight Google Cardboard virtual reality goggles, which Google.org also distributed to all the schools that saw the show Wednesday. Within each simulation, students read information cards about Hamilton's life and pull up primary source documents like paintings and maps. Google is also putting a number of primary source documents, including Hamilton's letters and scans of his belongings, online at Google Arts and Culture.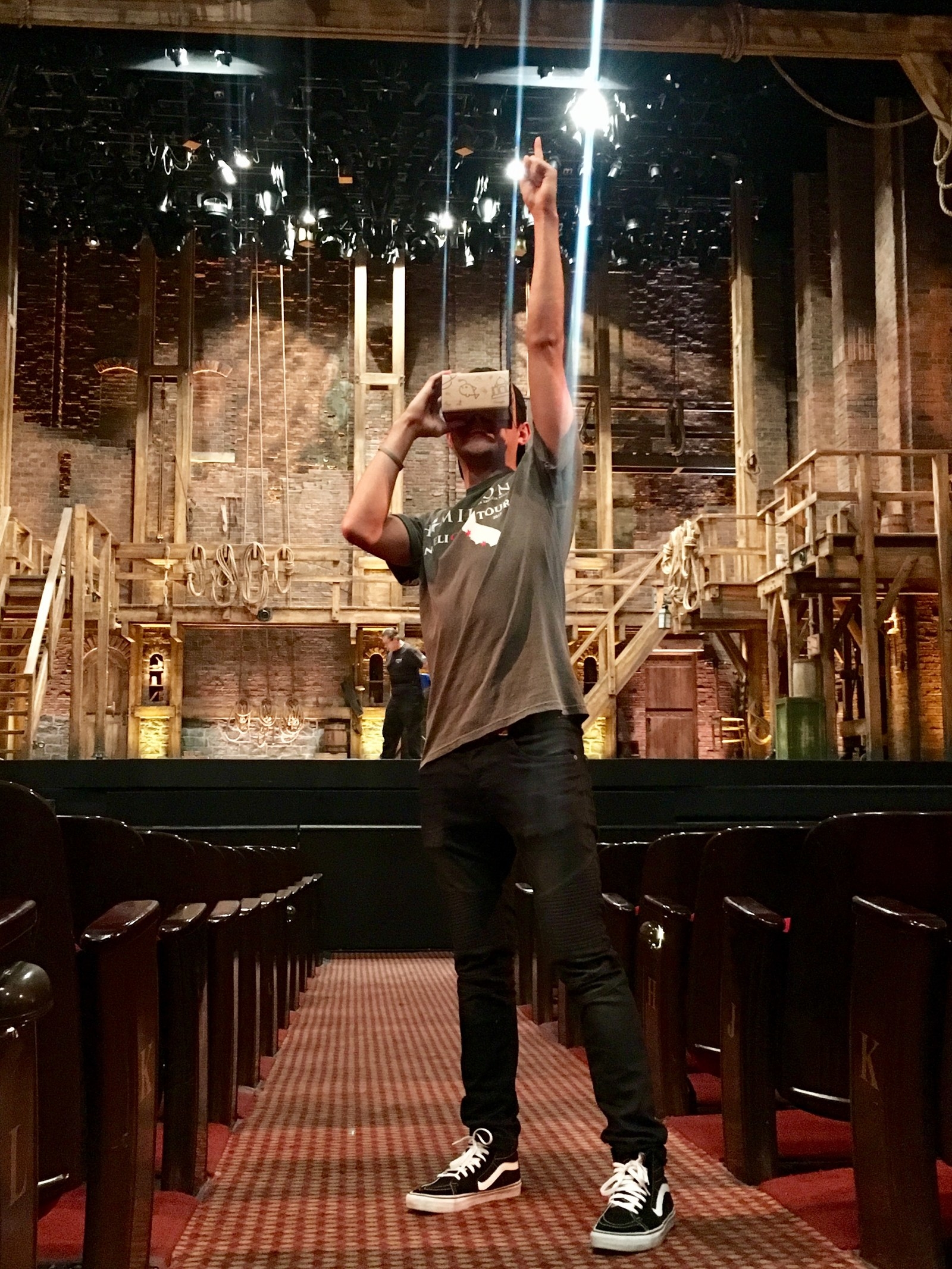 Suzanna Bobadilla, a member of Google's social impact division, praised how VR promotes engagement while students are learning: "Much like hip-hop modernizes Hamilton, I think virtual reality makes the history much more contemporary, more relatable to students." She said in workshops she's led with students, she's compared discussions in public forums — one of the main ways to get information in 1776 — to conversations on Twitter over a trending hashtag, a metaphor that she said makes students laugh.

But is VR cool enough to win over skeptical high schoolers? Students in the audience were chattering about how the virtual sites, particularly the dueling grounds, had made them more excited about studying the subject. Cabral said he heard multiple times from the student performers that history had become their favorite class as a result of the program.
Three students from Aspire Golden State in Oakland, Alejandro Briseno, Arturo Cuevas, and Jose Fonseca, who used VR for the first time in class in the #EduHam program, said that the content in Expeditions wasn't as interesting as watching people perform live. But still, they said that their teacher had made the virtual lessons interesting by guiding their class through the digital spaces.
Cuevas, Fonseca, and Briseno also performed a spoken word piece about John Adams at the Orpheum. "One thing we did learn for sure is that it takes a lot of nerve to perform. Our legs were shaking onstage."