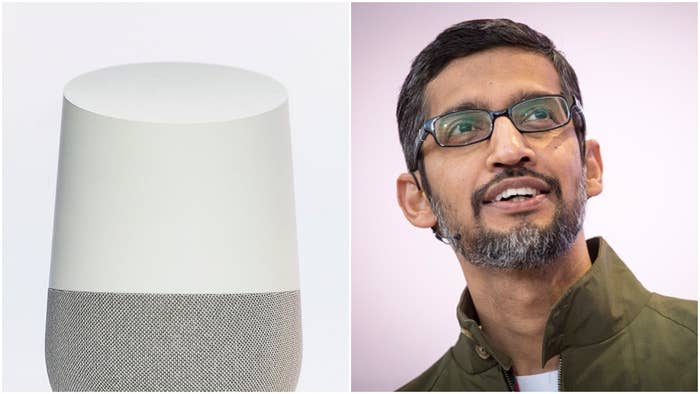 Google told BuzzFeed News that its new human-sounding artificial intelligence–powered assistant Duplex, which is capable of carrying on conversations with unsuspecting humans, will ship "with disclosure built in" but did not elaborate on how that disclosure would work.
A demonstration of Google Duplex — an extension of Google Assistant that sounds remarkably human — making restaurant reservations and haircut appointments on the phone rocked Google I/O, the company's annual developer conference. Crowds cheered, but many critics were troubled.
A Google spokesperson told BuzzFeed News, "We'll make sure the system is appropriately identified."
However, when asked whether that means disclosing that an AI is calling, that the AI may be recording the call, or something else entirely, Google declined to comment further.
A Google spokesperson said that the company doesn't know how that disclosure would sound yet and that the company will need to test how users respond to it.
Google executive Scott Huffman told Bloomberg that Duplex could say something like "I'm the Google assistant and I'm calling for a client" and that tests for Duplex were planned for the summer.

The spokesperson added that what was shown at Google's annual developer conference was an early version of the product. Conference attendees could not test Duplex for themselves, and it is not yet widely available.

"What we showed at I/O was an early technology demo, and we look forward to incorporating feedback as we develop this into a product," the spokesperson said.
The demonstration elicited cheering, intense debate, and backlash across the internet. Zeynep Tufekci, an influential critic of tech companies, said on Twitter, "Google Assistant making calls pretending to be human not only without disclosing that it's a bot, but adding 'ummm' and 'aaah' to deceive the human on the other end with the room cheering it... horrifying."
When asked whether the statement about disclosure came as a response to the backlash, a Google spokesperson pointed back to their statement, noting: "We understand and value the discussion around Google Duplex."