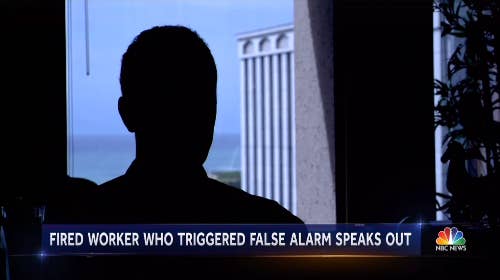 The man who sent the false ballistic missile alert in Hawaii said he isn't to blame for the mishap, and despite causing mass panic would not have done anything differently.

Speaking to NBC News, the former employee of the Hawaii Emergency Management Agency (HI-EMA) instead blamed a systemic failure for the false alert on Jan. 13 that sent thousands of terrified residents scrambling for cover.
"I'm really not to blame in this," the man, whose identity was masked, said on camera. "It was a system failure. And I did what I was trained to do."
He added that he heard "this is not a drill," but never the word "exercise," which would have indicated that it was, indeed, a practice run.
"I was 100% sure that it was the right decision, that it was real. I was convinced that it was real," he said."
A Federal Communications Commission report found that the emergency worker did in fact actually believe the threat was real. Officials also revealed that the alert sender had twice before confused a drill with real-life events.

Later, when asked what he would have changed about that morning, the man added, "I can't say that I would do anything differently based on what I saw and heard."
Hawaii Gov. David Ige said he was notified of the false alarm just two minutes after the alert went out to residents' phones and TVs, but waited 11 minutes to tell the public because he had forgotten his Twitter password. It wasn't until 38 minutes after the false alert that a second one was issued with a correction.

The ex-worker, who was eventually fired for the gaffe, said he felt "very badly for what's happened, the panic and the stress people felt, and all the hurt and pain." But he added that he himself had been having a "very difficult" time in the wake of the incident, including getting death threats.
The fallout over the incident didn't stop with the former worker. HI-EMA's administrator also resigned after taking "full responsibility" for the error. A third employee was also suspended without pay. HI-EMA declined to comment, citing pending litigation.
The false alert happened after a botched message played during the unannounced drill. The midnight shift supervisor played a recording that began with "Exercise, exercise, exercise." But the remainder of the message was a recording for an "actual live ballistic missile alert" that said, "this is not a drill."

A preliminary report on the false alarm stated that the alert sender had "been a source of concern ... for over 10 years ... He is unable to comprehend the situation at hand."
A second emergency management employee had to step in to send the cancellation alert after the first employee "froze," officials said.