Facebook just announced a slew of updates for Messenger, including a "Discover" tab, more games, and lots of bot integrations.
The direct messaging app is used by 1.2 billion people each month.
The Discover tab will feature content and bots from businesses and publishers, and you'll be able to search for specific bots as well.
Those bots are apps inside the Messenger app. Facebook calls them "chat extensions" when they integrate into your messages.
For example: You can send songs via Spotify and play them within Messenger. (You can already send Spotify links to people, but the bot makes it a lot more seamless and keeps you in the Messenger app even while you're listening to the song.) The NBA, Food Network, and others have also made bots.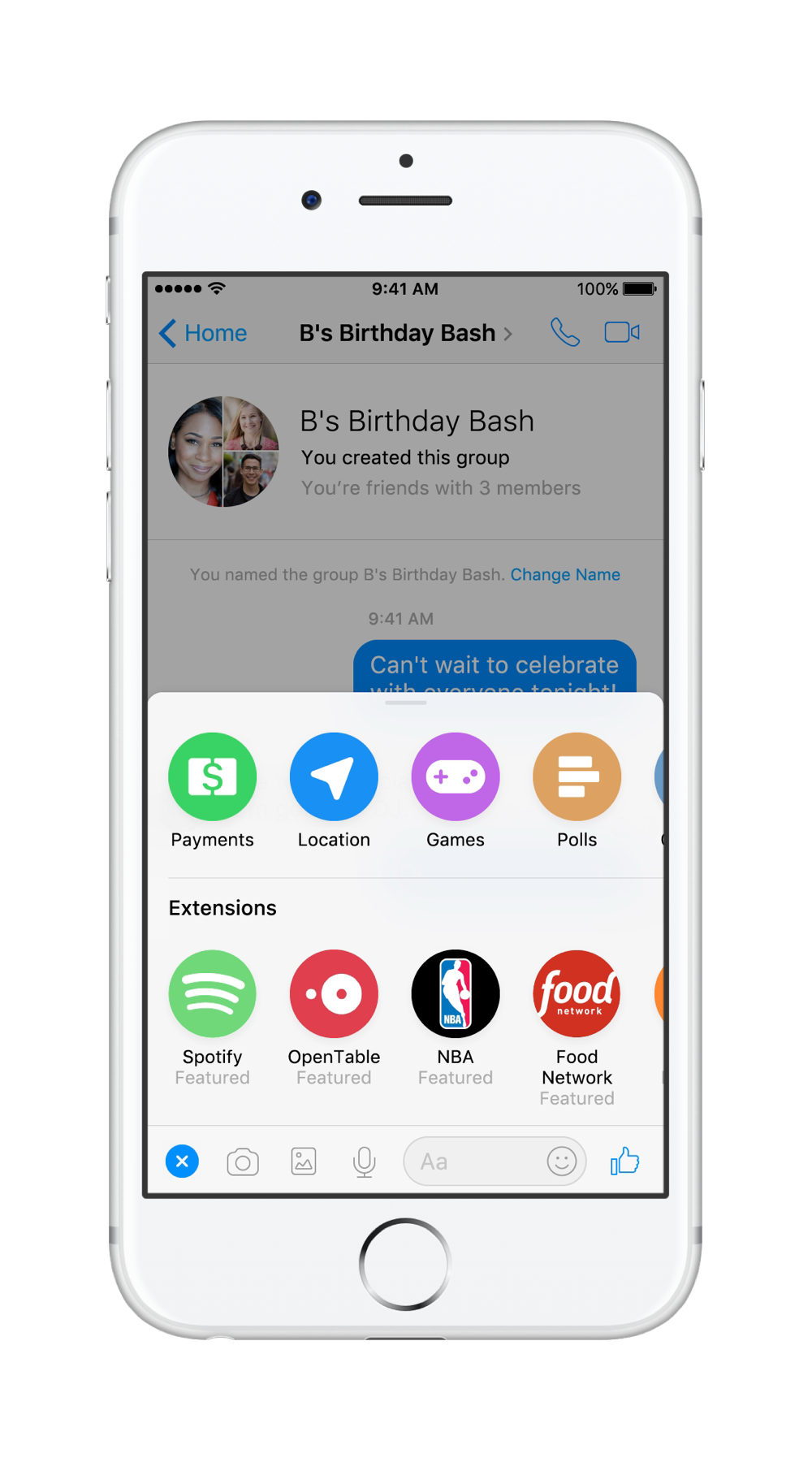 The Discover tab strongly resembles Snapchat's identically titled Discover tab. Facebook has also mimicked another signature Snapchat feature, Snapchat Stories, in all its social apps: WhatsApp, Instagram, the Facebook app, and Messenger.
David Marcus, vice president of messaging at Facebook, said that the company developed the Discover page within the app to help with recommending relevant bots to users, something both developers working with Messenger and users have repeatedly asked for.

There's also a QR code reader for the Messenger camera that will allow you to jump to bots by scanning a code, much like Snapchat's Snapcodes allow you to jump to individual users.

There's also a lot more games.
In fact, there's a whole new games tab, and you can now play turn-based games like Words With Friends within the app. The Messenger games before now were live-action games like Galaga or Pac-Man.

M, Facebook's virtual assistant, will be a lot more powerful.
It'll now play a bigger role in your messages. Facebook says the virtual assistant will recognize when you're talking about specific tasks like meeting up at a certain time or picking a dinner spot. In response, M will offer suggestions like calendar reminders or food delivery options, which will be created by Facebook partners.

The 60 million businesses on Messenger will now have the ability to automate replies to frequently asked questions.
Think easy-to-answer questions like "What are your business hours?" or "Where are you located?" and other basic information.
According to Marcus, if the AI-powered business replier doesn't have an answer to a question, it will respond with "Let me get you someone who can help you" and alert the business's owners of the request. When the owners reply, Marcus said, the bot will digest the reply text and use it to reply to similar questions in the future.
Alex Kantrowitz contributed to this report.