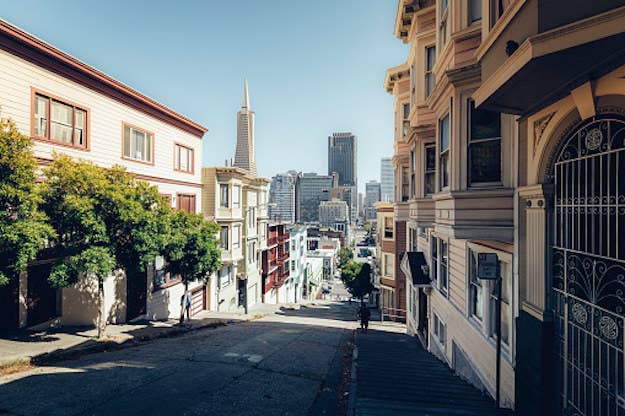 San Francisco police announced Tuesday that they discovered a headless torso in a fish tank inside a home belonging to a man who has been reported missing.

The body in the city's South of Market (SoMa) neighborhood was missing a head and had decomposed so much police could not immediately determine its sex, let alone an identity, according to multiple reports. Police did not say if they had recovered the rest of the body.
The owner of the home, 65-year-old Brian Egg, was reported missing weeks ago. His longtime neighbor Scott Free noticed in June that strangers were answering Egg's door and that he wasn't walking his dog or watering his plants.
In July, Free called for a wellness check on his neighbor. But in a statement, police said they received no response at the door. Free said he followed up with police and was told that someone answered the door and said Egg was in Tahoe working on an art installation. On August 7, Egg's sister made a missing person report, and police came to his apartment again, though no one answered. In all, police visited the home three times before discovering the body.
Free told BuzzFeed News that Egg almost never traveled, so such an extended absence was out of character. Egg also often invited people from a local homeless shelter to stay in his home, Free said.

"There were always dodgy-looking guys coming and going from there," Free said. "He was kind of eccentric, and he had a bit of a temper. He never got mad at me, but I did see him having arguments and fights with people in the alley."
The fights sometimes escalated to physical violence, he added.

On the evening of Aug. 14, with still no sign of Egg, Free saw a private crime scene cleanup company arrive at Egg's house. He called 911, and when police arrived and started searching the home, officials discovered the remains, as well as "cleaning materials and suspicious odors."
Two people have since been arrested, but charges related to financial crimes and identify theft have been dropped pending further investigation. Though the two men were arrested on homicide charges, those have not been filed because the body has not been identified. One man has been released, the other is still in police custody on unrelated charges.
Free described Egg as roughly 6 feet 3 inches tall, indicating that a fish tank would have to be somewhat large to hold his body.
The people who were living with Egg at the time he disappeared also set up an answering machine saying he was on vacation till Aug. 12, Free said. But that date came and went without a sign of his neighbor.

Free said he saw a man cleaning the house after police performed a wellness check in July, going so far as to use bleach on the exterior walls.
The investigation is ongoing, and San Francisco police have declined to comment further.