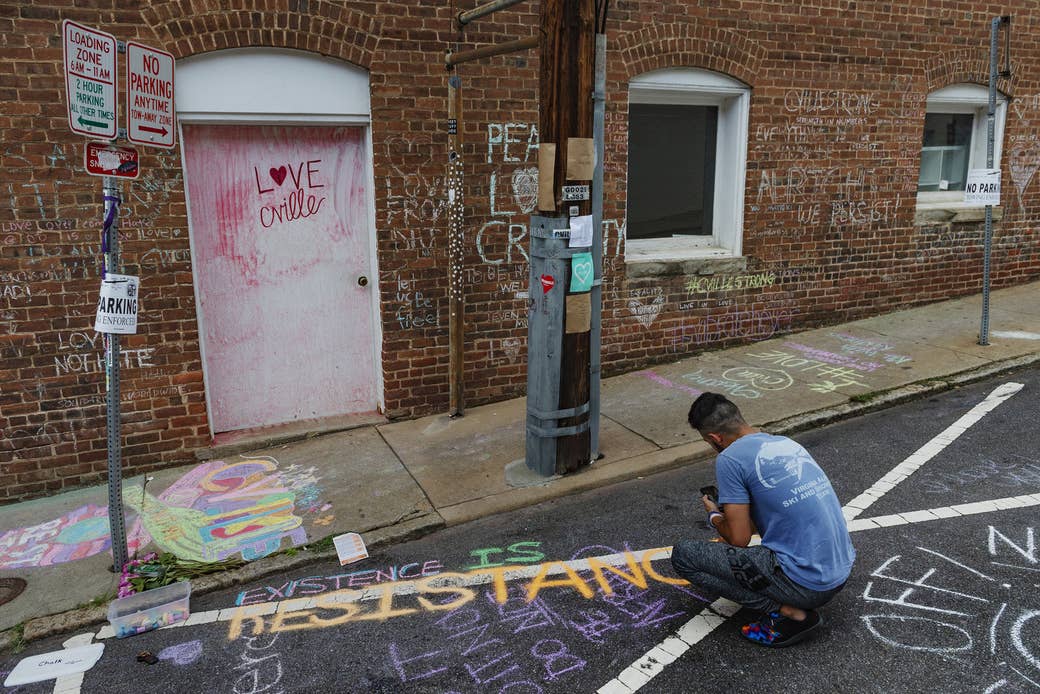 A year and a half ago, "Charlottesville" became shorthand for racist violence in the national press. Now, as James Fields Jr. stands trial for killing a white supremacist counterprotester with his car last year during the Unite the Right rally, some of Charlottesville's residents have created their own guerilla media, live-tweeting government meetings, tracking court records, and shaping coverage of anti-racist activism to ensure the tragedy of August 2017 never happens again.
Fields is accused of intentionally driving his car into the crowd of counterprotesters that day, injuring dozens and killing 32-year-old Heather Heyer. During opening arguments on Thursday for his murder trial, defense attorneys did not dispute that Fields was the one behind the wheel, but said he struck the crowd because he feared for his life in the violent chaos.
"Truth is an anathema to Nazis," said Emily Gorcenski, a data scientist and former Charlottesville resident who protested the Unite the Right rally. "If people see them for who they are, their movement crumbles."
Gorcenski created First Vigil last month, a website that's tracking 105 criminal court cases against white supremacists around the country. It includes their real names, charges, hearing times, and case numbers. The site has already inspired more than half a dozen people to attend hearings related to the cases in person, she said. Her goal is to publicize as much information about them as possible, something she had been pursuing on Twitter herself.
Molly Conger, a 29-year-old Charlottesville resident, started live-tweeting biweekly city council meetings, which can last up to seven hours and finish at 1 a.m., in December 2017. She hasn't missed one since.
Conger also attends local criminal hearings of known white supremacists — there are quite a few — and the meetings of a host of other local government agencies, because, she said, "there's deeply entrenched white supremacy in the most boring parts of our government."
The national fever for the story of Charlottesville also motivates the small political media corps. Proposals to remove Confederate monuments were part of what drew nearly a thousand white supremacists and members of the so-called alt-right to the city in August 2017 for the Unite the Right rally in what was meant to be a display of unity and strength.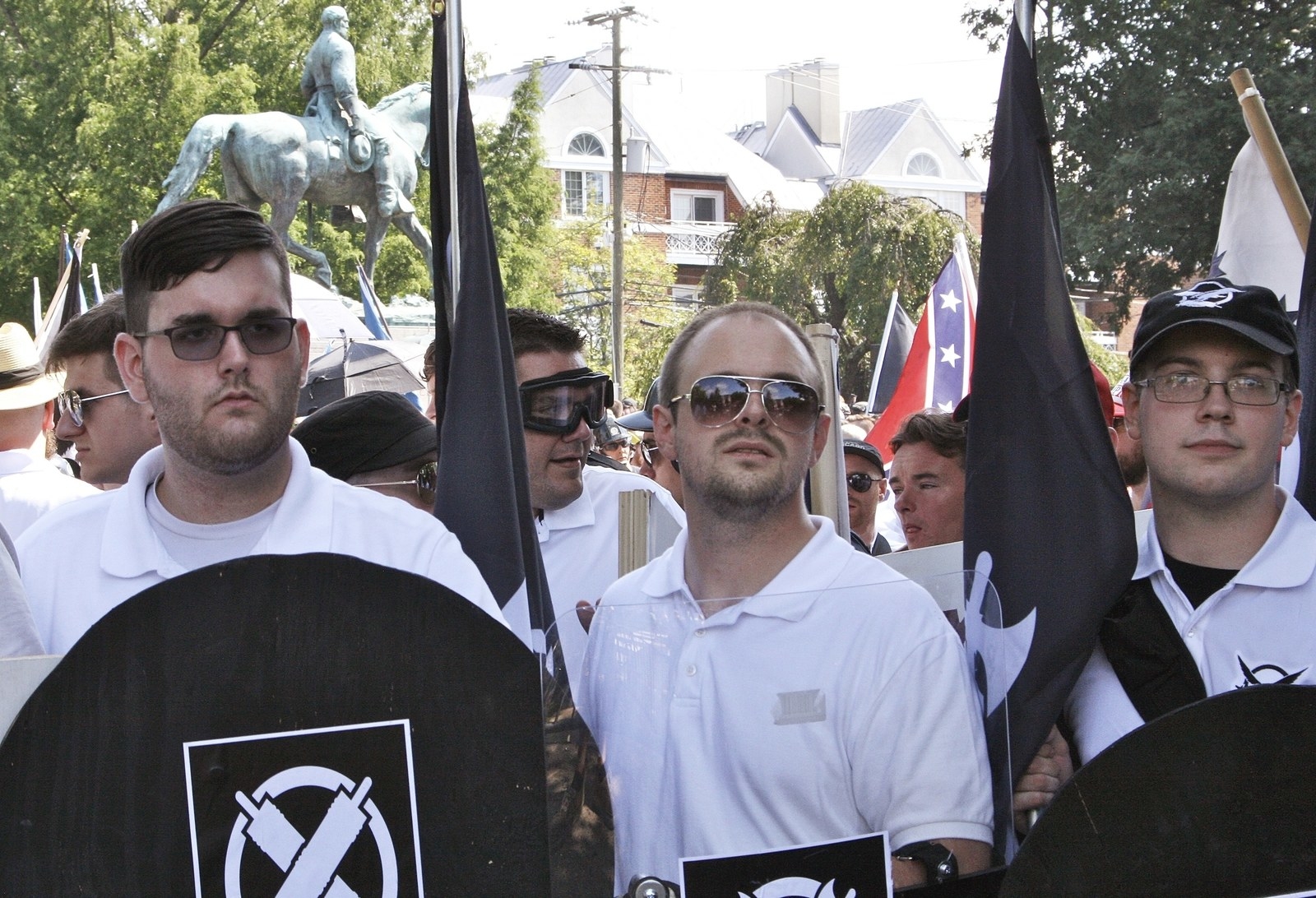 "There was already an existing interest in Charlottesville," Conger said. "Those [Confederate] statues are what brought people here. There were national stakes to our city council's decisions."
Conger started using Twitter in December 2017 and has since amassed nearly 17,000 followers, many of them locals. Charlottesville residents at city council and school board meetings also approach her to talk about their proposals. People screenshot her tweets and share them on Facebook. The judge handling the Fields trial recognizes her in court, where she tweeted about the jury selection process in detail.
Residents are working to push back against racism in other ways.
The Charlottesville Anti-Racist Media Liaisons (CARML) focuses on media strategy for activists, connecting them with outlets, fielding inquiries, and developing promotional campaigns. The group ranges in size from five to fifteen core members and maintains a roster of more than 40 activists it connects with media outlets.
Its efforts extend back to well before Aug. 12, 2017, but it formalized in spring 2018 in support of Corey Long, DeAndre Harris, and Donald Blakney, three black men involved in contentious court cases related to alterations with white nationalists during the Unite the Right rally. CARML helped them and their supporters mount a campaign to get the charges against them dropped. Long was found guilty of disorderly conduct and has filed an appeal, Harris was acquitted, and Blakney pleaded guilty to a lesser charge.
"Within the toxic media environment, shaped by and contributing to white supremacist culture, we're here to take an anti-racist stance," said Mimi Arbeit, a cofounder of CARML and a former Charlottesville resident.
There's also Solidarity Cville, which describes itself as a community-centered media outlet designed to "amplify the marginalized voices of Charlottesville." It formed in the summer of 2017 "to promote community defense and racial justice" in the lead-up to the Unite the Right rally, and now publishes blog posts promoting progressive stances on local issues like school board decisions. The organization did not immediately respond to request for comment.
Gorcenski, Conger, and Arbeit said the tragedy of the rally ignited existing activism by forcing Charlottesville residents into the national spotlight. Now they're handling the consequences. Conger plans to be present for every minute of Fields' trial. Gorcenski's tracker will update as his court records change. CARML is focusing on supporting activists and Charlottesville residents involved in the trial and helping them navigate the spotlight.
Conger's coverage may resemble that of a local paper, but she doesn't aspire to work for the Charlottesville Daily Progress.
"There's an advantage to not being answerable to an editorial board. I take a casual conversational tone, like I'm figuring it out with readers," she said.
She's also more politically active than a regular reporter, as co-chair of the Charlottesville chapter of Democratic Socialists Of America.
"I'm not just accountable to the community, I'm a part of it," Conger said. "I'm outraged about what they're outraged about. I share their joy and grief and frustration."
Members of CARML believe local media aren't only ineffectively tackling the issue of white supremacy, but are part of the problem in Charlottesville.
Lisa Woolfork, an associate professor of English and a cofounder of CARML, said the city's paper of record has a history of underestimating or even promoting racist ideas.
"White supremacy is seen as something that's not serious by the Daily Progress," she said.
A recent Columbia Journalism Review article also cataloged the local media's problematic approach to covering race relations in the community.
But assuming the role of counterpoint through media activism has taken a toll on the activists, requiring varying levels of commitment, which, in turn, has had an impact on their finances and mental health.
Gorcenski lived in Charlottesville until May, when she moved away due to safety and mental health concerns. She said she's working with other remote activists focused on technological solutions like First Vigil. CARML's Arbeit moved from Charlottesville to Boston for an academic job and plans to provide support from afar, while Woolfork remains.
Conger, by contrast, makes covering court proceedings and government meetings her full-time job, and said she's drained her savings doing it. She has set up an account with Patreon, a site that allows people to support her work via recurring donations, and babysits. But she said she makes far less now than she did in summer 2017, when she lost her job as a consultant at a tech company. That may make her current path somewhat unsustainable, but Conger said it's the only acceptable one.
"I was looking for a job when I realized this was it," she said. "I spend a lot of time thinking what I'll do with my life after this is all over, but I don't think it'll end."