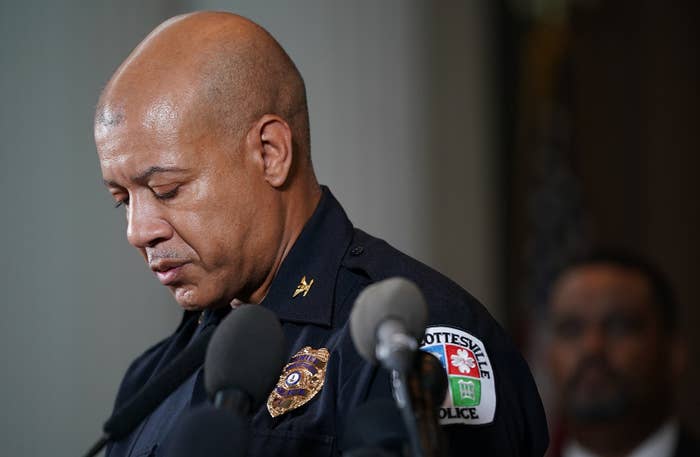 The police chief of Charlottesville, Virginia, resigned on Monday, effective immediately, just weeks after a critical review of his department's response to a white nationalist rally over summer was published.
Charlottesville police chief Alfred Thomas did not address the independent report in announcing his resignation, saying only that "nothing in my career has brought me more pride than serving as the police chief for the city of Charlottesville."

On Tuesday, Virginia state police superintendent colonel Steven Flaherty announced he would retire in January. Corinne Geller, a spokeswoman for the Virginia state police, said Flaherty had long been planning to retire after current Gov. Terry McAuliffe retires in January.
"It's a retirement, not a resignation," she said.
Flaherty did not address the critical report in his statement on Facebook, saying that serving as superintendent "has truly been the greatest honor of my life."
The report, released 17 days ago by former US attorney Tim Heaphy, found that Thomas's department "failed miserably" in protecting free speech and public safety at the "Unite the Right" rally in August.
Heather Heyer, a 32-year-old woman protesting against hundreds of white nationalists, was killed when a man drove a car through a crowd of counterprotesters. The driver, James Alex Fields Jr., has been charged with first-degree murder.

Heaphy's report said that in addition to the Charlottesville Police Department's slow and inadequate response, the chief allegedly attempted to hide communications related to the rally from the investigation.
State police and Charlottesville police were also unable to communicate by radio the day of the rally because they were on different channels, the report stated. And the decision to not intervene in all but the most serious confrontations only emboldened violent demonstrators, Heaphy's report said.
Still, City Manager Maurice Jones praised Thomas's record in a statement, calling him "a man of integrity."

Thomas, who had been police chief since May 2016, was the first black man to hold the position, according to C-Ville Weekly. Jones will appoint the next police chief "within the week," according to the city's statement.
Lt. Colonel Gary T. Settle will succeed Flaherty as state police superintendent, according to state police. Virginia Gov. Mark Warner appointed Flaherty in 2003, and Gov.-elect Ralph Northam praised Flaherty at a press conference about Flaherty's retirement.