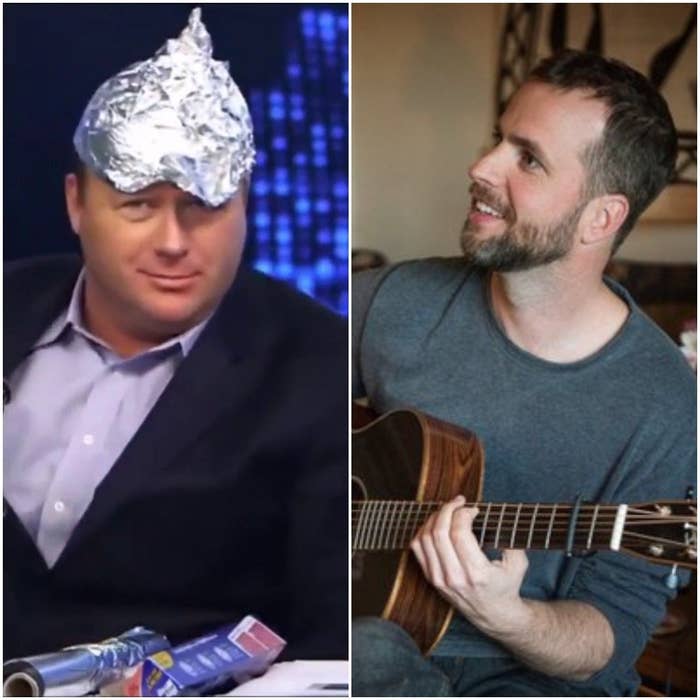 A man who filmed the violence sparked by white supremacists in Charlottesville, Virginia, last August has sued Infowars, a former congressman, and others for defamation and intentional infliction of emotional distress, alleging their articles led to his harassment.

Brennan Gilmore, a Charlottesville resident and former member of the Foreign Service, tweeted video of the moment a white nationalist allegedly plowed his car into a crowd of anti-racist protesters, killing one and injuring dozens.
Because of that viral clip, Gilmore said that right-wing sites and personalities that often push baseless conspiracy theories began to publish false conspiracy theories about him — often calling him an operative of the "Deep State" — which led to death threats, in-person and online harassment, professional damage, and attempts to hack his online accounts.
"These outlets pose a danger to our country," he said at a press conference Tuesday. "There is a pattern of internet trolls pushing conspiracy theories that turn witnesses and victims into accomplices for propaganda rather than looking at facts."
Gilmore has sued Infowars, its host Alex Jones, several of the site's contributors, Gateway Pundit writer Jim Hoft, former congressman Allen West — who operates the right-wing site www.allenwest.com — and others in federal court for nine counts of defamation and one count of intentional infliction of emotional distress. Gilmore is seeking unspecified compensation.
Jones turned the lawsuit against him into content by publishing an article on Monday titled "Exclusive: Lawsuit Filed Against Infowars For Questioning Leftist PR Surrounding Charlottesville." He wrote, "Establishment launches another attack on free speech" and included his own multiple hours-long broadcasts.
When reached for comment, Jim Hoft wrote, "We are still looking at the details to the frivolous lawsuit."

Lee Stranahan, named in the suit for his contribution to an Infowars broadcast promoting Charlottesville conspiracies, responded, "He doesn't have a defamation suit against me. I never called for anyone to harass him, nor would I. I never said anything unfactual."
Scott Creighton, named in the suit for a conspiracy-laden blog post about Gilmore, said, "There is not a single thing in my article that is a lie. Not one single thing. It is research and my conclusion based on that research, was stated clearly as my opinion. I have never called for violence against anyone and on my website."
Georgetown Law School's Civil Rights Clinic is assisting Gilmore with the case. Andrew Mendrala, the Clinic's supervising attorney, said, "We really view this case as a defense of democracy. The First Amendment does not and cannot protect deliberate lies designed to incite incessant harassment and violence against private citizens."
Mendrala and Gilmore hope that the prospect of having to pay steep financial damages will deter others from spreading conspiracy theories about individuals after major news events. That's why they didn't try to stop the outlets from publishing the content, combined with fears that a judge would be reluctant to place future constraints on speech.
"We think a judge would be very hesitant to enter an injunction against an outlet saying, 'You cannot say this or that in the future.' That would be a prior restraint on speech," he said. "With punitive damages, though, these outlets will be less likely to publish statements like this in the future if there are real consequences in the form of punitive damages on the horizon."
Gilmore wrote an essay for Politico shortly after the incidents in Charlottesville, "How I Became Fake News," about the ordeal of being targeted by the people he is now suing. He said in a press conference that shortly after writing the essay he decided to take legal action.
Infowars, Allen West, and others named in the suit did not immediately respond to request for comment.