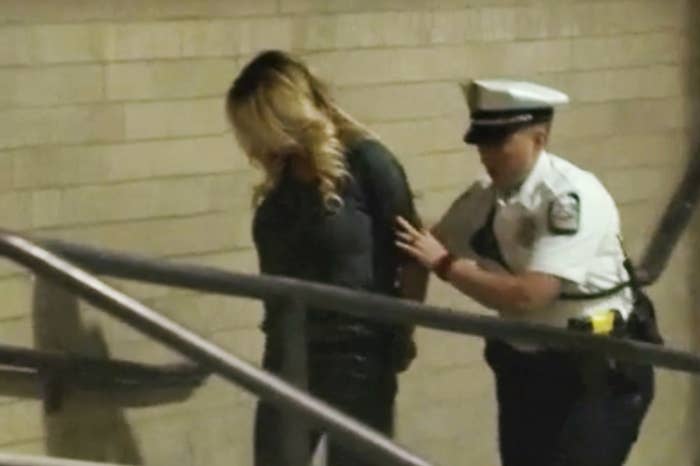 The charges against two women arrested alongside adult film star Stormy Daniels last week in Ohio have been dropped after prosecutors determined they lacked sufficient evidence.
Brittany Walters and Miranda Panda were detained at a strip club in Columbus, Ohio, on July 12 following a show. Columbus Police Chief Kim Jacobs later said the arrest of Daniels was "a mistake," and a judge dismissed the case against her.
The charges against Walters and Panda, however, remained until Wednesday, when Columbus City Attorney Zach Klein said in a statement that the facts of the case "do not meet the elements required to prosecute under this law."
Stormy Daniels, born Stephanie Clifford, is locked in a legal battle with President Donald Trump after alleging that they had an affair. Her attorney, Michael Avenatti, said on Twitter that Columbus officials had promised "a thorough investigation, inc. whether it was politically motivated."
"Once that is complete, we will decide next steps," he added.
Video of Daniels' arrest was also published Wednesday, showing her security detail attempting to stick with her as officers took her into custody. In the days that followed, she maintained her support for Walters and Panda, including a pledge to donate her tips to their legal defense.
Walters and Panda had been charged with touching patrons while seminude. Under an Ohio law known as the "Community Defense Act," an employee who regularly appears naked or seminude as part of a sexually related business is not permitted to touch anyone who is not a family member while undressed at said business.

The Columbus City Attorney's office announced a legal review of the Community Defense Act on the same day it dropped charges against Walters and Panda. While the review is underway, Klein said, his office would not prosecute anyone under the existing law.
"In light of the recent charges filed under this statute, we have recognized there is a glaring inequitable application of the law," he wrote.
The Columbus City Attorney, Columbus Police Department, Walters, and Panda did not immediately respond to a request for comment.